Guyan Valley Middle School (Former High School)
Introduction
This school, which is currently functioning as a middle school housing grades 6-8, was a High School until 2006 when the Lincoln County High School was built consolidating the four high schools in the county.
Images
Guyan Valley High School and students in 1929.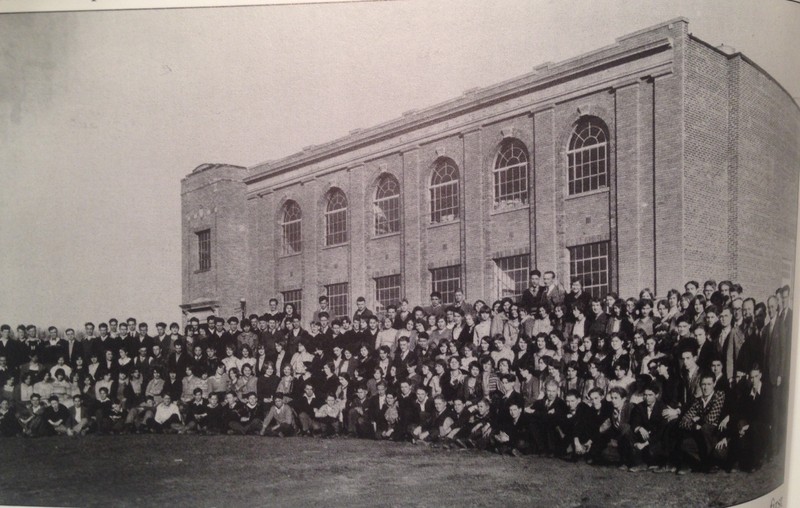 Present day photo of Guyan Valley Middle School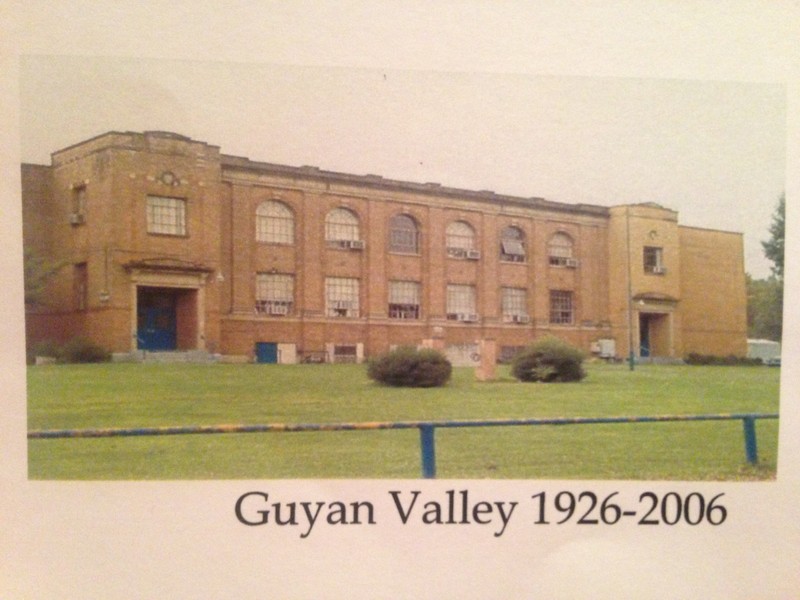 Guyan Valley High School under construction in 1926
Backstory and Context
Guyan Valley High is one of the oldest schools in the state of West Virginia that is still actively used as a school. Its first graduating class in 1929 had eight graduates. It was built in 1926 and despite some modern amenities, like the gymnasium and extra wing on the right side to accommodate grades seventh through eight in the 1970s -1980s, it still retains it's original architectural design. The school's first principal and local historian, Fred Lambert, would state that this school was the "finest and most outstanding rural high school ever erected in West Virginia."
Throughout its history it was primarily a junior high and high school until the construction of the county's new high school.
Most notable is the reaction of the communities towards school consolidation, especially the West Hamlin, Sheridan, and Branchland areas. The new high school is several miles away from most areas of the county causing longer bus routes. Furthermore, the destruction of the community camaraderie was also an argument against consolidation. Despite the debates and unhappiness, the consolidation went through.
The longer transportation issues are not a new problems for Lincoln County. Ordinary citizens banned together to purchase a bus in the early 1920s to transport students to the Carroll District High School that was located in Hamlin at the time. Transportation issues have plagued and will continue to plague this county due to the face that the main roads, where the schools are located, border the county instead of running through the interior. Longer bus transportation will always be an issue for students.
The consolidation decision was officially made when the WV State School Board had to take over the Lincoln County Board of Education due to dismal test scores. In 2004, construction began on Lincoln County High School.
Sources
Reynolds, David R. 1999. There Goes the Neighborhood: Rural School Consolidation at the Grass Roots in Early Twentieth-Century Iowa. Iowa: University of Iowa Press. Triplett, Ralph D. and Triplett, Boone. 2013. Images of America: Lincoln County. Charleston, South Carolina: Arcadia Publishing. Lincoln County Board of Education. Lincoln County Schools. http://boe.linc.k12.wv.us (accessed December 11, 2014). Harris, Amy Julia. 2012. 1982 Recht Decision: State still rumbles from aftershocks of reform ruling. Charleston Gazette. http://www.wvgazette.com/News/201205120049 (accessed December 10, 2014). The West Virginia Encyclopedia online, s.v. "Recht Decision," http://www.wvencyclopedia.org/articles/19 (accessed December 10, 2014). West Virginia Research Legislature Auditor. Performance Evaluation and Research Division. 2011. An Examination Of The Effects On Educational Outcomes From High School Consolidation: Lincoln County's Experience. PE 10-21-488. http://www.legis.state.wv.us/joint/perd/perdrep/DOE_1_2011.pdf (accessed December 10, 2014). Brenda Powell (Executive Secretary Lincoln County Board of Education), interview by Heather Edwards, December 5, 2015, transcript.
Additional Information