Rocky Mountain National Park
Introduction
Rocky Mountain National Park is the 10th national park located in the United States in the state of Colorado. It is estimated that people arrived here around 11,000 years ago, however not much is known about these inhabitants. It is known that the Ute tribe did not stay there the entire year but liked the parts of the park that supply green valleys, tundra meadows, and crystal lakes. It is also estimated that this tribe stayed around this location up to the final years of the 18th century.
Images
Rocky Mountain National Park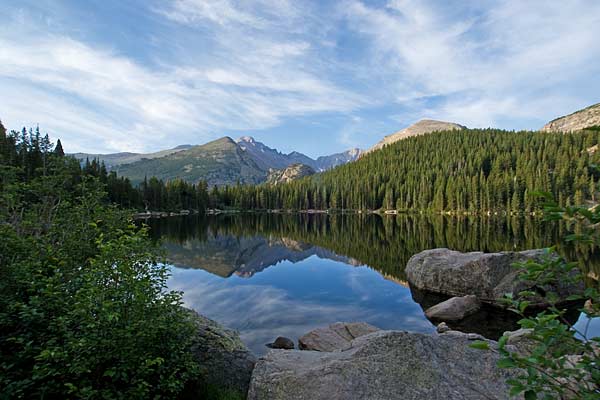 Rocky Mountain National Park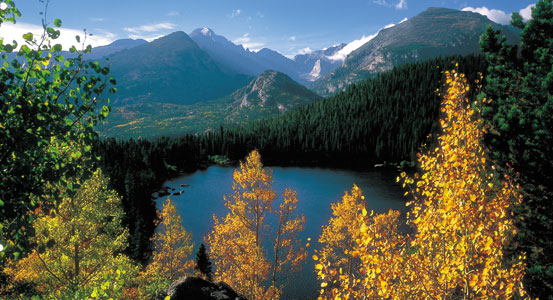 Rocky Mountain National Park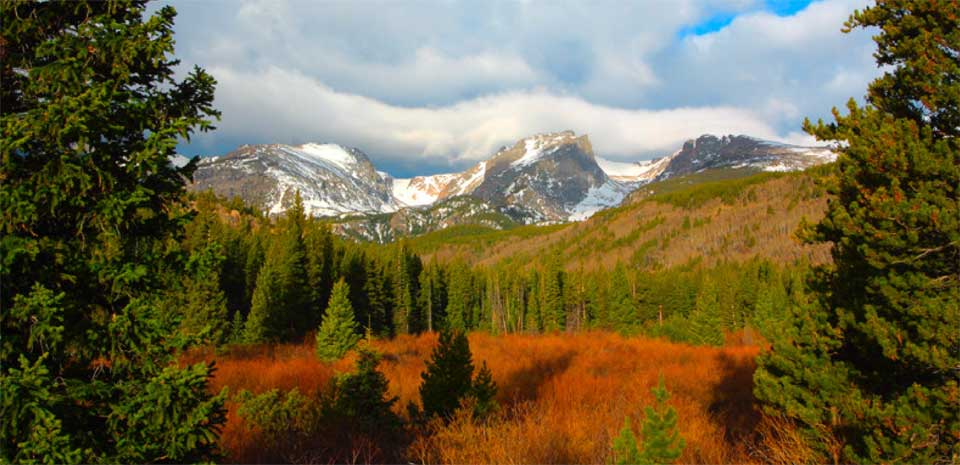 Backstory and Context
The area that makes up Rocky Mountain National Park was acquired by the U.S. in the Louisiana Purchase in 1803. During this time the land had hosted Spanish adventurers and French pelt hunters. The first description of the park was written by Rufus Sage in 1843; this description was named Scenes in the Rocky Mountains. A gold rush at Pikes Peak in 1859 saw many miners and explorers arrive in the area, however their stay was short lived. In contrast, in the 1860s an abundant homesteading movement took place in the area. Although the winters were too treacherous for grazing, the bears, deer, wolves, elk, and the mountains increased Easterners' movement to the area that were fascinated with the incredible views. Mountain water became more valuable than gold and the Grand Ditch in the Never Summer Range cut off the water source of the Colorado River and moved it for cattle and crops in communities like Greeley and Fort Collins.
As people continued to arrive in the area, the growing national conservation and preservation movement by Theodore Roosevelt, Gifford Pinchot, and John Muir began in 1900. The purpose of this movement was to encourage respect for nature. The Estes Park Protective and Improvement Association helped nearby conservation activities. It was Enos Mills in 1909 who proposed the making of a new national park here. Mills went through many efforts to make this happen including making several speeches throughout the country, writing many letters and articles, and even lobbying Congress to make the new park. Many people agreed with Mills including the Denver Chamber of Commerce and Colorado Mountain Club. Those that opposed the idea included people involved in the mining, logging, and agricultural businesses. Mills' efforts succeeded, and 26 January 1915 President Woodrow Wilson issued the Rocky Mountain National Park Act.
During 1915 personal properties made up the park and several of these allowed visitors to stay there since the beginning of the century. However as more people visited the park during World War I, these were no longer good enough, and in response comfort stations, museums, and nice trails were made to serve tourists. When the Great Depression hit in the 1930s, President Franklin Roosevelt made programs like the Civilian Conservation Corps (CCC) to give people work. At the park, youthful men created roads, trails and buildings, exterminated wildfires, planted trees, and kept an eye on the number of predators in the park; it was at this time that the National Park Service was able to create the Trail Ridge Road as well. The creation of roads was very important to this park because unlike the Grand Canyon, Glacier National Park and Yellowstone National Park, the Rocky Mountain National Park does not have a railroad going through it. Therefore people depended on their vehicles to transport them here. Throughout World War II people were touring all of the national parks less and less, and therefore the parks needed some serious work in the years following the war. In response Congress agreed to the Mission 66 program, which had the goal to do repairs on parks by 1966. Throughout this program, the National Park Service was able to receive the original guest cabins in Rocky Mountain National Park, they got rid of all structures, and created new campgrounds and parking lots. Due to many national environmental laws in the 1960s and 1970s the National Park Service shifted in its efforts to take care for its property. For a while it looked as if the park was not going to be preserved due to disrespectful people, too much elk because of a lack in predators, and wildfires that had destroyed some of the forest. However, park workers got control in the 1970s by giving visitors assigned camp sites and shuttle buses and they encouraged good treating of the park through signs, speeches, and seminars within the park.1
Sources
Introduction and footnote 1: accessed on July 15, 2015, http://www.nps.gov/romo/learn/historyculture/brief.htm
Additional Information