Nebraska Prairie Museum
Introduction
The Nebraska Prairie Museum is a large sprawling museum with many exhibits touching many different eras in our nations history. There are exhibits dedicated to the different military branches. There is an exhibit dedicated to the Native American artifacts. There is also an exhibit that is all about antique automobiles as well as antique farm equipment. If you are looking for a museum that has a large variety of exhibits that covers many eras throughout our nations history, the Nebraska Prairie Museum is the place for you.
Images
Nebraska Prairie Museum Entrance
Nebraska Prairie Museum grounds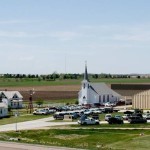 Native American Artifacts Display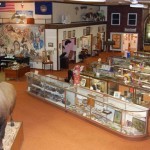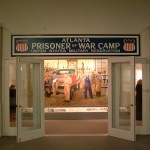 Town Square Post Office Exhibit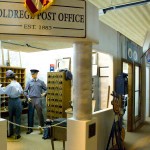 Backstory and Context
The Nebraska Prairie Museum is made up of both indoor and out door exhibits. The indoor exhibits total over one acre all together. The exhibits include collections of period clothing, antique toys and farm equipment, as well as antique tools and household items. There is also a WWII German Prisoner of War exhibit room. There are antique automobile exhibits as well as exhibits on Native American artifacts.
The out door exhibits consist of a reproduction of the Guard Towers at the German POW camp, and old one room schoolhouse, church and farm home, and train caboose. There is also a wire buffalo sculpture, windmill and a cornfield that holds several fall harvest activities.
The outside grounds displays one of the most unique exhibits that is related to one of the indoor exhibits. This exhibit is the German POW exhibit. On the outside grounds, there is a replica of the guard tower that stood at the POW Camp Atlanta that was only miles from where the museum stands today. This exhibit is in conjunction with the POW Interpretive Center located inside the museum. This center portrays the POW Camp Atlanta. It holds artifacts, letters and photographs of the POWs stationed at Camp Atlanta.
There is an Antique Automobile and Agriculture Equipment exhibit that is located inside the museum. These displays are not only of antique automobiles, but of antique tractors as well. This exhibit displays the advances we have seen throughout the years in the technology that has been used for farming.
The Nebraska Prairie Museum also houses a Genealogy Library. This library holds marriage licenses and obituary information for Phelps county residents that date back to the late 1800s. There are also census and business information located in this library.
These exhibits are only a few that are located at the Nebraska Prairie Museum, there are many, many more! If you are wanting to visit a museum that has information on many different times in our nations history, this is the museum for you!
Additional Information