Reagan Peace Park
Introduction
Reagan Peace Park is located in Dixon Illinois, boyhood home of President Ronald Reagan. The park, meant to commemorate the end of the Cold War, features a small replica of the Berlin Wall, murals and interpretive signs about the Cold War, and a sculpture that was donated by an immigrant from Bulgaria.
Images
Wings of Peace and Freedom Sculpture and a replica of the Berlin Wall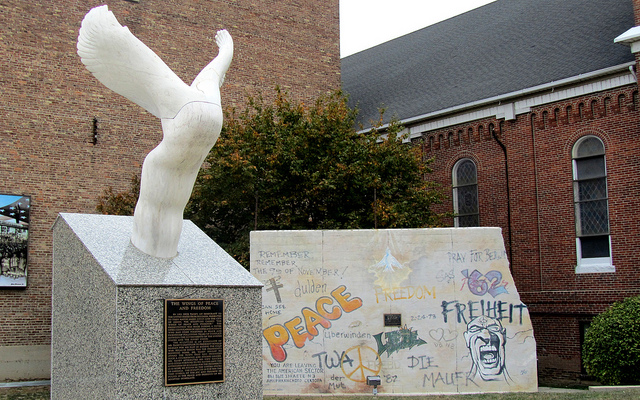 Murals at Reagan Peace Park
Marker on the bottom of The Wings of Peace and Freedom Sculpture Photo by Bill Kirchner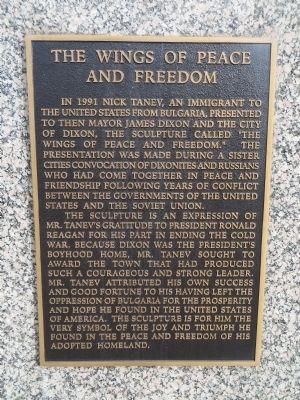 Backstory and Context
In 1991 a Bulgarian immigrant, Nick Tanev, presented the 20-foot marble sculpture "The Wings of Peace and Freedom" to the town of Dixon during a ceremony celebrating the end to the conflict between the United States and the Soviet Union. The sculpture was meant as a sign of gratitude to President Reagan for the role he played in ending the Cold War.
At the base of the sculpture is a marker that describes the presentation of the sculpture and the purpose behind the donation. It reads: "[B]ecause Dixon was the President's boyhood home, Mr Tanev sought to award the town that had produced such a courageous and strong leader. Mr Tanev attributed his own success and good fortune to his having left the oppression of Bulgaria for the prosperity and hope he found in the United States of America. The sculpture is for his the very symbol of the joy and triumph he found in the peace and freedom of his adopted homeland."
The site also includes a full-size replica of a piece of the Berlin Wall and murals depicting President Reagan's "Tear Down This Wall" speech, the Kremlin, and the Berlin Wall being torn down.
Sources
http://www.hmdb.org/marker.asp?marker=78277&Result=1 http://www.discoverdixon.org/history-heritage/71-reagan-peace-park/view-details.html http://leecountyfun.com/reagan-peace-park-dixon-illinois/
Additional Information