McCarthy Athletic Center
Introduction
Completed in 2004 at the cost of 25 million dollars, the McCarthy Athletic Center is home to Gonzaga University's basketball teams. The facility was made possible by donations to the university's athletic program by brothers Phil and Tom McCarthy. Both brothers graduated from Gonzaga and wanted to do something to support the school's successful men's basketball program following their tournament success in 2002 that culminated in an appearance in the Elite Eight-the final eight remaining teams in the NCAA men's basketball tournament. Prior to the construction of the "MAC," Gonzaga's teams played at the Charlotte Y. Martin Centre.
Images
The stadium is named in honor of donors Tom and Phil MCarthy. Phil graduated in 1974 and has served on the university's board of trustees, while Tom is a 1973 alum and member of the Gonzaga Board of Regents.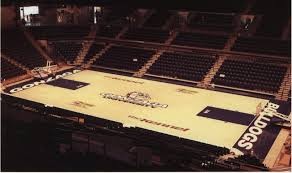 The "MAC" was constructed between 2003 and 2004.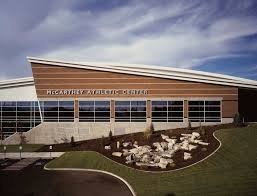 Backstory and Context
The McCarthy Athletic Center has a capacity of 6,000. The McCarthy Athletic Center is 148,000 ft and used to be the largest basketball arena in the West Coast Conference or the WCC. In the rafters of the arena are two retired numbers one of which is the hall of fame basketball player John Stockton and the WCC championship banners. In the walkways are murals of the best players to ever play at Gonzaga which includes John Stockton, Courtney Vandersloot, and Casey Calvery.

In the McCarthy Athletic Center there is a student section that is called the Kennel Club. In the McCarthy Athletic Center the men`s basketball team is 149-9. History has been made in the arena such as when Heather Bowman broke the all time women`s scoring record in the WCC on January 16, 2010. In the arena Heather Vandersloot became the first male or female basketball player to have 2,000 points and 1,000 assists and that occurred on March 21, 2011.
Sources
Jake Palmer, "McCarthey Athletic Center," Stadium Journey, (accessed 3/25/15) www.stadiumjourney.com/stadiums/mccarthey-athletic-center-s811 "McCarthy Athletic Center will open Saturday" AP Wire on ESPN News, October 21, 2004. http://espn.go.com/mens-college-basketball/news/story?id=1906949
Additional Information