Americans of Chinese Ancestry Memorial
Introduction
The Americans of Chinese Ancestry Memorial, or Lieutenant B. R. Kimlau Chinese Memorial, stands in a small park called Kimlau Square, within New York City's Chatham Square in Chinatown. Architect Poy G. Lee (1900-1968) designed the memorial, which was erected in 1962 by the Lt. B. R. Kimlau Memorial Post 1291.
Images
In memory of the Americans of Chinese ancestry who lost their lives in defense of freedom and democracy. // Dedicated by the Lt. Benj. Ralph Kimlau Chinese Memorial Post 1291 April 29, 1962. Poy G. Lee, AIA, Architect. Built by De Nigris Monument Co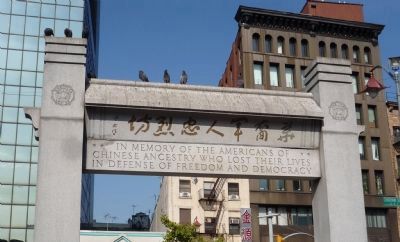 Lt. Kimlau, 1942 (image from http://pennsylvaniamilitarycollege.org/class-1942-2/)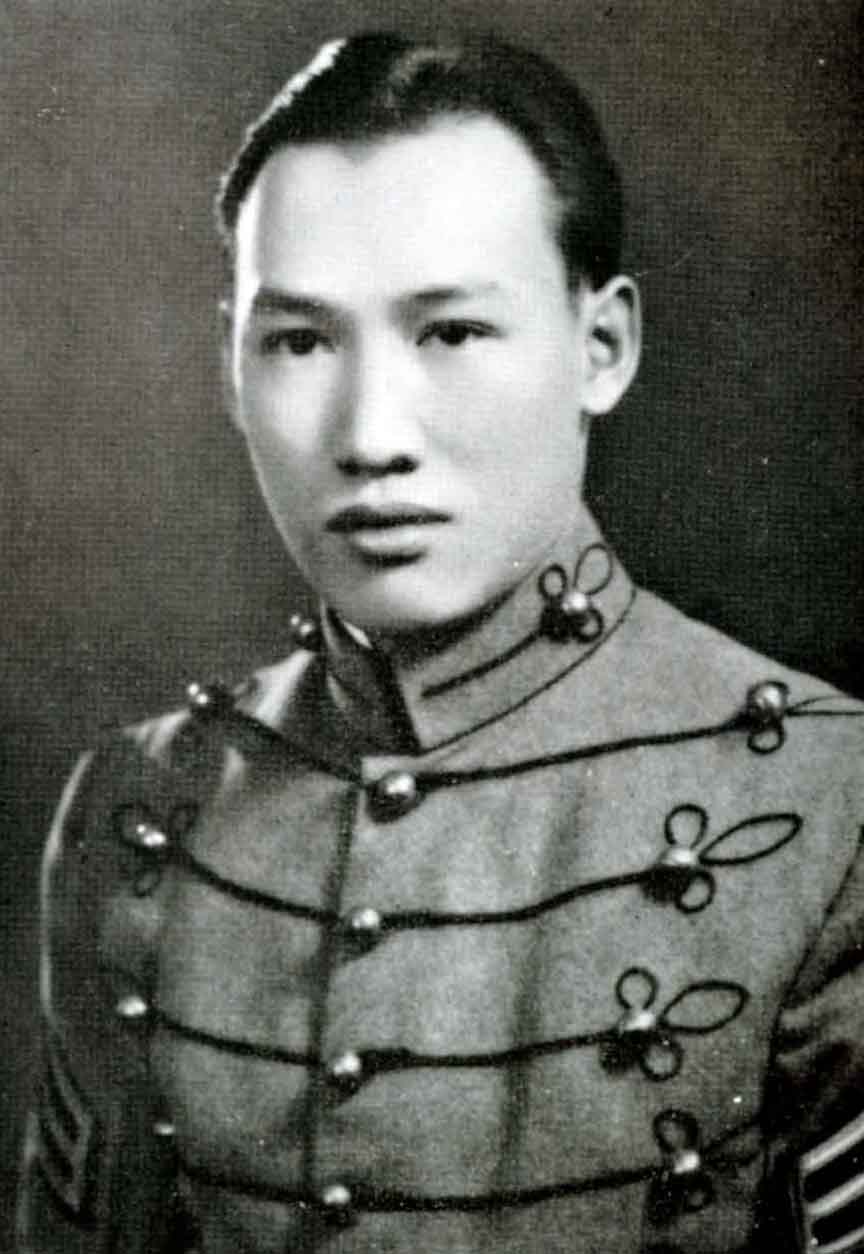 Backstory and Context
Second Lieutenant Benjamin Ralph Kimlau was born in Concord, Massachusetts. When he was 14, his parents moved the family to New York City, where Kimlau graduated from Dewitt Clinton High School in 1937. The next year, after traveling in China, Kimlau enrolled in the Pennsylvania Military College (now the United States Army War College) and went into the United States Army Air Force, assigned to the 380th Bombardment Group of the Fifth Air Force in Australia (known as the "Flying Circus"), which was awarded two Presidential Unit Citations. Kimlau was among five pilots sent on a mission to New Guinea in February and March of 1944, their objective to bomb Japanese airbases in the region. While attacking the Japanese at the island of Los Negros on March 5, 1944, all five pilots were shot down and killed.
The Lt. B.R. Kimlau Chinese Memorial Post 1291, the largest post in New York City, was founded in 1945 by Chinese-American veterans of World War II. The organization is involved in numerous community service projects in Chinatown, and is responsible for the creation of the Kimlau Memorial monument in 1962.

Sources
http://www.nychinatown.org/chatham.html http://www.nycgovparks.org/parks/kimlau-square/history http://www.hmdb.org/marker.asp?marker=20141&Result=1 http://pennsylvaniamilitarycollege.org/class-1942-2/
Additional Information