Attack on the Davidson Cabin, 1791
Introduction
Reflecting a fascination with stories of atrocities on the frontier, this historic marker tells the story of an attack by Native Americans upon a family that settled near this location in 1791. According to the work of historians at the turn-of-the-century, the Davidson family cabin was raided by Shawnee who killed numerous children and sold Rebecca Davidson into servitude. After years of searching for his wife, the Davidsons were later reunited and started a new family in Virginia.
Images
Marker on the site of the Davidson Cabin. "While he was absent, Indians burned his cabin, tomahawked his children, and captured his wife. Mrs. Davidson was sold to a Canadian family from whom she was ransomed."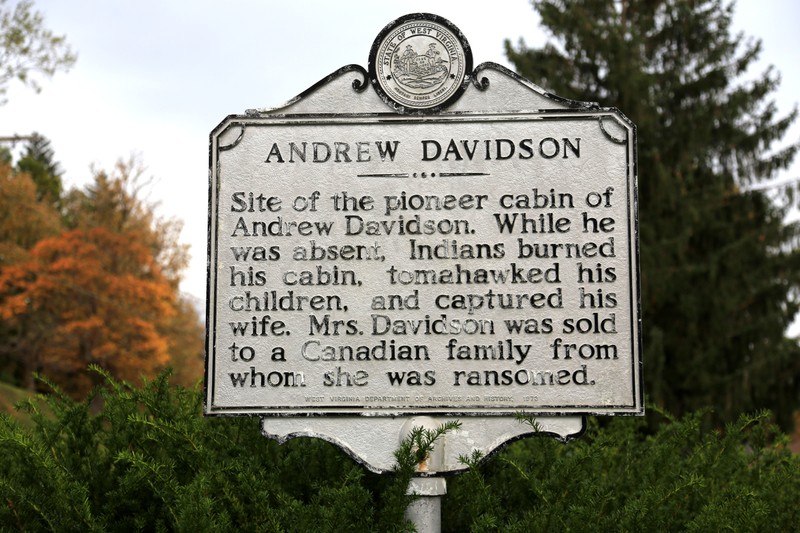 Backstory and Context
In the vicinity of what would become Bluefield, John Davidson and Richard Bailey had constructed a fort to protect their farms and the farms of other settlers around 1780 called the Davidson-Bailey Fort. One of the sons of Mr. Davidson, Andrew, married a Rebecca Burke, who was the granddaughter of the founder of Burke's Garden Virginia. Near the location of the marker, John and Rebecca Davidson built a cabin that would become the location of a tragic event that was retold throughout the next century.
In spring of 1791, Davidson traveled to Smithfield (formerly Draper's Meadow, currently part of Blacksburg, VA) on business. Left behind were his wife Rebecca, who was pregnant, his three young children (two girls and a boy) and two bonded orphans whose last names are all that is known (Bromfield or Broomfield). While Davidson was away, a raiding party of Shawnee attacked Rebecca Davidson while she collected sugar water from the nearby maple trees. The Shawnee kidnapped her and her children. According to Mrs Davidson, the Native Americans spoke to them in English, telling them they had no choice but to go with them to their village in what is now Ohio. The Davidson home was then looted and set on fire. The historic marker claims that the children were "tomahawked"4 but according to David Emmons Johnston and William Cecil Pendleton, this is not the case.1 and 2
Near the present site of Logan Courthouse Rebecca Davidson gave birth to a child, possibly premature, and was allowed two hours rest.2 According to William Pendleton, the Shawnee drowned the child the next day. Once the Shawnee village was reached, the Davidson daughters were reportedly tied to trees and shot in front of their mother. The son was given to an old Shawnee woman who departed in a canoe that was upset-causing the boy to drown.1 and 2 The fates of the bonded children are not known. Rebbeca Davidson was subsequently sold to a French Canadian family who employed her as a servant.
Andrew Davidson launched a far-ranging search for his wife for two years after her capture, but he failed to find her. After the Native American defeat at Fallen Timbers in 1794, he made another search. During this second attempt, he learned from an aging member of the Shawnee that he Rebecca might be in Canada. He stopped at the farm of a wealth French Canadian for a meal when his wife, who was bought by the self-same farmer, recognized Andrew. They were reunited (Pendleton claims the French farmer gave them money as a gift2, while the marker claims Rebecca Davidson was ransomed4) and returned to Virginia. They eventually settled near Abbs Valley, Virginia and raised a new family.2
This period of settlement was marked by many Native American raids against white settlers. Forts like the Davidson-Bailey, Witten, etc. afforded some protection, but there were many atrocities committed against and by Native Americans and frontier settlers. General Wayne's victory at Fallen Timbers included tremendous violence against Native Americans. It also led to the Treaty of Grenville which ceded Ohio to the Americans and serves as a turning point in the history of this section of the frontier.
Inscription on marker reads:
"Site of the pioneer cabin of Andrew Davidson. While he was absent, Indians burned his cabin, tomahawked his children, and captured his wife. Mrs. Davidson was sold to a Canadian family from whom she was ransomed."
Sources
1.) Johnston, David E. (1906). A History of Middle New River Settlements and Contiguous Territory. Retrieved from https://books.google.com/books?id=HT4VAAAAYAAJ&printsec=frontcover&source=gbs_ge_summary_r&cad=0#v=onepage&q&f=false Digitized Feb 9, 2008. pg. 101-102 2.) Pendleton, William C. (1920). History of Tazewell County and Southwest Virginia: 1748-1920. Retrieved from https://books.google.com/books?id=KiQSAAAAYAAJ&pg=PA462&lpg=PA462&dq=Andrew+Davidson+1791&source=bl&ots=3Mjqjt9e_4&sig=SAgUMPbyObg2b_tYJ7Q2CX8YNi0&hl=en&sa=X&ved=0ahUKEwi9qtTJuZbLAhUM6GMKHXCDCYw4ChDoAQgbMAA#v=onepage&q=Andrew%20Davidson%201791&f=false Digitized December 1, 2007. pg. 462-464 3.) Blankenship, Paul R. (2010, June, 7). Settlers Battled Indians in Southern West Virginia. Wyoming County Reporter. Retrieved from http://www.wycoreport.com/news/settlers-battled-indians-in-southern-west-Virginia/article_74a12481-8bab-5ea4-82e5-760bf5932c7e.html 4.) http://www.hmdb.org/
Additional Information