Mike Tyson vs. Evander Holyfield 2
Introduction
Mike Tyson vs. Evander Holyfield had two history making fights, but it was the second fight that captured the world's imagination. Held on June 28 1997 at the MGM Grand Garden Arena in Las Vegas, this epic boxing match was dubbed "The Sound and the Fury." This fight was a rematch between Heavyweight Champion Holyfield and challenger Tyson. Tyson had lost the title in the previous match in an upset victory by Holyfield. The rematch outcome was a shock to the sporting world when Tyson bit Holyfield's ear two times, resulting in a disqualification for the challenger. As a result, Tyson lost his boxing license and Holyfield retained his title.
Images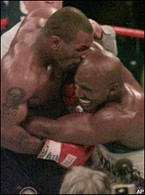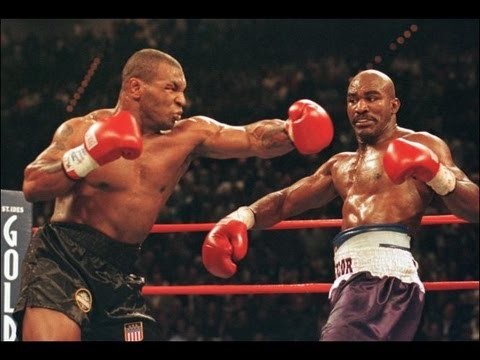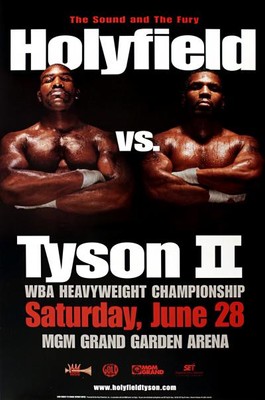 Backstory and Context
On November 9, 1996, World Heavyweight Champion Mike Tyson lost his title in a shocking upset to challenger Evander Holyfield. The sports world was in disbelief, and soon another match was set up. The fight was called "The Sound and the Fury" and was heavily hyped in the sporting world. These two men met again at the MGM Grand Garden Arena on June 28, 1997 for another shocking event in sports, but this time it was for different reasons.
The fight began with Holyfield having the upper hand in the fight. He pummeled Tyson for the first two rounds. One notable part of the fight was when Holyfield headbutted Tyson, but the referee ruled that it was an accident and therefore not punishable. Tyson was unhappy with this and with his performance thus far in the fight, so he went to his corner at the end of the second round upset.
Tyson came into the third round without his mouth piece. The referee ordered him to put it back in and he did so. When the two boxers got tied up Tyson spit out his mouthpiece and bit a one inch chunk out of Holyfield's ear and spit it on the ground. Holyfiled writhed in pain, but the fight continued. They got tied up again and Tyson bit his ear again, but this time the referee saw what happened and disqualified Tyson, therefore ending the fight.
After the fight, Tyson's boxing license was temporarily suspended and his reputation was tarnished more than it already was. Additionally, he had to pay fines and legal costs. In the documentary about his life called Tyson, Tyson insisted that he only bit Holyfield's ear to get even for the headbutting. In 2009, Tyson publicly apologized to Holyfield and Holyfield accepted.
Sources
DigPhilosophy. 2013. Tyson vs Holyfield ear bite 1997 06 28 (Full second fight). October 11. Accessed May 29, 2016. https://www.youtube.com/watch?v=fCJtMij_57c. editors, Wikipedia. 2016. Evander Holyfield vs. Mike Tyson II. March 12. Accessed May 29, 2016. https://en.wikipedia.org/wiki/Evander_Holyfield_vs._Mike_Tyson_II. Weinberg, Rick. 2004. 30: Tyson bites Holyfield's ear in rematch. August 9. Accessed May 29, 2016. http://espn.go.com/espn/feature/story/_/id/15749132/indycar-drivers-meaning-indianapolis-500.
Additional Information