Fort Larned
Introduction
From 1860 until 1878, Fort Larned was the most important fort guarding the northern portion of the Santa Fe Trail. The old fort later became private property and the center of a large ranching operation. It has been restored to the 1860s period to serve as one of the nation's best-preserved mid-19th century western military posts, consisting of one-story stone buildings are arranged around a quadrangle.
Images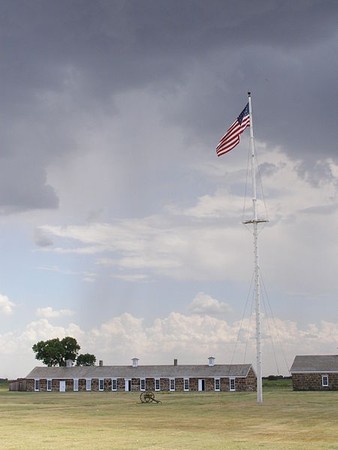 Backstory and Context
Fort Larned was a fort that was designed as a lookout for Native Americans. It was only after the majority of the Native Americans were placed onto reservations that the Fort was closed. For Larned is named after Colonel Benjamin F. Larned, was served as the paymaster general of the Army when the fort was built.

When the fort was originally constructed, it was built out of adobe bricks. These bricks can be considered somewhat close to hardened mud, with straw and gravel mixed in. Very close to concrete, without the strength. The fort was rebuilt using sandstone, which was much stronger than the Adobe bricks.

The 10th US Cavalry was stationed at Fort Larned from 1867 to 1869, and it was one of the first two all Black units in the country. These units were nicknamed the Buffalo Soldiers. This calvary unit was held in high remarks by their officers, and were hailed as brave soldiers in combat. They fought racial discrimination and segregation during their entire tenure at Fort Larned. At one point, it went as far as having their stable burned down, killing many of their horses and causing them to have to be relocated.

Today, Fort Larned is operated by the National Park Service, and you can enter all of the buildings and see how these soldiers lived. The fort consists of barracks, shops, warehouses, officers' row, and a blockhouse. All of these buildings are set up to be period correct, and provide for an educational experience for people of all ages.


Sources
Fort Larned National Historic Site. (n.d.). Retrieved June 06, 2016, from https://en.wikipedia.org/wiki/Fort_Larned_National_Historic_Site
Additional Information