City Pier A
Introduction
City Pier A is a Battery Park-based pier in the Hudson River, also known as Liberty Gateway. Built in 1884 and completed in 1886, City Pier A is New York City's last remaining historical pier. It was added to the National Register of Historic Places in June of 1975, and it was designated as a New York City Landmark in July of 1977. The Pier underwent substantial restoration beginning in 2009, and it is open today as a historic destination for visitors of all kinds.
Images
A view of the pier in 2013 ((Joe Mabel [CC BY-SA 2.0 (http://creativecommons.org/licenses/by-sa/2.0), CC BY-SA 3.0 (http://creativecommons.org/licenses/by-sa/3.0) or GFDL (http://www.gnu.org/copyleft/fdl.html)], via Wikimedia Commons))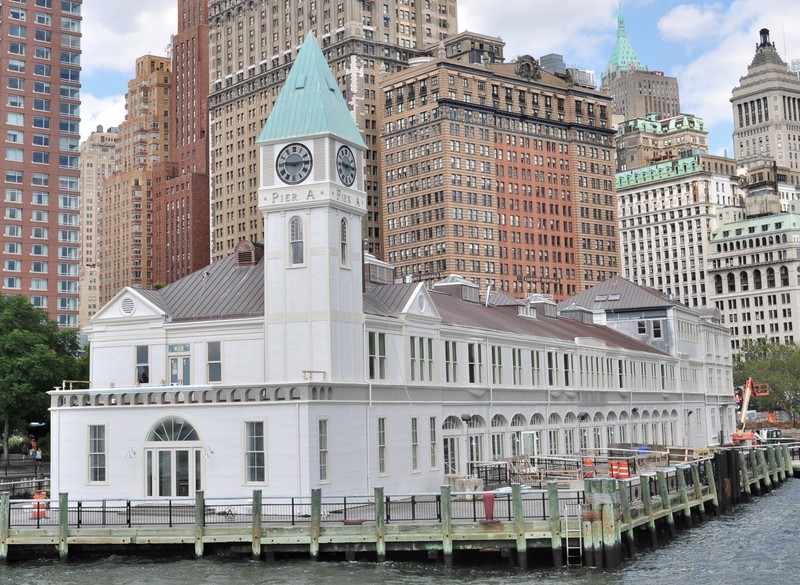 Backstory and Context
In 1884, the construction of City Pier A was commissioned for the New York City Docks Department for use by the Docks and Harbor Police. The pier itself was completed in 1885, and construction for a building to be used by the Docks Department began in September of that year. By 1886, the pier was completed, and the city soon had officers out regulating passage in the harbor. As the force in City Pier A grew in size and efficiency, there were calls for its expansion, so in 1900, City Pier A underwent renovations which added a three-story building to the pier. A similar renovation was undertaken in 1904, this one adding another floor to the building. In 1919, one last major renovation was undertaken, the construction of a clock tower on the main building of the pier, a memorial project for the fallen soldiers in World War I.
The pier continued to see consistent use by the Docks Department for several decades, and in 1960, the Marine 1 Fire Department moved to City Pier A. During Marine 1's time at the pier, City Pier A was added to the National Register of Historic Places on June 27th, 1975, and was designated as a New York City Landmark on July 12th, 1977. Marine 1 used the pier for several decades as a point for its fireboats, but in the early 1990s, there was talk of City Pier A undergoing redevelopment for commercial purposes. As a result, Marine 1 vacated the pier in 1992, and despite the ideas for redevelopment, most of the planned efforts fell through. The pier remained vacant for years until a restoration effort for the pier began in earnest in 2009. Today, the pier is open to the public.
Sources
"History of Marine 1." MARINE 1 F.D.N.Y. 2016. Accessed August 11, 2016. http://marine1fdny.com/history.php. Landmarks Preservation Commission. Pier A. 1977. Web. 11 Aug. 2016.