Inside Outside House
Introduction
Built in 1873 by Captain W. Pierce, this house was originally constructed in Boston and then shipped to Florida and reassembled. This house is suspected to be haunted by Captain Pierce and his cat, Brutus. Today, the house is the location of a business called Cottage Gift Shop. The house is called inside out for the exposed studs and shiplap paneling. Interestingly, the house is believed to be haunted by Captain Pierce and his cat, Brutus.
Images
The Inside Outside House was built in 1873 and is now the location of a gift shop.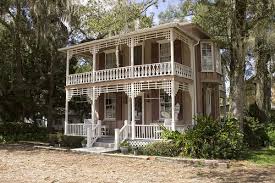 Backstory and Context
The Inside Outside house dates back to the Gilded Age. It was first built in Boston in the 1870s. To save it from demolition, the house was then taken apart and shipped down to Florida where it remains.
The inside outside house is very interesting not just because of its name, but because of its importance and its role in the history of Longwood. It was named the inside outside house because of its structural framing and its unique and unusual architecture. The inside outside house is on 141 West church avenue Longwood. The inside outside house is a two-story house build all from wood, its white painted house with a brown roof. The house was originally located in Altamonte Springs but was then moved to Longwood due to construction. (historic Longwood). The inside outside house is opened Monday through Saturday 10am till 5pm and is closed for business on Sundays. It is owned by the Reddit family since 1995, which includes a gift shop inside where you can purchase candles, purses, clothes shoes and more interesting souvenirs (Historic Longwood).

Around the time of the inside outside house, one of the earliest people to arrive and settle in Longwood was Neil Searcy. Neill Searcy came from Tennessee and was "granted Longwood homesteads". (Longwoodfl.org). Another early settler was P.A Demens, which was short for Alekseyev Dementyev Demens. He was the first major supplier of lumber and building materials for the entire area of Longwood. He also became owner of a charter for a railroad to run from the community of lake Monroe to south of lake Apopka. (Longwood Florida)
Longwood has a lot of historical sites, during the times of the inside outside house. Many tribes and slaves escaped to know known as Longwood to seek refuge, Later," when Creeks and others from the tribes of the Southeast United States fled into Spanish Florida and settled new villages among escaped African slaves, they became the Seminoles. The word "Seminole" is adopted from Spanish and Creek terms for people who live away from others." (Longwood Florida). Longwood has been where people needed to escape their old life and create a new life away from their past. For example, slaves who were running away from their owners, or tribes who were trying to stay away from war or trouble.
The inside outside house was built by Captain w. Pierce, in 1872 which makes it 46 years old. It was first build in Boston moved to Altamonte springs and now it remains in Longwood. The house is known for unusual activity, by meaning it was haunted. Many reports say that there were a lot of weird noises and movements in or near the house. "Staff in the gift shop have agreed for years now that both Captain Pierce and his beloved cat, Brutus, haunt the home. Intense cold spots form when no air conditioning is on, and voices and footsteps are frequently heard." (Haunted Places). This is interesting and makes the inside outside house even more of an attraction even during Halloween.
Captain w. Pierce was a retired sea Captain back in the days, he owned the house. He used the first floor as a cabinet shop, while the second floor was where his family lived. Captain Peirce was well known and became the president of the national bank. (Historic Longwood). Rumors still say that Captain Pierce even after passing away his spirit never left the house yet remained and haunts visitors that come to see the inside outside house. Many encounters of a weird breeze of air, or cold spots in the house occurred when ever you called his name. many of noises and footsteps that came out of nowhere and scared the visitors. It could be a prank to make the house more interesting and make it more famous for people to come visit, or it could be real, and Captain Pierce doesn't want anyone inside his house!
To sum up the inside outside house in Longwood is a house that every history enthusiastic must see. The house itself and the history around it tell a lot about the history of Longwood and its surroundings, which means that the more you know the better you can understand the real meaning of the history of longwood at that time. Many of the websites that have been used to collect more information about the inside outside house, really helped to learn more in detail about it, which helped understanding and learning more in depth about the history of Longwood back in the days of the inside outside house.
Sources
Robinson, Jim. "Longwood House's Place within History Is inside out."
Orlando Sentinel
. March 19, 2006. http://articles.orlandosentinel.com/2006-03-19/news/SJIMR19_1_altamonte-springs-inside-outside-sea-c...
Longwood Florida, https://www.longwoodfl.org/321/History, October 17, 2018 (longwood Florida)
Inside-Outside House, https://www.historiclongwood.com/research/articles/historic-district/inside-outside-house, longwood historic society, October 17,2018 (historic longwood).
The Inside-Outside House, https://www.hauntedplaces.org/item/the-inside-outside-house/, Haunted Places, October 17, 2018 (haunted places).
Additional Information