Pioneer Memorial and The Amidon Affair Historical Marker
Introduction
Situated on a hilltop overlooking Sioux Falls, the Pioneer Memorial obelisk and the adjacent Amidon Affair historical marker commemorate the period between 1856, when the city was platted, and 1889, when South Dakota was granted statehood. The obelisk was erected in 1949 by the Minnehaha County Historical Society, which also placed a block at the base in 2007 etched with a short memorial to the early pioneers and the struggles they endured. The Amidon Affair marker describes the tragic story of Joseph Amidon and his son William, who were killed by a band of Sioux Indians on August 25, 1862, as they were making hay on their land. That year the Sioux were trying to drive settlers out of area—as part of the Dakota War of 1862—and they happened to come upon the Joseph and his son. Their bodies were recovered the next day and the territorial governor ordered everyone to move to Yankton, then the territorial capital. It was until 1865 when Fort Dakota was built that the the Sioux Valley was settled again.
Images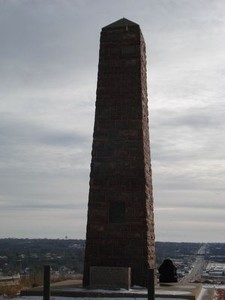 The memorial block placed at the base of the obelisk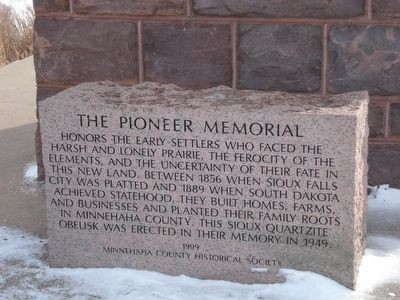 Front side of the Amidon Affair marker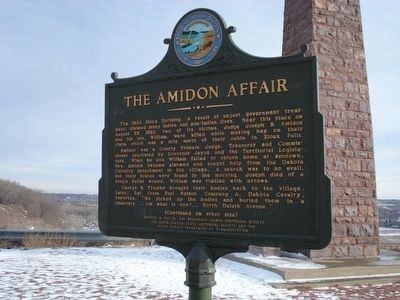 The back side of the marker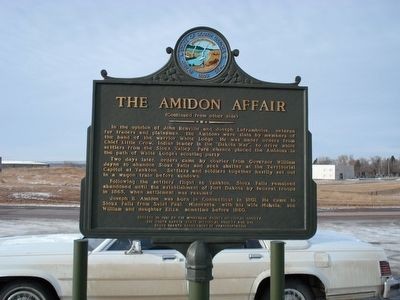 Sources
"The Amidon Affair." The Historical Marker Database. Accessed December 9, 2016. http://www.hmdb.org/marker.asp?marker=95061.
Photos by:
Roger Dean Meyer
Additional Information