Prices Fork Historic District
Introduction
Prices Fork Historic District is a national historic district in Prices Fork village, Montgomery County, Virginia. It encompasses thirteen vernacular residential, commercial, and institutional nineteenth-century buildings on lands owned by the Price family. Most notable amongst these are the James Bain Price House (built 1871), Price Store (built 1871), Prices Fork Methodist Church, and St. Mark's Lutheran Church (built 1877). In 1991, Prices Fork Historic District was added to the National Register of Historic Place. Its boundaries were expanded in 2014.
Images
James Bain Price House (left) in Prices Fork Historic District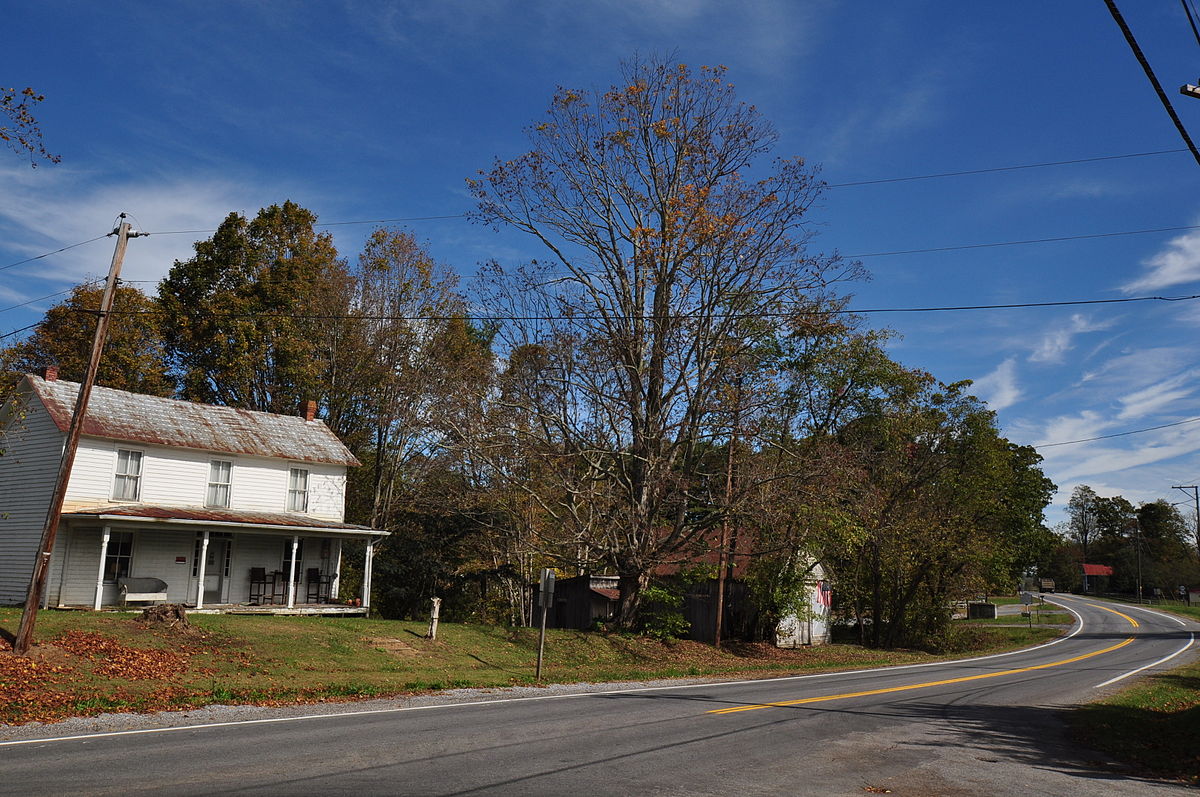 Backstory and Context
Prices Fork, located west of Blacksburg, Virginia, developed on the fork of old Pepper's Ferry and Brown's Ferry (Belspring) Roads. This village was one of the first settlements in the area, colonized by Germans who had expanded upland from the Horseshoe Bends of the New River. It is depicted on a Confederate map dating to 1864 as a small scattering of buildings, but all structures in the district were built after 1870. It evolved into a rural stringtown around the antebellum Israel Price Store (no longer extant). Today, the village is an established community of homes, farms, commercial establishments, and a mid-twentieth-century elementary school.

Owing to its location near Blacksburg, Prices Fork has often been under development pressure, which has put its historic resources at risk. Consequently, the area was designated a Virginia Historic Landmark in 1989 and placed on the National Register of Historic Places in 1991. The original district boundaries included a contiguous block of eleven buildings. To further ensure the conservation of Prices Fork's historic structures, however, the area covered under the NRHP designation was expanded in 2014.

Two contributing structures in the district are Prices Fork Methodist Church and former St. Mark's Lutheran Church (which was converted to residential use). Both are simple wooden country churches. There are also a number of nineteenth-century residences included in the designation. However, the two most historically significant buildings in the village are the James Bain Price House and Price Store.

The James Bain Price home is a hip-roofed farmhouse in the double-pile center-passage form popular in Montgomery County during the mid-nineteenth century. It features elements typical of the Greek Revival style and a large central front porch. Both the house and adjacent store were constructed by James Price in 1871. Additionally, the house has several outbuildings, including a meathouse and barn. Nearby is a brick building thought to have once been a schoolhouse.

The Price Store is a three-bay, gable-fronted, weatherboard frame structure. Unusual in its elegance, it is one of the county's best-preserved commercial buildings dating from the third quarter of the nineteeth century. Though the interior has been remodeled, many of the original elements are still intact.

Sources
Graduate Urban and Regional Planning Studio, Virginia Tech Urban Affairs and Planning. "Prices Fork Village Plan Supplementary Reports: Planning and Visioning, Historic Preservation, Housing Affordability, Green Infrastructure." Spring 2005. Accessed March 7, 2017. http://www.montgomerycountyva.gov/filestorage/16277/16344/16653/19472/PricesForkSupplementaryReport.....

Loth, Calder. The Virginia Landmarks Register. Charlottesville: Published for the Virginia Dept. of Historic Resources by the University Press of Virginia, 1999.

"National Register of Historic Places Nomination Form: Prices Fork Historic District." National Park Service. Last modified November 1990. http://www.dhr.Virginia.gov/registers/Counties/Montgomery/060-0224_Prices_Fork_Historic_District_199....

"Prices Fork Historic District." Wikipedia, the Free Encyclopedia. Accessed March 7, 2017. http://en.wikipedia.org/wiki/Prices_Fork_Historic_District.

James Bain Price House image by By Skye Marthaler - Own work, CC BY-SA 3.0, http://commons.wikimedia.org/w/index.php?curid=28914887.

Additional Information