Hotel Oakland
Introduction
The hotel was proposed in 1906 with a view to capitalizing on the flow of people from San Francisco to Oakland after the earthquake of 1906. The hotel was initially called the Banker's hotel due to involvement in financing from the banking community. A banking panic in 1907 forced several major sponsors to drop out, delaying construction of the project for a few years. Construction started in 1910, and was completed in 1912 at a cost of over $3,000,000. The architects were Walter Bliss and William Faville, who designed the building in the Italian Renaissance Revival style. The grand opening of the Hotel Oakland on December 23, 1912 was celebrated by a dinner and ball with 1,150 invited guests, including Mayor Davie and much of the East Bay's social, financial and industrial elite.
Images
Black and white sketch of the Hotel from 1979.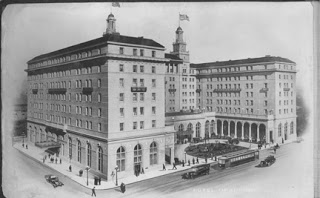 A wide fisheye shot of the Hotel.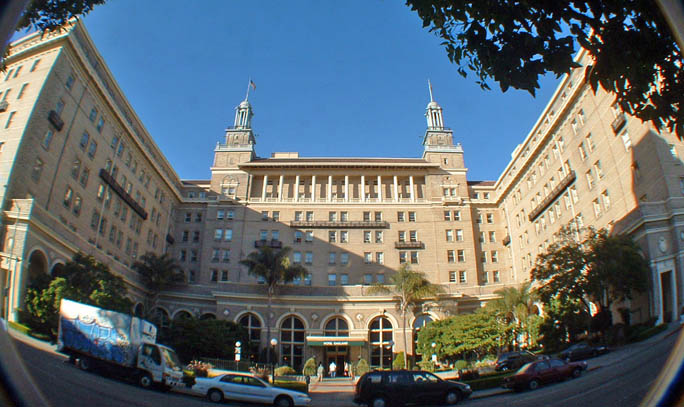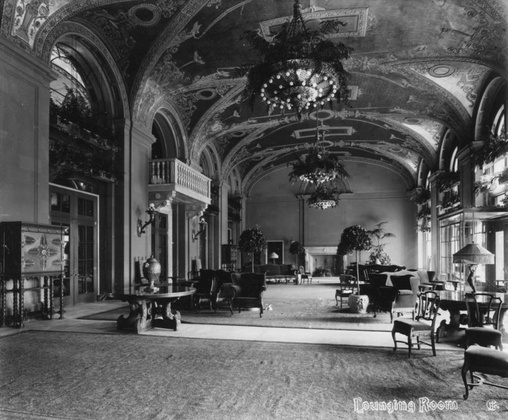 Backstory and Context
When the hotel first opened, limousines piled down the street, waiting to arrive at the black-tie event. The evening was one of opulence with hundreds of couples dining at rose-scented tables and danced under glittering, fern-filled chandeliers. It was described as the "most important social event in Oakland's history" was telegrammed to cities across the country and in Canada" success and was the start of the hotel's success.
The radio station KLX got its start in the hotel in 1921, broadcasting from the west tower of the hotel. It was originally a radio operator's training school called the Western Radio Institute and occupied two rooms on the seventh floor of the Hotel. As part of the school, a small "experimental radio station" was built in the west tower. Over time the station grew to include news, music, and live broadcasts, including a band playing on the hotel roof. In 1923 the station moved to the Tribune Tower.
During the 1930s, the hotel was forced into bankruptcy as the result of the depression and management difficulties. In 1943, the War Department took possession of the hotel for use as a U.S. Army hospital known as Oakland Area Station Hospital and all furnishings were auctioned off, including irreplaceable chandeliers. Following World War II, the Veterans Administration operated a hospital in the building until August of 1963.
After this, several unsuccessful attempts were made to reopen the hotel for public use. For the next 15 years, however, it remained vacant. Finally, in 1978 a Boston-based developer obtained possession and remodeled it into a housing project for the elderly, as it remains to this day.
Notable individuals to have stayed at the hotel included Presidents Wilson, Coolidge, Hoover, and Roosevelt, as well as "America's Sweetheart" Mary Pickford, Charles Lindbergh and Amelia Earhart.
Sources
Hotel Oakland. Local Wiki. Accessed June 18, 2017. https://localwiki.org/oakland/Hotel_Oakland.

History. Hotel Oakland. Accessed June 18, 2017. http://www.hoteloaklandvillage.com/about-us/history/.