Ellen Hardin Walworth, 1832-1851
Introduction
Ellen Hardin Walworth, One of three founders D.A.R., site of birthplace 1832-1915
Images
Located on the building at 301 South Main St.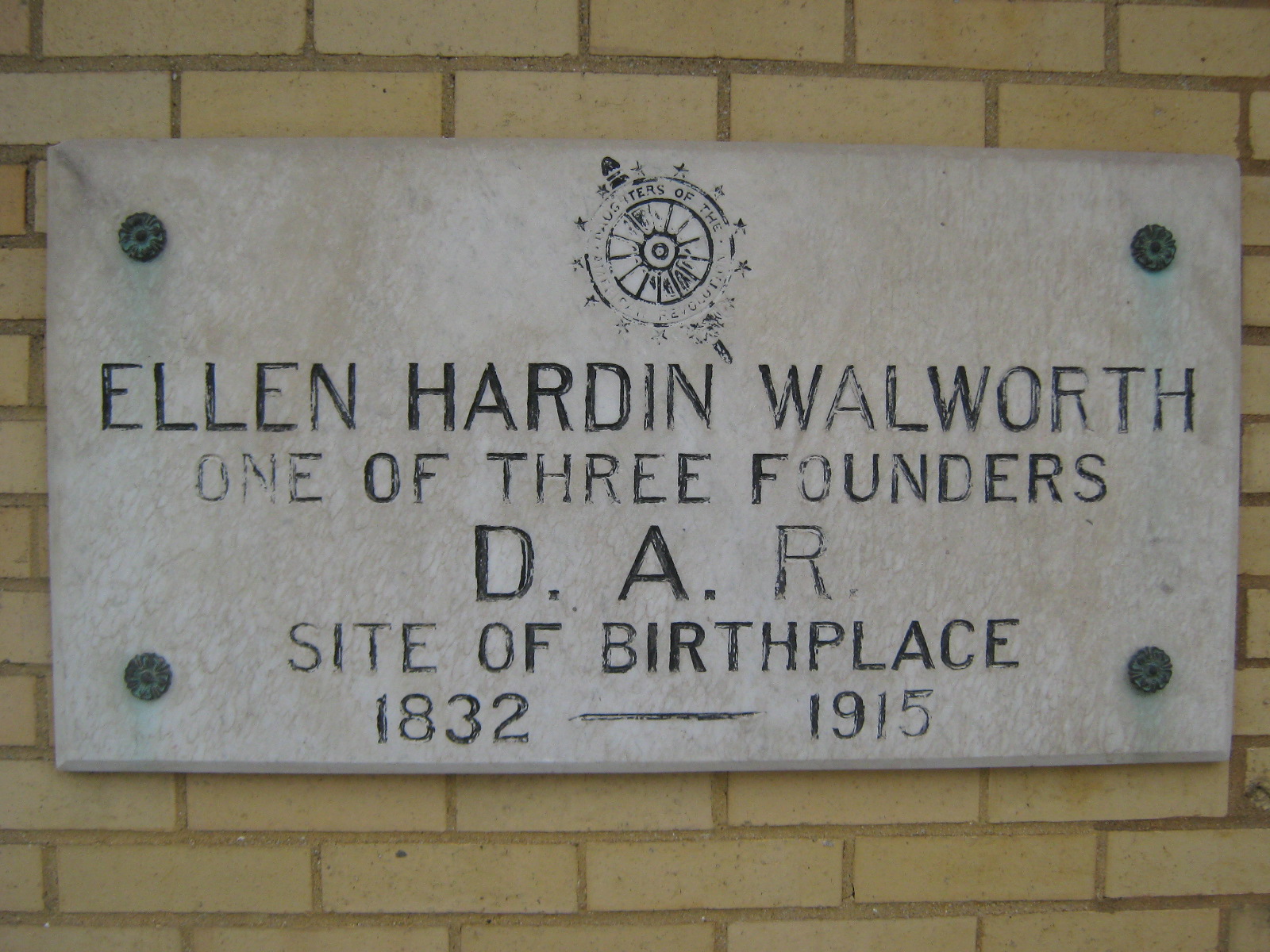 Backstory and Context
Ellen Walworth was born on October 20, 1832, in Jacksonville, Illinois. When she was about 12 years old her father, John Hardin, became a United States Congressman. In 1846 Mr. Hardin entered the army to fight against Mexico and was killed while leading his regiment at the battle of Buena Vista. The family continued to live in Jacksonville until 1851 when Mrs. Walworth's mother married the Honorable Reuben Hyde Walworth and moved the family to Saratoga Springs, New York.
Mrs. Walworth earned her law degree at New York University and was entitled to practice before the Court of New York and the District of Columbia. In 1852 she married Mansfield Tracy Walworth, her stepfather's youngest son. Mrs. Walworth opened her home as a boarding and day school after her husband's death in 1873. The school's success required her eventually to remodel and enlarge the facilities. Mrs. Walworth continued to live on the property year round until finally the cold New York winters affected her health and she began to make her home in Washington, DC, in winter.
One of Mrs. Walworth's earliest public efforts was her moving plea to the members of her local community to contribute to the fund to renovate George Washington's home, Mount Vernon, in Alexandria, Virginia. Mrs. Walworth wrote constantly on patriotic and historic subjects. She was an authority on the battlefields of Saratoga and also published an account of the Burgoyne campaign. She served as director-general of the Woman's National War Relief Association of 1898. Mrs. Walworth was the first editor of the official publication of the NSDAR, the American Monthly Magazine, serving from the spring of 1892 until July 1894. Ellen Walworth died on June 23, 1915, and was laid to rest in the family lot at Green Ridge, near Saratoga, New York.
Sources
https://www.dar.org/archives/ellen-walworth