Historic Heritage Square & Science Park
Introduction
The oldest remaining residential block in the City of Phoenix. With ten fully-restored buildings, the Square offers visitors a unique look into the vibrant history of Phoenix at the turn of the 19th century. Let the memories of yesteryear envelop you as you tour a museum, stroll under the Lath Pavilion, or enjoy a meal al fresco at one of the eateries. Directions & Parking The ROSSON HOUSE MUSEUM and HERITAGE SQUARE is located inside Heritage & Science Park on the Northwest corner 6th Street & Monroe (1blk. south of Van Buren & 7th St.) in downtown Phoenix, Arizona. A public parking garage is conveniently located at 5th St. & Monroe (please bring your parking garage ticket with you to be validated for a reduced parking fee). (1) On the south side of the Square is the ARIZONA SCIENCE CENTER. Home to over 350 permanent hands-on exhibits, the Center is able to provide their 400,000 annual visitors with interactive experiences. Along with daily demonstrations throughout the Center, there are shows in the Dorrance Planetarium and in the five-story, giant screen IMAX Theater. PLEASE NOTE: The buildings in Heritage Square and the Arizona Science Center each have individual Clio entries.
Images
Rosson House, cornerstone of Heritage Square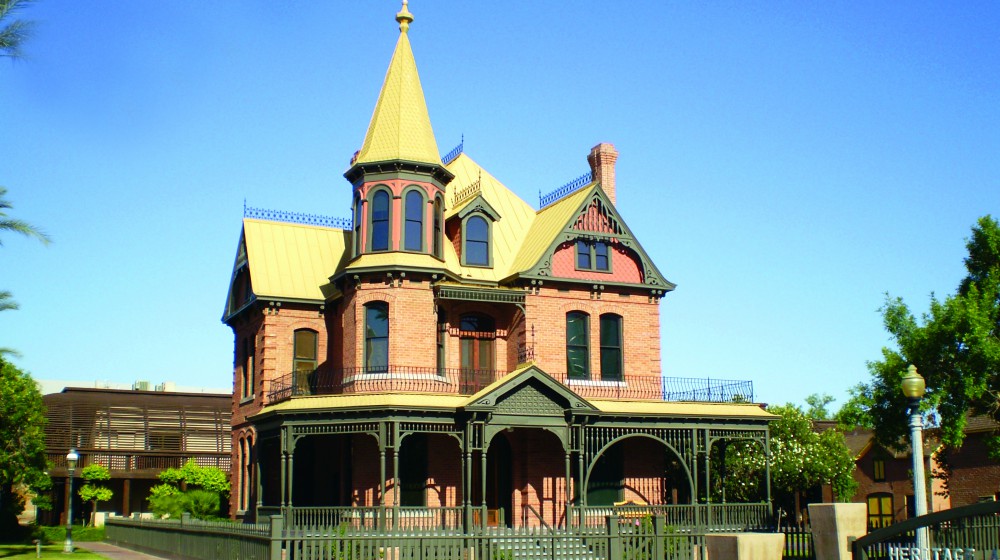 Buildings in Heritage Square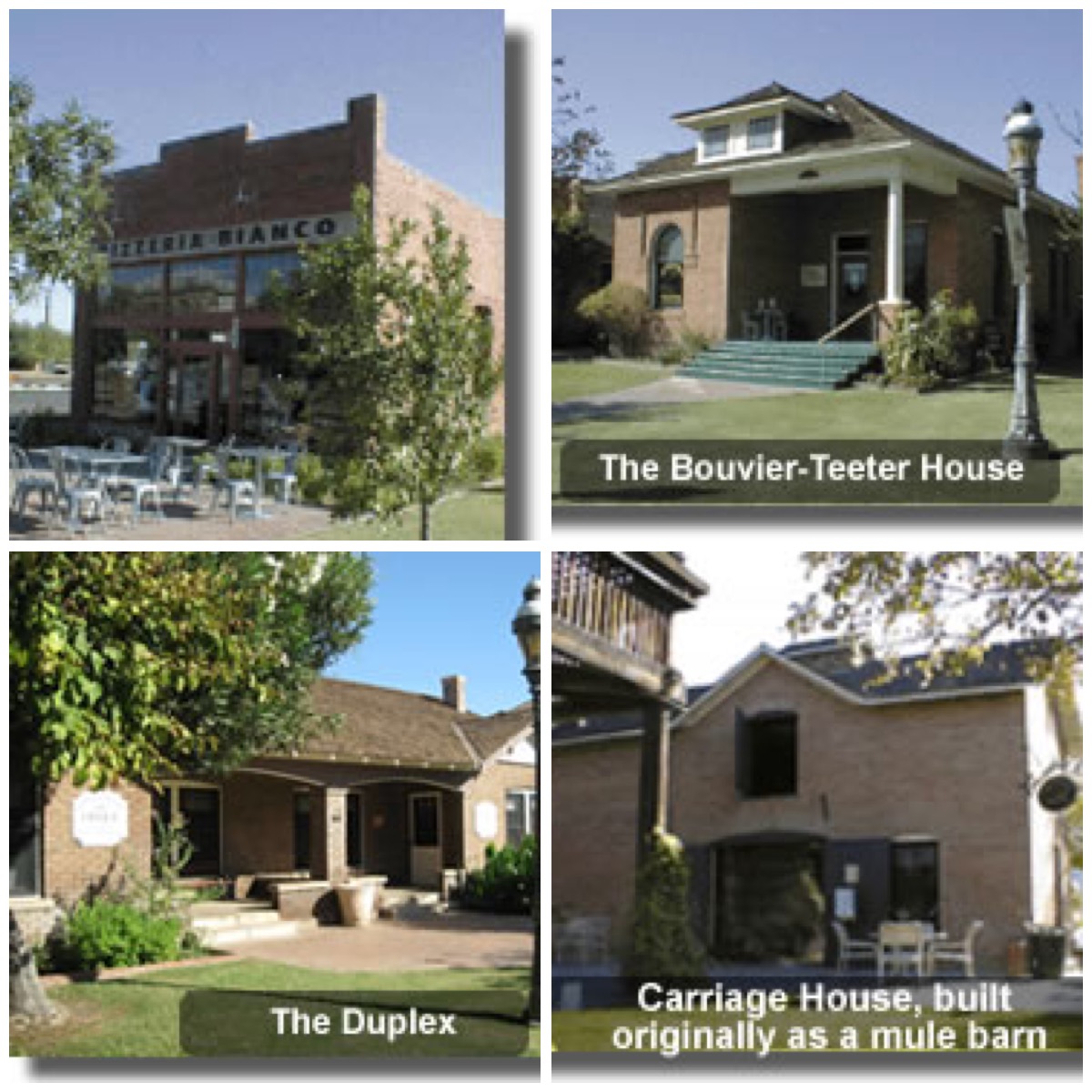 Buildings in Heritage Square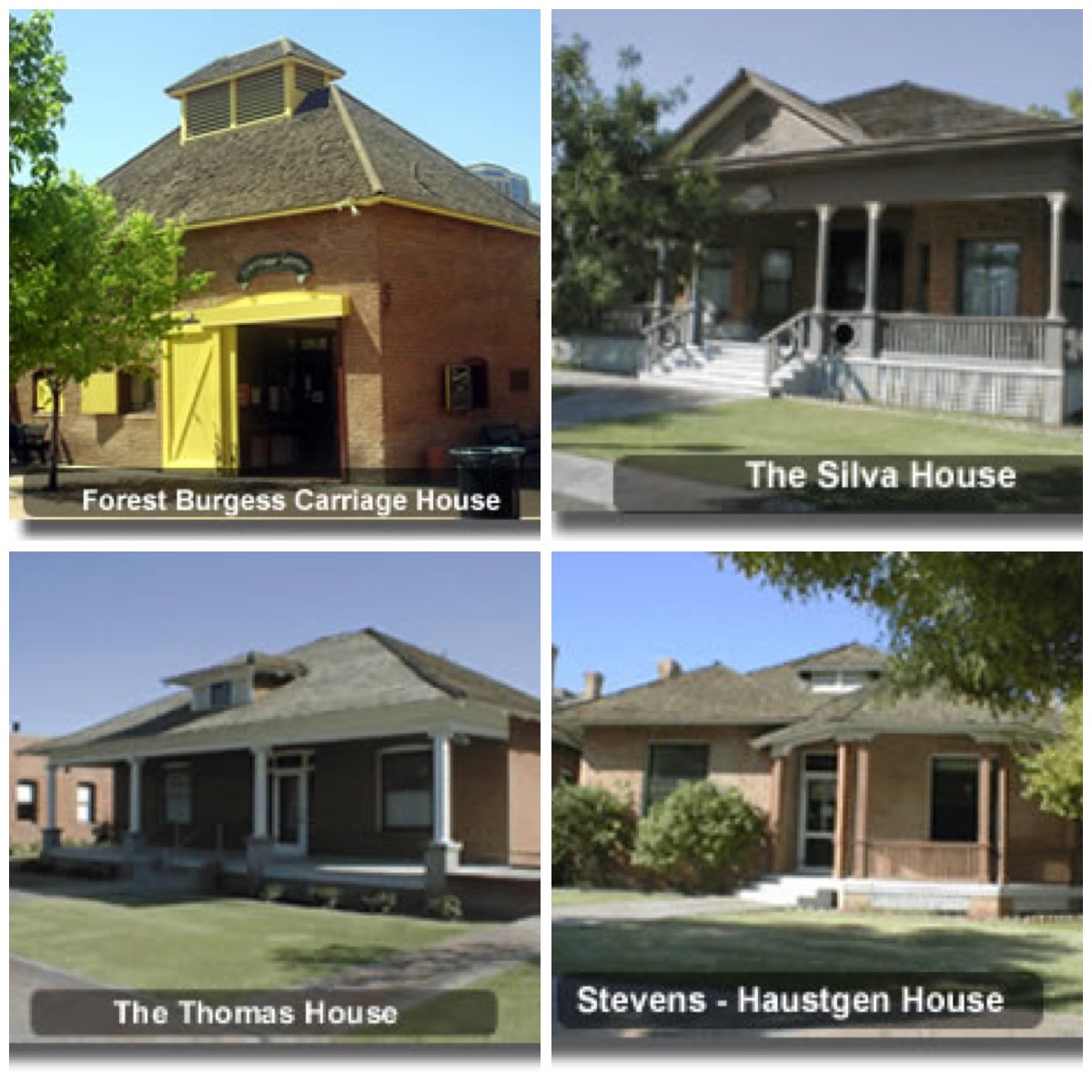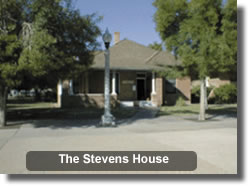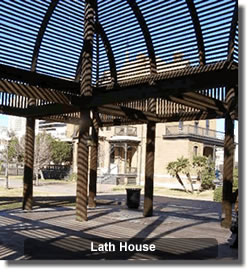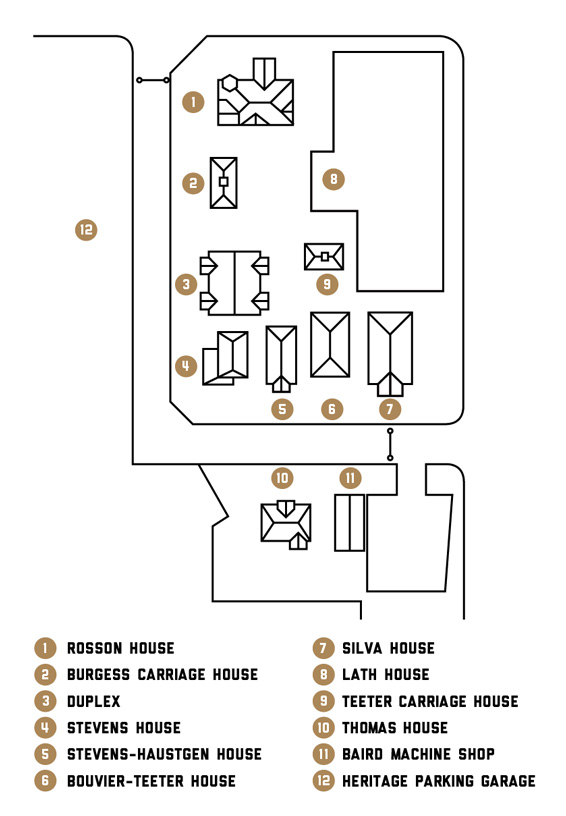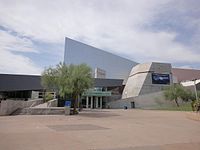 Backstory and Context
BUILDINGS IN HERITAGE SQUARE
The ROSSON HOUSE was built in 1895 for Dr. and Mrs. Roland Lee Rosson at a cost of $7,525. An outstanding example of the Victorian style, the Rosson House was one of the most prominent homes in Phoenix. Purchased by the city in 1974, its authentic restoration was made possible by the contributions of many individuals, groups and businesses. The home is open for viewing and docent guided tours by volunteers of the Heritage Square Foundation and Guild. An admission fee is charged.
Special tours may be reserved by calling 602-261-8948.
Hours: Wednesday through Saturday: 10 a.m. to 4 p.m., Sunday: Noon to 4 p.m. (last tour each day starts at 3 p.m.)
Get more information or call 602-262-5070. To hear a recorded informational message, call 602-262-5029.
The BURGESS CARRIAGE HOUSE is the only building to be relocated to block 14 of Heritage Square. Originally located at 130 E. Taylor Street, it was owned by the Forest Burgess family. It is all that remains of the Francis Marion Mognett Ranch (circa 1881). Today it serves as The Rosson House Ticket Office and Information Center and houses a gift shop.
Hours: Select Tuesdays, Wednesday through Saturday: 10 a.m. to 4 p.m., Sunday: Noon-4 p.m. For more information, call 602-262-5070.
The DUPLEX, newest of the homes on the block, was built in 1923 as an investment rental property by Anna and Marguerite Haustgen. In some ways, it features the most typical Arizonan styled houses on the Square, with its sleeping porches constructed with canvas and wood panels that were pushed out at night to let in the cool desert air. The north half of the Duplex houses the Phoenix Parks and Recreation Department's Heritage & Science Park offices. The Heritage & Science Park manager and staff operate from this area and provide details regarding special events and rentals. Information on downtown programs and events can also be obtained through this office by calling 602-262-5071. The south half of the Duplex serves as the headquarters for the support organization of Heritage Square: The Rosson House-Heritage Square Foundation & Guild. These offices are not open for public tours.
The executive director can be reached at 602-261-8063. The education director can be reached at 602-261-8948.
The TEETER CARRIAGE HOUSE, located in the center of the Square, was built as a mule barn for the Teeter House by Leon Bouvier in 1899. Eliza Teeter purchased the house and barn in 1911. Horses, vehicles, their harnesses and groom were stored here.
The Teeter Carriage House is home to the Royal Coffee Bar.
The SILVA HOUSE, a fine example of bungalow architecture with neoclassical revival references, was built in 1900 by A.F.C. Kirchoff, a Phoenix liquor dealer, on land he purchased from Flora Rosson. He sold it in 1906 to Alejandro Silva, a Glendale rancher and warehouse owner. This historic home is now occupied by a restaurant, The Rose and Crown, which features traditional English pub fare.
Hours: Monday through Saturday: 11 a.m. to 2 a.m., Sunday: 10 a.m. to midnight. For more information, call 602-256-0223.
The BOUVIER-TEETER HOUSE, a Midwestern style bungalow built in 1899 by Leon Bouvier, a cattleman and flour miller, was also used as a rental property. Bouvier sold the house to Eliza Teeter in 1911 and she rented the home until moving in herself in 1919. The property features a refined Asian-style teahouse by day and funky izakaya by night. Nobuo at Teeter House restaurant reflects the fascinating duality of James Beard award-winning chef Nobuo Fukuda.
Hours: Tuesday through Friday, Lunch: 11 a.m. to 2 p.m., Dinner: 5:30 p.m. to Close; Saturday and Sunday, Lunch: 11 a.m. to 4 p.m., Dinner: 5:30 p.m. to Close. For more information, call 602-254-0600.
The BAIRD MACHINE SHOP, an early 20th century commercial structure built in 1929, is home to Pizzeria Bianco. Equipped with a wood burning brick oven, chef Chris Bianco creates pizzas and entrees made with his homemade mozzarella cheese, fresh baked breads and locally grown vegetables.
Hours: Monday: 11 a.m. to 9 p.m., Tuesday through Saturday: 11 a.m. to 10 p.m. For more information, call 602-258-8300.
The THOMAS HOUSE was moved to block 15 of Historic Heritage Square in the 1980s to save the home from demolition. This 1909 neoclassical styled building houses Bar Bianco, a wine bar featuring a varied selection of wines, homemade bread and appetizers.
Hours: Monday: 11 a.m. to 9 p.m., Tuesday through Saturday: 11 a.m. to 10 p.m. For more information, call 602-258-8300 or visit Pizzeria Bianco.
The STEVENS-HAUSTGEN HOUSE was built in 1901 as a rental property by Constance Stevens. It was purchased by Edward Haustgen in 1911 for his sisters, Marguerite and Anna. Marguerite Haustgen lived there from 1937 to 1952. The building is considered significant for its representation of the historic California bungalow style built around the turn of the century. Now it serves as the "Hands on Heritage House Education Center."
For more information, call 602-262-5070 (Rosson House Ticket Office).
The STEVENS HOUSE was built in 1901 by Constance Stevens, a widow and clerk in the local retail business known as the "New York Store." This one-story red brick house was typical of the Midwestern influence and replaced the sun-dried adobe brick that had been used earlier in the region. Of architectural interest is its unique roof system, an irregular belled hipped roof and double pyramidal roof over a projecting bay that raised the entire roof above the attic level 16 inches to allow space for air circulation.
For more information, call 602-261-8063.
The LATH HOUSE PAVILION, completed in 1980, serves as an outdoor community meeting area. Its design has been influenced by combining 19th century concepts of a botanical conservatory, gazebo, beer garden and pedestrian shopping arcade, all of which were common features of early Phoenix architecture. This contemporary structure was designed by architect Robert Frankeberger and provides the space for many popular special events. The pavilion is also available for rental by individuals and community groups for weddings and banquets. Additionally, small indoor meeting rooms are available.

For private rental information, contact the Rosson House - Heritage Square Foundation & Guild at 602-261-8063.
For special event and festival rental information, contact the Phoenix Parks and Recreation Department's Heritage & Science Park office at 602-262-5071 or via e-mail. (2)
Restaurants in the Park
Sources
1. "Heritage Park," official website, accessed August 27, 2017.
http://heritagesquarephx.org/
2. "Historic Heritage Square/Heritage & Science Park," City of Phoenix Parks & Recreation, accessed August 27, 2017.
https://www.phoenix.gov/parks/parks/alphabetical/h-parks/heritage
3. "Arizona Science Center," official website, accessed September 1, 2017.
https://www.azscience.org/

Additional Information