Throgs Neck
Introduction
Located on a peninsula, Throgs Neck is a neighborhood of Bronx, New York. The area is named after Rev. John Throckmorton. Throckmorton, who came to America in 1631 with his wife, moved to Throgs Neck in 1642 after receiving a grant from Dutch officials. The settlement did not last long, however, as Siwanoy Indians wiped it out that next year. A bridge, called Throgs Neck Bridge, was built over Throgs Neck and opened in 1961, connecting the Bronx to Queens.
Images
Picture of Throgs Neck Today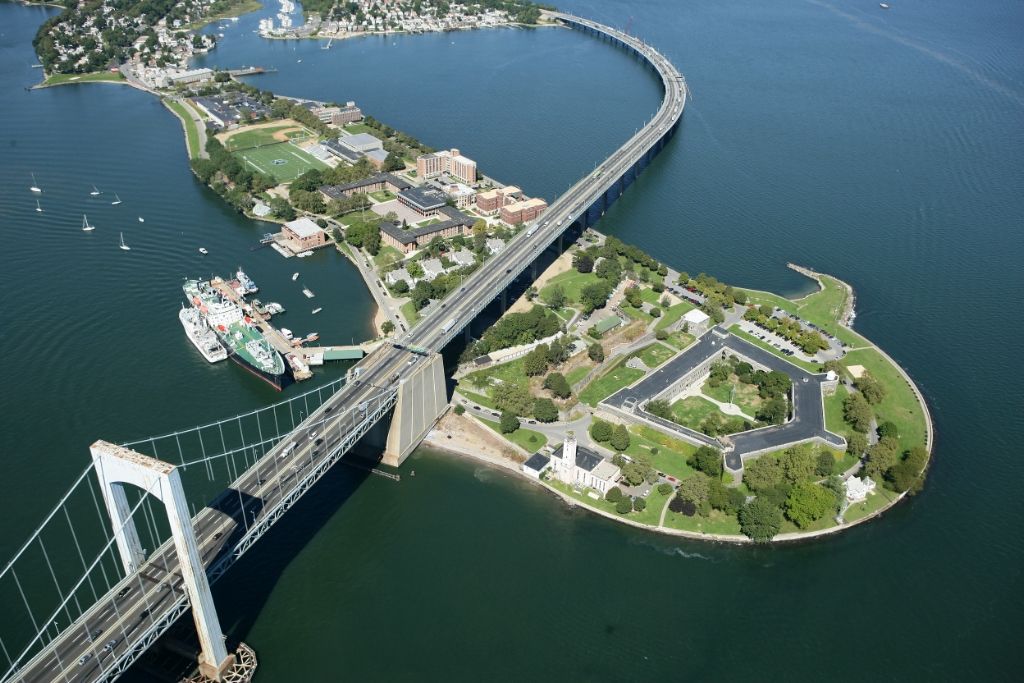 Building Bridge Over Throgs Neck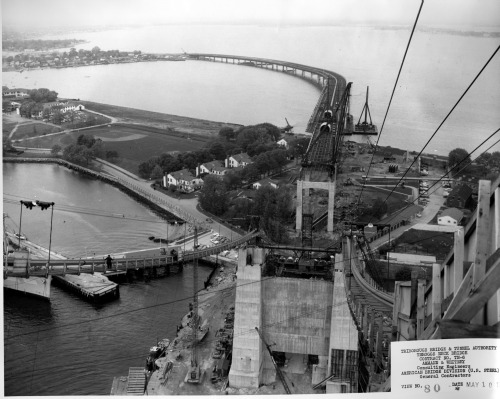 Backstory and Context
Throgs Neck got its name from John Throckmorton, a reverend from England who came to the colonies in 1631 aboard the ship Lyon. When Throckmorton arrived in the New World, he landed in Massachusetts, where he faced religious persecution from Puritans in the area. Hoping to find religious freedom elsewhere, Throckmorton traveled with Roger Williams to Rhode Island, where Williams founded a new colony. His colony was founded on ideas of religious freedom and separation of church and state. These ideas would influence the United States Constitution and the Bill of Rights nearly 150 years later.

After moving to Rhode Island, Throckmorton, fearing that religious persecution would follow his party to the new colony, decided to establish a small settlement in what is now Bronx, New York. Before he received the land, however, Throckmorton had to swear allegiance to the Dutch, who owned New York City at the time. Throckmorton made the move to Throgs Neck in 1642 with around 35 other families. The settlement would be short-lived. In 1643, Siwonoy Indians, who also occupied land around New York City, raided the settlement after first destroying another settlement just north of Throgs Neck, established by Anne Hutchinson. The Siwonoys killed every settler they came across. Luckily for Throckmorton, he was away at the time. He wouldn't return to Throgs Neck after that.

Throgs Neck forever carried Throckmorton's name after he left. Though originally it was written Throggs Neck, the City of New York started using one G instead of two, and most official markings have one G, but many people from the area still use two G's when referring to Throgs Neck. Throgs Neck eventually developed into a neighborhood. In 1961, a bridge was built over Throgs Neck, called Throgs Neck Bridge, to connect the Bronx to Queens.
Sources
"Throg(g)s Neck, Bronx." Forgotten New York. 4/21/15. Accessed Web, 9/14/17. http://forgotten-ny.com/2015/04/throggs-neck-bronx/.

Miller, Stephen. "John McNamara, 91, Historian of Bronx Place-Names." New York Correction History Society. 10/19/04. Accessed Web, 9/14/17. http://www.correctionhistory.org/mcnamara3.html.

"Name That Neighborhood: What Exactly is a Throgs Neck?." Bowery Boys History. 2/24/09. Accessed Web, 9/14/17. http://www.boweryboyshistory.com/2009/02/name-that-neighborhood-what-exactly-is.html.

Silva, Dan. "John Throckmorton, I." Find A Grave. 5/12/07. Accessed Web, 9/17/17. https://www.findagrave.com/cgi-bin/fg.cgi?page=gr&GRid=19356715.


Additional Information