Historical Marker for the Settlement of Freetown (St James Parish)
Introduction
This historical marker was dedicated in 2014 by descendants of former slaves who established Freetown in 1842. Freetown was the first settlement that was established and owned by former slaves in St James Parish. The thirty-one founding members of this community established the agricultural settlement in 1842, and this historic marker is the first dedicated to a location founded by people of color in the Parish. Though members of the community were mostly poor - it was a community of support and sharing as residents shared gardens and worked collectively to defend one another in an era when free people of color faced dangers and even the possible loss of freedom.
Images
The historical marker dedicated to the Settlement of Freetown (St James Parish). Image from waymarking.com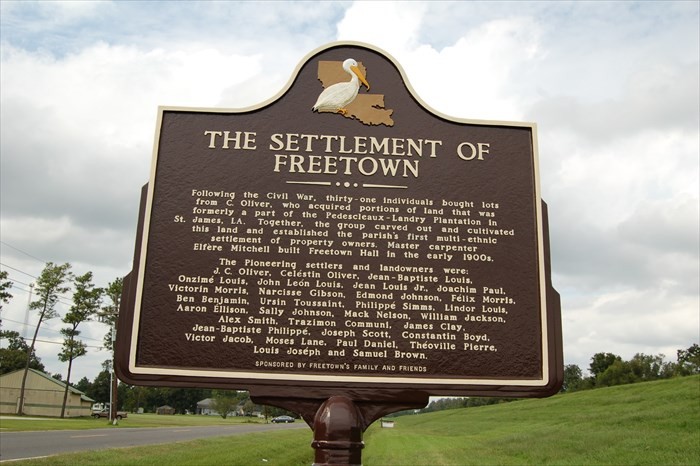 Backstory and Context
The Settlement of Freetown originally was a section of the Landry-Pedesclaux plantation. It was primarily a sugar plantation, and after the Civil War, the white woman that owned the land suffered a series of economic challenges and her land was sold at a sheriff's auction after being divided into four different sections. One of the people who purchased a portion was an attorney, who after suffering his own financial challenges sold the land to former slaves and people of color who had been born free. At the inception of the community, there were thirty-one founding members of the Settlement of Freetown. The community grew in subsequent decades similar to other communities of former slaves throughout Louisiana and the South. Several of these communities also adopted the name Freetown while others adopted names related to prominent families or Biblical names. In the years that followed, African Americans incorporated entire cities throughout Florida and many other states in the South and West such as Oklahoma and Kansas.
Freetown Hall was built in the 1900s and served as a community center. The building continues to serve this purpose and became the meeting place of organizations such as the Rising Sun Benevolent Association. Established in 1908, this fraternal order assisted with funeral costs and met a variety of expenses that helped the community. The organization and Freetown Hall still exist as a reminder of the many other buildings and organizations that were part of this historic community.
Sources
Freetown Marks the Spot. http://www.lobservateur.com. March 31, 2015. http://www.lobservateur.com/2015/03/31/freetown-marks-the-spot/.

The Settlement of Freetown St James, LA. Waymarking.com. September 28, 2014. http://www.waymarking.com/waymarks/WMMJF0_The_Settlement_of_Freetown_St_James_LA.


Additional Information