Erie Canal Discovery Center
Introduction
A new state-of-the-art interpretive center for the Erie Canal, focusing on the role that Lockport played in canal history, and featuring a 20' x 13' Raphael Beck mural, "The Opening of the Erie Canal, October 26, 1825." This beautiful floor to ceiling mural depicts the celebration surrounding then NY Governor Dewitt Clinton's ceremonial first passage through the now famous "Flight of Five" locks at Lockport to officially open the Erie Canal. Individuals from the painting "come to life" with the assistance of virtual-reality, through computer kiosks in the Center. A multidimensional orientation film transports the visitor back in time onboard a recreation of the packet boat Western Comet. Additional audiovisual stations such as the "Hard Rock Canal" and "Work the Lock" allow guests the hands-on opportunity to view the dolomite rock wall at Lockport and to navigate a model ship through an actual working series of locks. The life and times of "canalers," people who lived and worked on the canal, as well as "canal kids," are depicted in exhibits that feature the latest technology in communication "sound-sticks." The National Park Service rounds out the many displays with their own description of the National Heritage Corridor.
Images
This building, known as the "Canal Stone Building," was constructed in 1843 and houses the Discovery Center.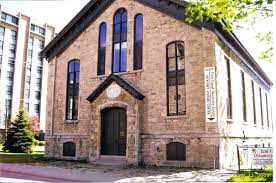 Sources
"Erie Canal Discovery Center." The Niagara County Historical Society. Accessed June 14, 2014. http://niagarahistory.org/discovery-center.
Additional Information