Clear Springs Plantation
Introduction
Clear Springs Plantation is believed to have been built in the early 1700s. Farniford Green and his wife, Hannah Kent Smithwick, moved to North Carolina to build their plantation and family home in hopes of raising hogs, cattle, and children, but the house was raided and attacked by Native Americans in the early 1700s. This was not unusual, as North Carolina even built Fort Dobbs in hopes of stopping the Native Americans attacks. The land Clear Springs Plantation was built on is private property and is still owned by the Green family.
Images
This is a photograph of Green's home.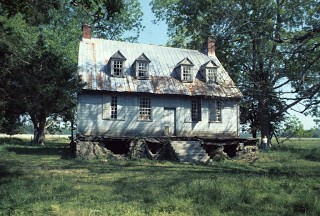 This is a picture of some of the architecture inside the home that historians used to guess the age of the home.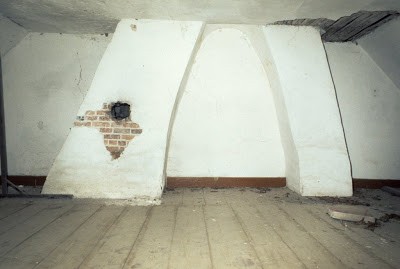 This is a drawing of Fort Dobbs.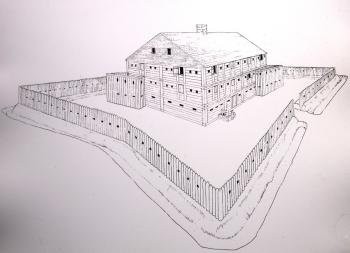 This is a picture of the site of Fort Dobbs in Iredell County, NC.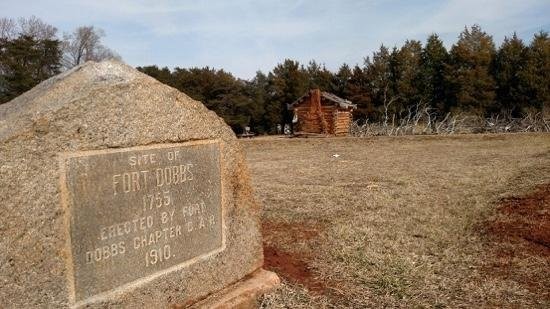 Backstory and Context
Clear Springs Plantation is located in North Carolina. It is also known as Green's Thoroughfare or the Dawson Place, and the home on the property is one of the oldest structures in Craven County, North Carolina, and it may even be the oldest structure in the state. The exact date of the house is unknown, but historians believe it was built in the early 1700s because of the style of the house and the unusual survival of the architecture. Historians believe the home Farniford built was constructed before 1711 and was destroyed by a fire during the raid in 1714. The home that was built in place of the first home was probably built around the 1740s, because Farniford's sons, Farniford Jr. and James, were living on the property around the 1750s.
Farniford Green married Hannah Kent Smithwick around 1697. Soon after their marriage, they moved to North Carolina and settled down on his grandfather's, Roger Green, land. Farniford Green then continued to build a plantation and home on such land, in the interest of raising livestock and a family.
In 1714, Farniford Green's property was attacked by Native Americans. The raid killed 40-year-old Farniford Green, one of his sons, a white servant, two African Americans, and their livestock. The family's plantation and home were set on fire during the raid. Luckily a few years before Farniford Green was murdered by the Native Americans, he patented his land and wrote his will in 1711. In his will, Farniford Green left his property to his son, James Green.
Farniford Green and his family were not the only people to be attacked by Native Americans. This was happening all over North Carolina and the coastline. Attacks were so common, Fort Dobbs was built. This fort was built to protect and defend settlements during the French and Indian War. Fort Dobbs is located in Iredell County, and it is the only North Carolina historic site commemorating the French and Indian War.

When James Green died in 1788, he left the property to his son, John. It is thought that John opened a school on the land because Robert C. Moore wrote a letter stating that his first teaching job was at a school that John Green owned. James was buried in the Green's Family Cemetery. His grave and marker stone is still visible. James's mother, who died in 1765, is also buried in the family cemetery. Many people wonder if Franiford Green was buried beside his wife and child, but no marker exists. The cemetery has been used for many generations of the Green and Dawson families. The land is still home to the Green family to this day and is now private property and cannot be visited without invitation.

Sources
Warshaw, Mary. Clear Springs Plantation. Early 18th Century Farnifold Green Homestead. . Accessed September 30, 2018. http://morebeauforthistory.blogspot.com/p/early-18th-century-farnifold-green.html.

Carney, Richard. Fort Dobbs. North Carolina History Project. . Accessed October 10, 2018. https://northcarolinahistory.org/encyclopedia/fort-dobbs/.

Hamilton, Susi H. Fort Dobbs. . Accessed October 10, 2018. http://www.fortdobbs.org/.

National Register of Historic Places. United States Department of the Interior National Park Service. July 01, 1969. Accessed November 01, 2018. http://www.hpo.ncdcr.gov/nr/CV0012.pdf.


Additional Information