George Freeth
Introduction
Located on The Pier at Redondo Beach in Los Angeles, California is a statue celebrating the life and contributions of George Freeth. Freeth came to California in 1907 to bring publicity to the development of the "largest warm salt water plunge in America" by showing off his surfing skills. He introduced surfing to California and became known as the "Father of Modern Surfing".
Images
George Freeth posing with his 8 ft., 200 pound wooden surf board
George Freeth during his time as a swimming instructor when he created the "crawl" swim.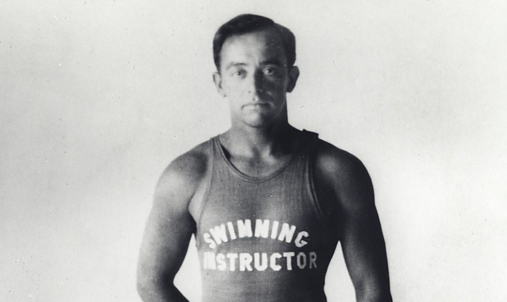 Backstory and Context
George Freeth was born in Honolulu, Hawaii on November 8, 1883. He was part Royal Hawaiian and Irish. In 1907, Henry E. Huntington was looking for some sort of publicity stunt to promote a new railroad he had created in Los Angeles. He saw Freeth's ability to surf and invited him to Redondo Beach. There thousands of people gathered around to witness Freeth take his surf board (which back then was a wooden, 8 ft. long and weighed 200 pounds) into the ocean, catch a wave, and ride it back to the shore while standing upright.
After that the idea of surfing spread all across the country. Freeth moved to Los Angeles and continued to surf in Redondo Beach as well as the coasts of Balboa Beach and Palos Verdes. He later became the first lifeguard in the United States of America. During his time as a lifeguard he saved 6 fisherman from a capsized boat in 1908 and was awarded The United States Life Saving Corps Gold Medal for his heroics. He is also responsible for creating the oval buoy and rescue floats that lifeguards still use to this day.
Aside from surfing and lifeguarding, Freeth also created some of the most famous water sports as well. He put together the first ever water polo and water basketball teams. He then became a swimming instructor where he created the "Crawl" swim. He also trained Olympian swimmers and divers. Sadly, Freeth died of influenza in 1919 at 35.
George Freeth accomplished many great things in his short life time. In fact, many of his accomplishments are still celebrated to this day. Surfing is now a very popular and widespread sport all across the country. Lifeguards are stationed at all beaches and now all public pools across the nation. They still use rescue buoys and are able to save hundreds of thousands of lives every year thanks to Freeth's evolutionary idea, and water polo is now a summer Olympian sport. All of which are great contributions to society that we owe all thanks to George Freeth.
Sources
George Freeth. (n.d.). Retrieved from The Pier: http://www.redondopier.com/about-the-pier/george-freeth/
George Freeth - American Surfer. (n.d.). Retrieved from Encyclopedia Britannica: https://www.britannica.com/biography/George-Freeth
Shay, A. (2013, July 2). George Freeth – Father of Modern Surfing. Retrieved from Coasta Rico Surfing: http://costaricasurfing.org/george-freeth-father-of-modern-surfing/
Additional Information