Lowell Historical Museum
Introduction
Opened in 2003, the Lowell Historical Museum seeks to connect visitors with historical objects and works of art in order to cultivate an understanding of the rich history of Northwest Arkansas; the Museum is also dedicated to honoring local veterans. The Lowell Historical Museum houses artifacts from the Civil War to the current period.
Images
The Lowell Historical Museum's motto is "Town with a Past, City with a Future"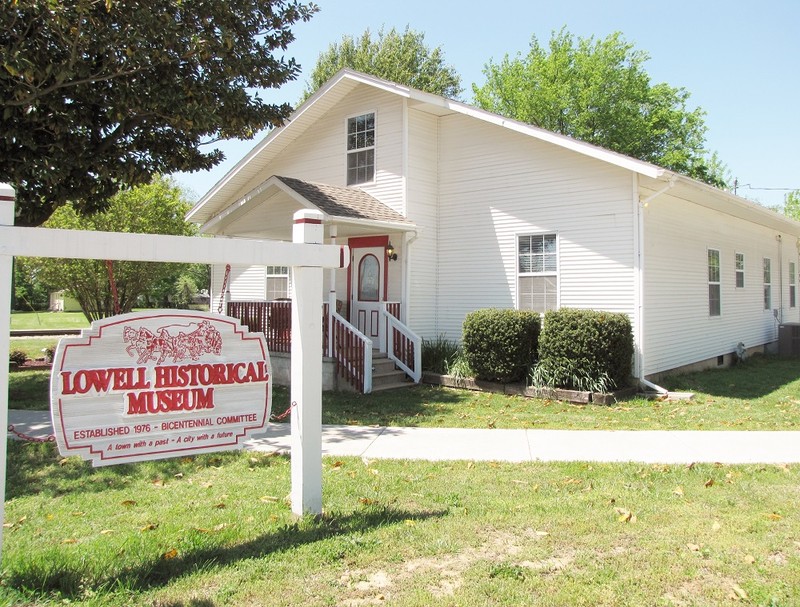 Backstory and Context
The Lowell Historical Museum was officially opened in 2003, though the first inklings of opening such a museum began in 1976.
Originally a settlement named Bloomington, located some distance to the east of Lowell's current location, the nickname "Mudtown" came about due to traveling stagecoaches often getting stuck in the mud and having to be pulled out. According to local legend, this was orchestrated purposefully in order to make travelers stay in the area longer. Residents at the time disputed this accusation, naming the heavy wagons which carried lumber from Van Winkle's Sawmill as the cause for the deep ruts of mud. Now, the Museum offers a "Camp Mudtown" presentation, which exhibits Civil War era tools, clothing, and weaponry used by both the North and the South as well as a festival called "Mudtown Days."
The small town of Bloomington had a hotel, church, schoolhouse, Tavern and Dram Shop, a general store/post office, Blacksmith shop, a camping area for horse traders, and eventually a bank... which was robbed while Jesse James was staying in town. In 1881, the Frisco Railroad was completed about one mile west of town; a few months later a cyclone destroyed several buildings in Bloomington. The combination of these events caused the town to move to its current location, and was renamed Lowell.
Sources
Historical Museum. City of Lowell Website. . Accessed October 13, 2018. http://www.lowellarkansas.gov/departments/lowell-museum/index.aspx/.
Additional Information