George Nakashima Woodworker Complex
Introduction
George Nakashima arrived in New Hope in 1945 from a Japanese internment camp. In the next few decades, the American-born Nakashima would become a world-renowned architect and designer of furniture working from this complex which is now a National Historic Landmark. A devotee of the International style of design, Nakashima combined that style with traditional Japanese architecture in both his buildings and his furniture. Nakashima also designed the complex and worked here until his death in 1990. Devotees of his craft now continue the Nakashima legacy by following his design methods, and techniques. The complex is open to the public and includes twenty-one buildings over twelve acres. The complex continues to produce acclaimed furniture and some buildings are open to the public each weekend. The complex was designated a National Historic Landmark in 2014.
Images
The Arts Building at the Nakashima Complex.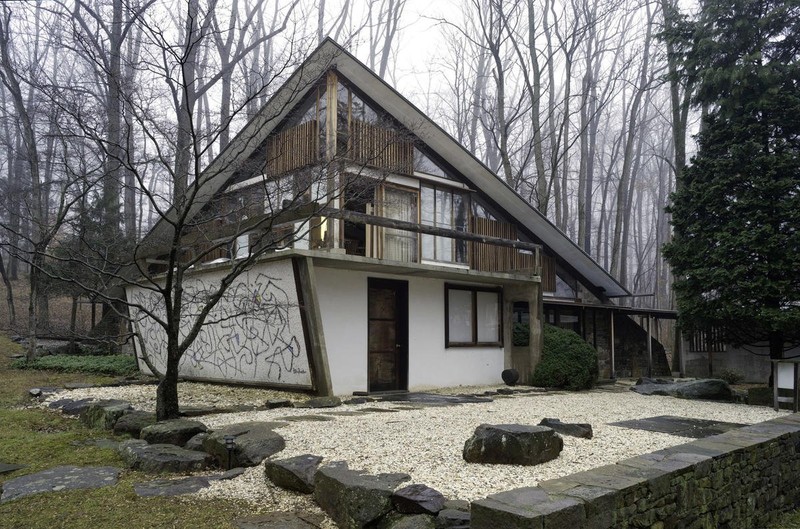 The master taking a moment to pose for a photo in his workshop.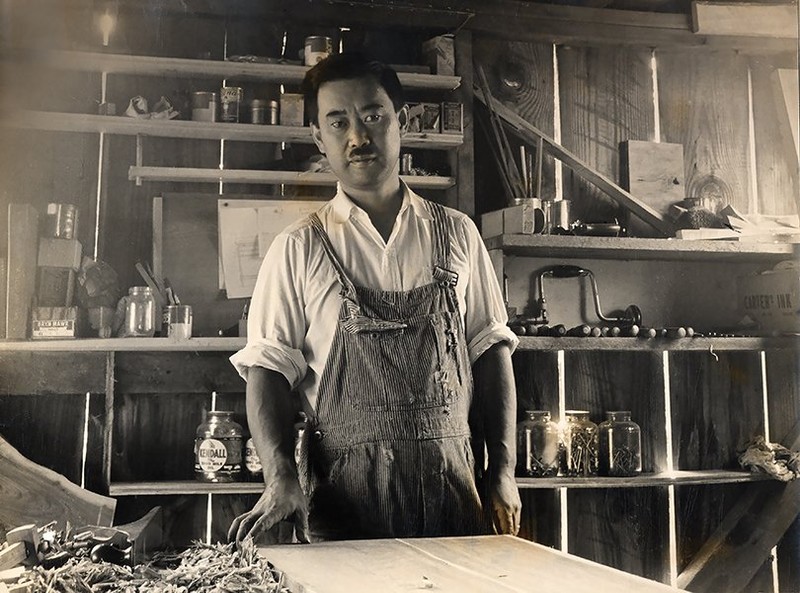 The interior of the Conoid Studio.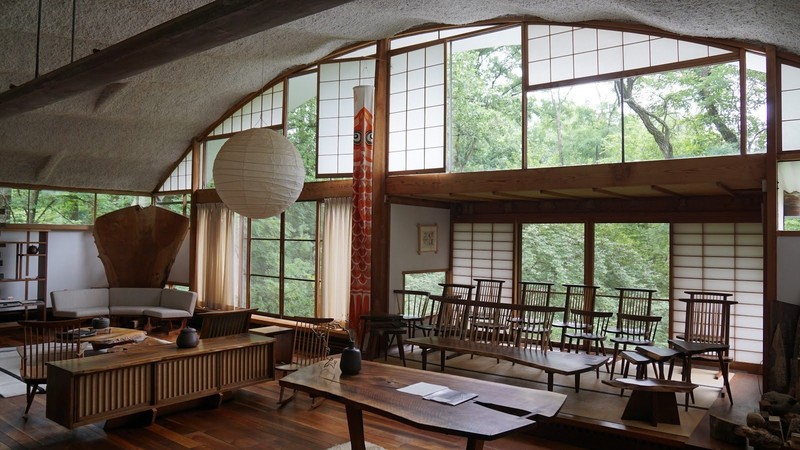 An overhead shot of a Nakashima dining table and chairs.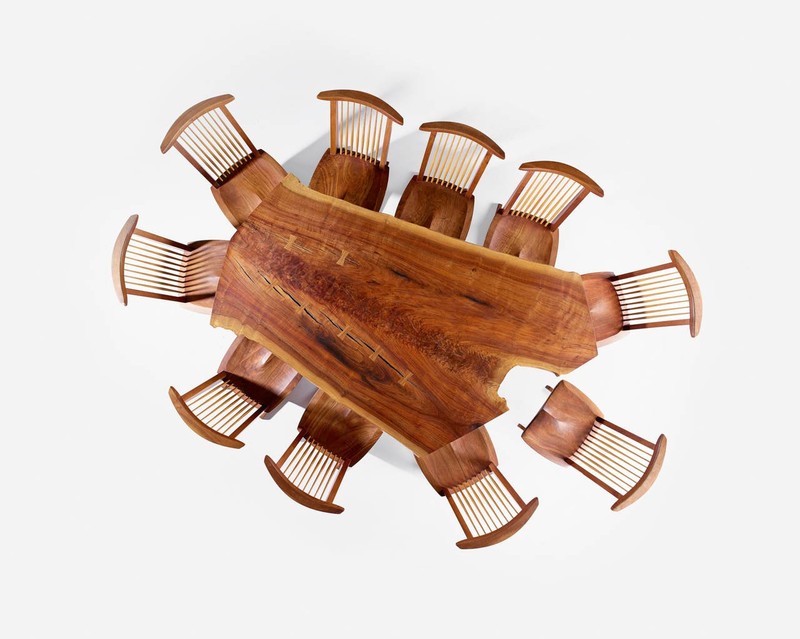 A view from the inside of the Pool House.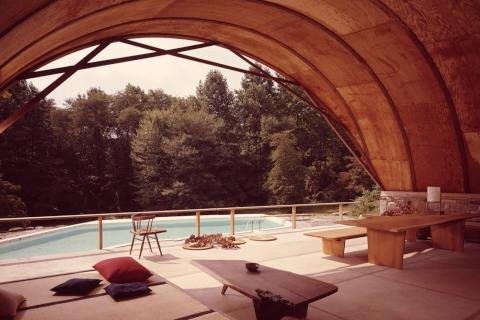 Backstory and Context
George Nakashima was born to Japanese immigrant parents in Tacoma, Washington in 1905. He attended the University of Washington and studied architecture at the Ecole Americaine des Beaux-Arts in Paris. He then earned his master's degree in architecture from the Massachusetts Institute of Technology and began work as a painter in New York. As the Great Depression hit, Nakashima resided in Paris for a year where he became exposed to and greatly influenced by the International style of architecture and its clean lines and geometric shapes.
He then spent some time in Japan with an associate of Frank Lloyd Wright named Antonin Raymond. Working for Raymond, Nakashima began to explore furniture design and construction while assigned to India in 1936. Prior to America's entry in World War II, Nakashima and his fiancé, Marion, returned to Washington, settling in Seattle where he opened a small furniture studio. Soon after, George, Marion, and their infant daughter, Mira, were interned at the Minidoka Relocation Center in Idaho. It was here he met Gentauro Hikogawa who taught Nakashima traditional Japanese woodworking.
Through the intervention of Raymond and a former dean of MIT, Nakashima and his family were released from internment and they relocated to Raymond's farm in New Hope. The family eventually rented a home near the farm and were able to purchase three acres; the beginnings of Nakashima's woodworking complex. He designed and built a workshop and residence on the property and gradually acquired additional land as his business prospered.
Nakashima continued to design and build structures to include the Showroom, Finishing, and Chair Departments and Conoid Studio through the 1950s. He melded the International style with traditional Japanese architecture, using natural materials to build asymmetrical designs with exposed framing, glass walls and open floor plans. In the 1960s and 70s he added the Reception House, Pool House, Cloister and Arts Building with the most recent building, the Pole Barn, being added in 1990. Along with fellow furniture designer, Wharton Esherick, Nakashima was a powerful force in the American Craft Movement.
Currently, the Nakashima family, primarily George's daughter, Mira, and son, Kevin, continue to design and construct furniture in the tradition of their father at the complex. They still emphasize the natural beauty of wood and eschew the industrial, mass-produced methods of furniture production. The complex has received support from the Heritage Conservancy, National Park Service, World Monument Fund and the Nakashima Foundation for Peace. The 1954 Showroom, 1956 Finishing Room, glass-walled Conoid Studio and Chair Shop are open to the public each Saturday from 1:00-4:30. Other buildings are open for design appointments throughout the week.
Sources
"George Nakashima Woodworker Complex, New Hope, Pennsylvania." National Park Service. Accessed February 15, 2019. https://www.nps.gov/nr/travel/asian_american_and_pacific_islander_heritage/George-Nakashima-Woodworker-Complex.htm
Kimmerly, David and Cathrine Lavoie. "National Historic Landmark Nomination Form." United States Department of the Interior/National Park Service. October, 2012. Accessed February 15, 2019. http://www.conlab.org/acl/naka/Reports/NHL_Nakashima.pdf
Godoy, Jody. "Nakashima studio is part of master's legacy." The Japan Times. January 13, 2014. Accessed February 15, 2019. https://www.japantimes.co.jp/news/2014/01/13/national/nakashima-studio-is-part-of-masters-legacy/#.XGblILnsaUk
Bozikovic, Alex. "George Nakashima's wood designs still stunningly modern decades after his death." The Globe and Mail. July 20, 2013. Accessed February 15, 2019. https://www.theglobeandmail.com/life/home-and-garden/decor/george-nakashimas-wood-designs-still-stunningly-modern-decades-after-his-death/article13250456/
Additional Information