Indiana's First Woman's Rights Convention
Introduction
A convention was called for by reform-minded Congregational Friends meeting at Greensboro, Henry County, January 1851. Convention held October 14-15, 1851 at Dublin adopted resolutions for political, social, and financial rights for women. Women and men who favored abolition, temperance and suffrage attended. The 1852 convention formed Indiana Woman's Rights Association to promote united action.
Images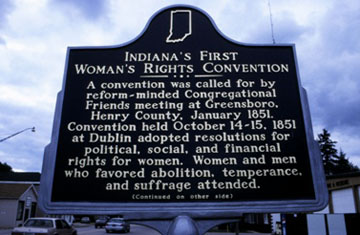 Backstory and Context
The Association's 1853 convention demanded equality in all political rights and functions. It voted to be auxiliary to American Woman Suffrage Association 1870. It became Indiana Woman's Suffrage Association.