La Peña Restaurante
Introduction
La Peña Restaurante opened in 2001, bringing a lively Ecuadorian restaurant filled with good food, live music, poetry, karaoke, and dance to the Portage Park neighborhood. La Peña creates a friendly atmosphere for the local Ecuadorians to enjoy authentic food and relax with their friends and family as they appreciate live entertainment. The restaurant was opened in order to establish a place for the Ecuadorian community in the neighborhood to gather and feel connected to their culture. According to the restaurant's website, in Ecuador, the word "La Peña" "means a place where people can have different choices - food, drinks, live music, poetry and dance - all at the same time". La Peña is one of the few Ecuadorian restaurants in Portage Park, making it an important spot for the gathering of the nearby Ecuadorian community.
Images
Location of the restaurant on Milwaukee Ave.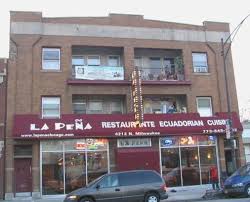 Flyer from the restaurant advertising their food and live music events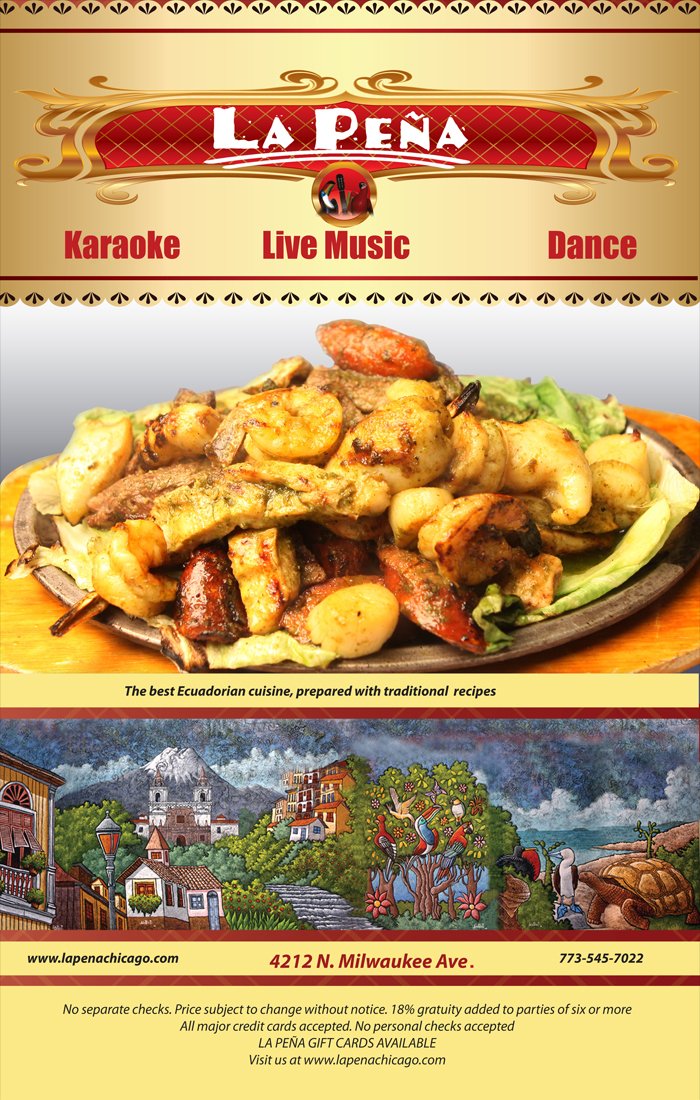 Backstory and Context
The opening of La Peña Restaurante in 2001 came at a time when the total Ecuadorian population in Chicago was 8,941. Being one of the few Ecuadorian restaurants in Chicago, it serves as a common spot for local Ecuadorian immigrants and people of Ecuadorian descent to celebrate their culture with other Ecuadorians in the area, and still to this day serves the same purpose to the Ecuadorian community on the northwest side of Chicago. Since then, the Ecuadorian population has reached upwards of 20,000, according to the 2010 U.S. Census, and the rise of the Ecuadorian has also brought similar restaurants to other areas of Chicago, serving the same purpose as La Peña Restaurante in Portage Park.
Ecuadorians came to Chicago in two waves during the twentieth century. During the 1960s and 70s, Ecuadorians came to Chicago primarily from the provinces of Guayas, Pichincha, Chimborazo, Cotopaxi, and Azuay because immigration law in the United States changed, allowing more Latin American immigrants, not just European immigrants, to come into the United States. Ecuadorians started migrating in large numbers, searching for economic prosperity and political freedom. Ecuadorian immigrants in this first wave primarily worked in factories or owned their own clothing stores or restaurants, such as La Peña. These businesses tend to congregate in certain areas, like Division Street or Milwaukee Avenue (where La Peña is located). The second wave of Ecuadorian immigration to Chicago occurred in the 1990s. Impacted by the Immigration Reform and Control Act (IRCA) of 1986, families migrating from Ecuador had to rely on family members already living in the United States for jobs. Men who came to Chicago during the second wave typically worked jobs in the hotel and restaurant industries, while women migrants typically were housekeepers or worked in the garment industries. The second wave of Ecuadorian immigrants left their country because of the devastation of political and economic crisis, similar to immigrants from many other Latin American countries.
La Peña Restaurante hosts a variety of events celebrating Ecuadorian culture, such as karaoke fundraisers and the Carnavalazo Mascarada, which is a masquerade advertising a "DJ for dancing until dawn". These events hosted by the restaurant provide opportunities for the Ecuadorian community in Chicago to come together and take a break from the everyday stresses of working and raising a family. However, there are also many other events celebrating Ecuadorian culture that take place in some the most densely populated Ecuadorian neighborhoods, such as Logan Square, Albany Park, Uptown, and Lake View. These events include Ecuadorian Week in August, music festivals, charity balls, beauty queen competitions, and fundraisers, all celebrating different aspects of Ecuadorian culture and providing a way to bring the community together in Chicago.
Ecuadorian food has had a strong impact on the culture of the country for centuries. While taking in some influences from Spanish-European and African cuisines because of colonization, Ecuadorian food has nevertheless been able to maintain its traditional flavors and staples such as yucca and seafood. Therefore, when Ecuadorians started immigrating to the United States, many of them opened restaurants because their food was an important part of their culture and they wanted to keep it alive in their new home. Ecuadorian cuisine can be very similar to many other South American cuisines, utilizing staples such as rice, beans, plantains, and a variety of meats, however, it also has its own delicacies that aren't found in many other places. Seafood is very popular along the coast of Ecuador, supplying locals with a fresh variety of fish, shrimp, and much more, as well as creating a large source of revenue for the country as a supplier of seafood to the cities and towns that are located more inland. The most popular seafood dish in Ecuador is ceviche, a marinated fish dish popular in many South American countries that Ecuadorians like to lay claim to. However, the true origin of ceviche is seemingly unknown and a highly debated topic. More inland in the Andean region of Ecuador, meat, rice, and potatoes are more popular. One meat that is very popular in Ecuador and also considered very unique and rare in other countries is cuy, also known as guinea pig. The consumption of cuy is more popular in the Andean region where more meats are typically consumed. Empanadas and churo are very popular street foods throughout the country, as well as soups and stews being widely enjoyed. The menu at La Peña incorporates all of these different ingredients and dishes from different regions into the food they serve every day, boasting of the variety of food they serve from the different regions of Ecuador. The menu contains a wide range of seafood, offering dishes like ceviche marinero con pescado, pulpo, or camaron, arroz marinero, and calamar asado. Additionally, they offer many different meat dishes, such as arroz con pollo and llapingacho (however, no cuy is offered on the menu). There are also many other popular dishes, such as maduros con queso, fritada, and empanadas, that are typical to Ecuadorian cuisine. The wide variety of ingredients and options on La Peña's menu is notable because it ensures that the restaurant caters to all of the Ecuadorians in Portage Park and the surrounding areas in order to provide a place to enjoy the culture and heritage of their families.
La Peña Restaurante in Portage Park offers a place for the local Ecuadorians to gather and celebrate Ecuadorian culture. Through live music, karaoke events, and a wide variety of food, La Peña is a cultural enclave for Ecuadorians to put aside their American lives and help preserve Ecuadorian culture in the younger and future generations. The restaurant is warm and welcoming to all, spreading the hospitality of Ecuadorian culture to Portage Park and the surrounding neighborhoods.


Sources
Jared, Jon. A Place at the Table - Inside Ecuador's Food Culture. Happy Gringo Travel. February 05, 2018. . https://www.happygringo.com/blog/inside-ecuadors-food-culture/..

About Us. La Peña Restaurante. . . http://www.lapenachicago.com/about-us.html..

Pallares, Amalia. Ecuadorians. Encyclopedia of Chicago. . . http://www.encyclopedia.chicagohistory.org/pages/412.html..

Typical Food of Ecuador. South America. January 11, 2019. . http://www.southamerica.cl/ecuador-guide/typical-food.htm.


Additional Information