Fort Necessity National Battlefield and Visitor's Center
Introduction
On July 3, 1754, a young Washington set his sights on battling the French at what would be known as the start of the French and Indian War at Fort Necessity. Fort Necessity National Battlefield and National Road Interpretive and Education Center are located in Farmington, Pennsylvania. Today, a well-crafted replica of the fort stands, delighting visitors and history fanatics alike. The interactive education center features historical exhibits targeted to all age groups while maintaining historical accuracy to the battle that began it all.
Images
An up-close view of the fort, which was reconstructed to look like the original, Photo Provided by Jamie Greene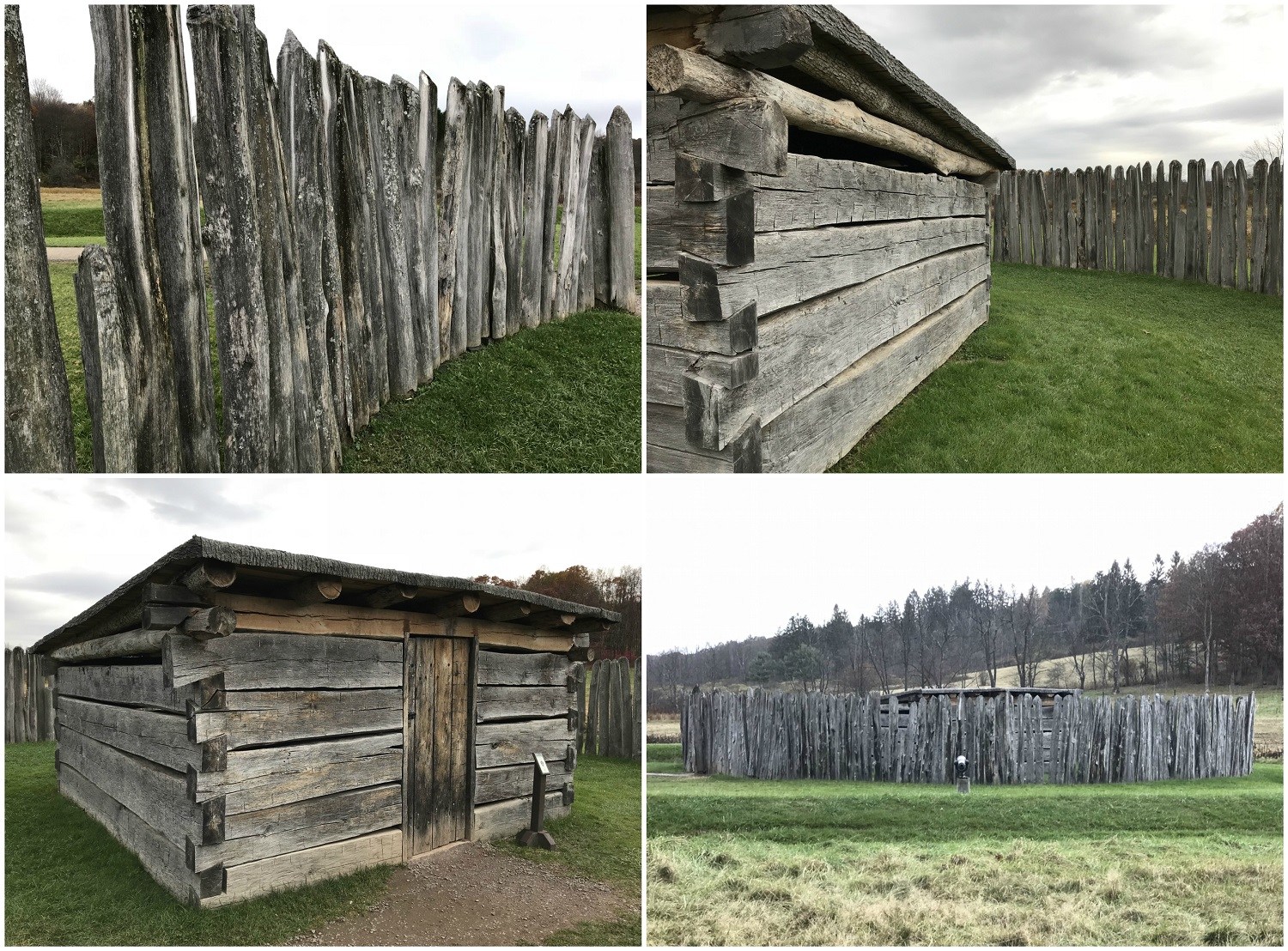 Different exhibits on hand in the center for educational tours, Photo Provided by Jamie Greene

A magnificent portrait of George Washington, the leader of this battle, by Charles Wilson Peale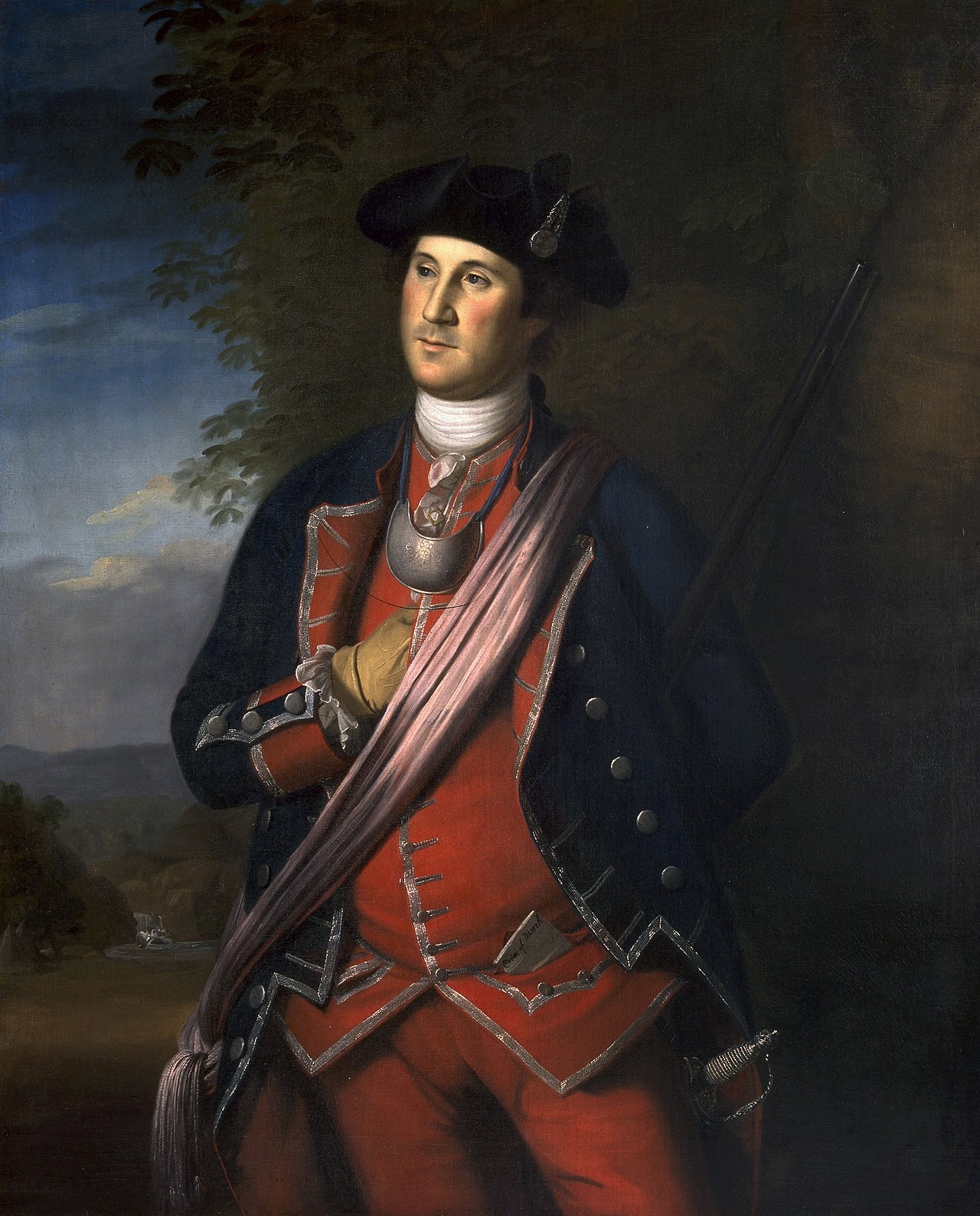 The National Road Interpretive and Education Center located on the Battlefield, Photo Provided by The National Park Service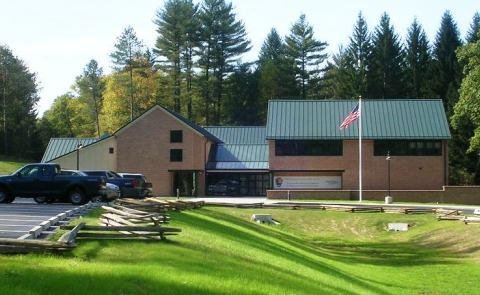 This is the welcome sign when entering Fort Necessity, what is comical about this sign is the fact that it uses Washington's quote when he said that it would be a "charming field for an encounter."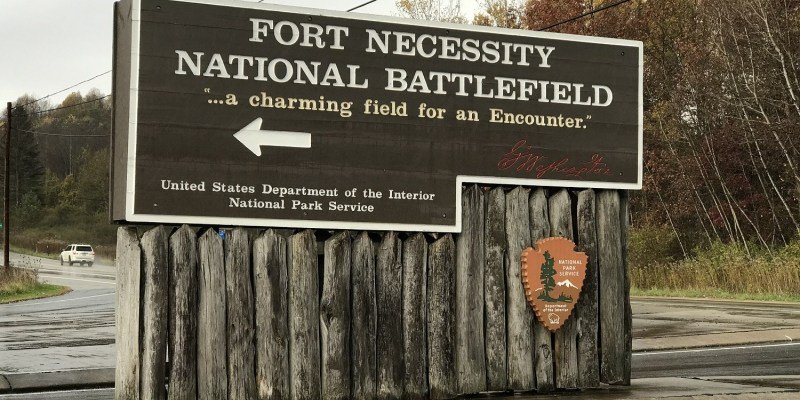 Backstory and Context
Fort Necessity Battlefield and Visitor's Center carries much history in Southwestern, Pennsylvania. When speaking of the Battle of Fort Necessity, it is first essential to look at the precursor to this battle, The Battle of Jumonville Glenn. During the month of April 1754, French soldiers captured an encampment at the Forks of the Ohio to begin construction of Fort Duquesne, about 50 miles southwest of modern Pittsburgh. 2 When Virginia heard of these actions, the governor authorized that George Washington was sent with a group of soldiers to the Forks. 1 After arriving on the evening of May 27, Washington chose to camp at Great Meadows and commanded that a search party be sent to find the French soldiers. This volunteer militia encountered the French, launched a surprise attack, and killed ten French soldiers and captured twenty-one. 1 Soon after fighting, Washington realized the French were not originally there to fight. After this battle ended, supposedly, Joseph Coulon de Villiers de Jumonville was murdered by a tomahawk by the Half-King. 3 Others believe that it could have also been a fatal gunshot wound.
During this time, Col. Joshua Fry was pronounced dead after suffering complications from falling off of his horse. Washington was now declared to be the lieutenant colonel. 3 He retreated immediately, left Great Meadows and began construction of Fort Necessity. This fort would be circular in shape, constructed with vertical logs, and animal skins. 2 A small hut-like building was built to store essentials such as ammunition, liquor as well as food and drink. Washington would call this area a "charming field for an encounter," how ironic this statement would be.
On July 3, the French discovered the fort and immediately saw its flaws, as it was dominated by sprawling hills and excellent hiding spots for enemy soldiers. 2 Washington and his men could be no match for the French, the French rained fire on the British, killing 30 men quickly. Trying their best, the British returned fire, and as tensions rose, an endless downpour of rain began. Being that it rained so heavily, Washington pens that the storm "filled our trenches with water- wet, not only the ammunition in the cartouch boxes and firelocks but that which was in a small temporary stockade in the middle of the Intrenchment." 4 Time passed and Washington held his army and asked the French for a truce. When asking, he noticed that Louis Coulon de Villers was the commander, the brother of Jumonville. 1 The French seemed to show the British mercy, until Washington signed the truce that explained that Washington was to take the blame for the slaughtering of Jumonville. Washington couldn't speak or read French, and thus accidentally admitted to the assassination of Jumonville. 3
Though the firing had stopped, the damage had already been done. A quote from Washington's Account of the Capitulation of Fort Necessity reads: "
The next morning we marched out with the honors of War, but were soon plundered contrary to the Articles of capitulation of great part of our Baggage by the Savages. Our Sick and wounded were left with a detachment
under the care, and command of the worthy Doctr Craik
[stet]." Doctr Craik
[stet]
was a surgeon to the troops but was a lieutenant as well. 4 Those this battle would go down in history as a significant blunder in the French and Indian War, Washington would, later on, have a heroic military career.
The Fort Necessity Battlefield and National Road, Interpretive and Education Center, remain as a unique attraction for any person interested in this iconic battle. Trained and dedicated historical interpreters are staffed throughout the summer months, giving endless tours and informational sessions. 2 The Battlefield is also devoted to the ongoing care of its park. In 2015, expansions were underway to the facilities of Fort Necessity. During that interview, it was said that over 200,000 people enjoy visiting the national landmark every season. 3 When recently calling the Fort Necessity Battlefield and asked about recent expansion efforts, that a replacement the wooden bridge leading to Fort Necessity with a new low profile bridge would be installed. The staff cited that this new bridge will reduce modern intrusions to the historical view. This new bridge will be able to support rescue/emergency vehicles. Other projects being installed include a new spur trail leading to benches will make amphitheater wheelchair accessible. Also, two outdoor exhibits will be moved to new locations along the path.
Sources
1. Kenny, Kevin. Peaceable Kingdom Lost: The Paxton Boys and the Destruction of William Penn's Holy Experiment. New York, Oxford UP, 2009.

2. Lengel, Edward G. "Fort Necessity, Pennsylvania." Military History, vol. 27, no. 3, Sept. 2010, p. 76. Biography in Context, link.galegroup.com/apps/doc/A231609508/GPSu=nhais_hti1&sid=GPS&xid=8d1b7900. Accessed 26 May 2019.

3. Polacek, Karl. "Fort Necessity Ranger Discusses Site's Significance to History." The Daily Courier [Connellsville], 4 Apr. 2015. Opposing Viewpoints in Context, link.galegroup.com/apps/doc/A408163220/GPS?u=nhais_hti1&sid=GPS&xid=6872578d. Accessed 26 May 2019.

4. Washington, George. George Washington's Account of the Capitulation of Fort Necessity. Edited by W. W. Abbot, Charlottesville, UP of Virginia, 1983. 7 vols. National Archives, founders.archives.gov/documents/Washington/02-01-02-0076-0005#print_view. Accessed 27 May 2019.
Additional Information