Morgans Raid
Introduction
This Historical landmark takes us to Gallia County Ohio, in the city of Vinton. The time period is July 17, 1863. The Confederate Army makes a daring plan to lure Union Troops out of Tennesse. The daring jounrey ahead of these men is over 1,000 miles from Burkesville, Kentucky to West Point, Ohio. Will the Confederate Army succed in this plan which later becomes known as the Greatest Raid.
Images
Historical Marker for Morgan's Raiders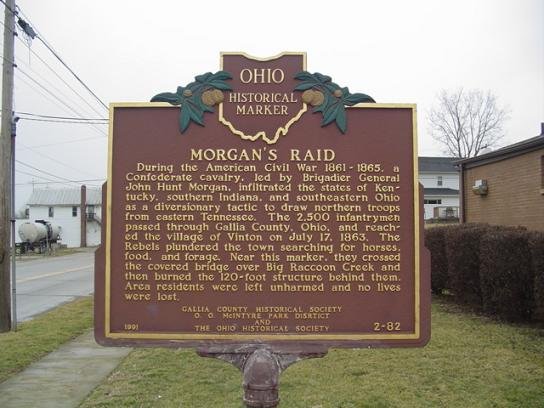 Old photo article of Morgan's Raiders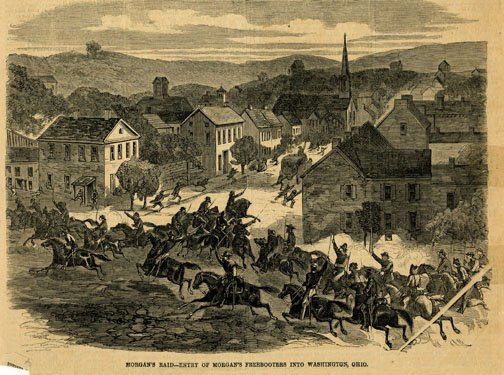 Photos of reenactors of Morgan's Raiders.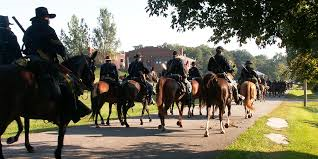 Backstory and Context
Morgan's Raid started in Burkesville, Kentucky to West Point Ohio. The "raid" was led by a man known as John Hunt Morgan. Morgan was a Brigadier General who was in charge of leading a Confederate Division consisting of 2,460 cavalrymen, along with an artillery battery of four guns.
The journey ahead of these men was over 1,000 miles. The goal of this journey was to gain the attention of Union Soldiers in Tennessee. This was done in hopes to gain the Union Army's attention and divert their forces to go after Morgan and his raiders which they will soon come to be known as in history.
The journey then takes them through Gallia County Ohio, in the city of Vinton where this historical marker is located. When Morgan and his men arrived in Vinton Ohio, they meant no resistance. In need of supplies Morgan and his men raided the town in search for horses, food, and other useful supplies for the journey ahead of them.
Once Morgan and his men raided the town of Vinton, they crossed the bridge that lead over racoon creek to continue their journey. Once Morgan and his men where on the other side of the bridge they then burned down the bridge to slow down any Union Soldiers who could eventually be chasing after them. The most interesting thing about Morgan's journey through Vinton was that not a single shot was fired during the raiding and no causalities were listed.
In the end Morgan did achieve his goal of reaching West Point Ohio. Be that as it may, it wasn't the ending the Confederate were hoping for. Once Morgan and his raiders reached West Point Ohio 364 of the original 2,460 men remained which ultimately lead to his surrender.
Nonetheless Morgan's Raid does go down in history. They gave credit to him for his execution of the raid. Some say it is the Greatest Raid and historians now say he used such stealth and tactics that it can be compared to some missions done during Operation Iraqi Freedom.
Sources
Mowery, D. L. (2013).
Morgan's Great Raid: The Remarkable Expedition from Kentucky to Ohio
. Arcadia Publishing.


Multimedia, T. (2013, August 19). Morgan's Raid Reenactment | Jackson, Ohio. Retrieved June 30, 2019, from https://www.youtube.com/watch?v=NTrY6tdmL88


Remarkable Ohio. (n.d.). Retrieved June 30, 2019, from http://www.remarkableohio.org/
Additional Information