Bevis Rendezvous Site: "The Darkest of All Nights"
Introduction
On the evening of 13 July 1863, General John Hunt Morgan of the Confederate States of America secured a field to the Southeast of this marker with 1,500 cavalrymen. After re-connecting with a detached unit of 500 men, Morgan would strike out to the East toward Springdale. The Columns rode through the night, losing men on backroads and commandeering horses as their mounts gave in to exhaustion. Though he had been ordered by General Braxton Bragg not to cross the Ohio River during his raid on Louisville, beginning on 2 July 1863, Morgan led his raiders on a 46-day flight across Kentucky and the Southern parts of Indiana and Ohio. WIth thousands of Union troops in pursuit, the raid would carry on until 26 July 1863.
Images
John Hunt Morgan "Thunderbolt of the Confederacy" https://www.britannica.com/biography/John-Hunt-Morgan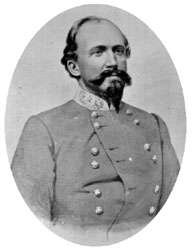 Backstory and Context
Though born in Huntsville Alabama in 1825, John Hunt Morgan is most recognized as a son of his mother's home state, Kentucky. After being expelled from Transylvania College for bad behavior, he served in the Mexican American War under Zachary Taylor and gained fame at the battle of Buena Vista (1847). At the outbreak of the civil war, Morgan would lead a militia he personally funded to Tennessee to fight for the Confederate States of America. While under the "command" of General Braxton Bragg, Morgan would lead a series of daring raids into Union-occupied Kentucky. Morgan's "Great Raid", beginning on 2 July 1863, would see the guerrilla cavalrymen traverse three states over 46 days, leading Union forces on a 1,000-mile chase to Salineville Ohio, south of Marietta.

The area in view of the historic marker was once a field owned by Martin Beavis, who allowed Methodists from Kentucky, Ohio, and Indiana to congregate there in the summer. Following the outbreak of the civil war, then Ohio Governor William Dennison Jr. selected "Bevis" among other sites as the rallying point for southwestern Ohio volunteers to train and deploy as needed by President Abraham Lincoln. This site was called Camp Colerain while utilized by the state for this purpose earlier in 1863.

Morgan arrived at Bevis's field just off the old coach road to Springdale at 7:30 pm on 13 July 1863. The Brigadier General's men were exhausted having evaded Union forces since Burkesville Kentucky. In the fading summer light, the weary cavalrymen awaited a detached column of 500 riders to return who had failed to take the Union held Miamitown Bridge from a Cincinnati Police detective and 23 Union Scouts. Deep in enemy territory with thousands of Union troops in pursuit, the exhausted columns of 2,000 men set off toward Springdale on the dark coach road. Lieutenant Kelion Franklin Peddicord of Morgan's cavalry wrote...

"It was without a doubt the darkest of all nights."
Under complete light and noise discipline, Morgan's exhausted troopers rode on through the dark Ohio night trying to stay awake. If they fell asleep their weary mount would carry them away from the column down a desolate unknown road toward the enemy.

".... Not withstanding the officers vigilance to keep all awake by riding from the head of their companies to the rear and back again, and constantly urging them, if they loved their country's cause, to keep each other awake."
Morgan's columns would avoid Union General Ambrose Burnside's garrison at Cincinnati by heading East to Springdale through the darkness. They skirmished with security pickets from Camp Dennison just North of Cincinnati and left burning wagons along the road as they went.
Sources
1. John Hunt Morgan. American Battlefield Trust. Accessed July 03, 2019. https://www.battlefields.org/learn/biographies/john-hunt-morgan.
2. Bevis "The Darkest of All Nights". The Historical Marker Database. May 10, 2019. Accessed July 08, 2019. https://www.hmdb.org/marker.asp?marker=133650.
3. Morgan's First Skirmish In Ohio. Remarkable Ohio. Accessed July 05, 2019. http://www.remarkableohio.org/index.php?/category/1732. Transcription of Ohio Historical Society Placard at Harrison Avenue, Cleves Ohio.
4. Morgan's Raid Into Ohio. Carnegie Public Library, East Liverpool, Ohio. . . https://www.carnegie.lib.oh.us/morgan.

Additional Information