Elmore County World War I Memorial
Introduction
The Elmore County World War I Memorial was erected in 2018 and honors men from the county who lost their lives in the Great War. The memorial was the culmination local Owen S. Tilley's Eagle Scout project and was dedicated almost exactly a century after World War I.
Images
Elmore County World War I Memorial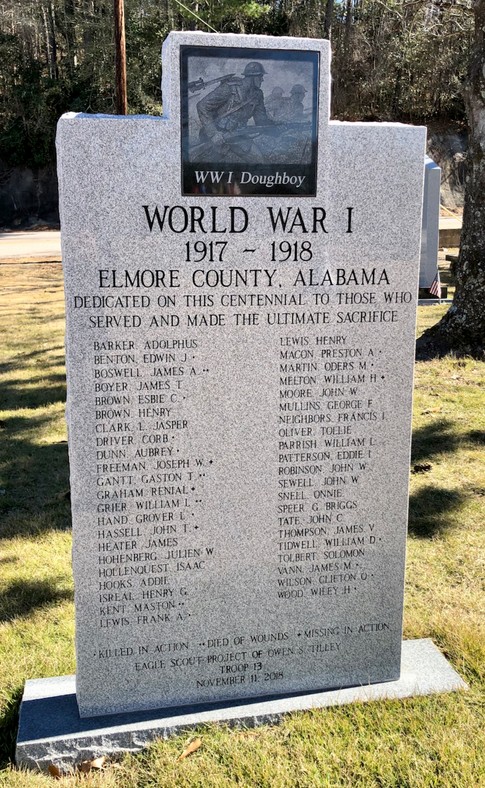 Owen S. Tilley giving speech for project.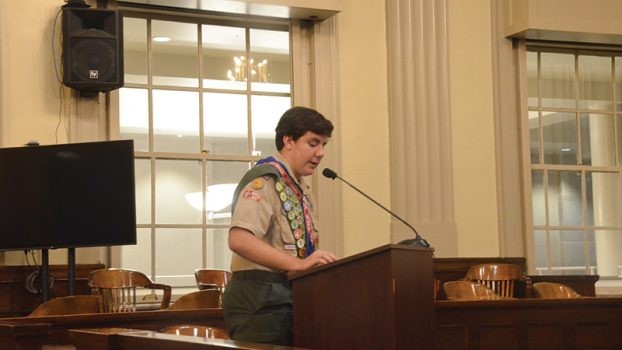 Backstory and Context
Owen S. Tilley planned the creation of this monument to honor local men who lost their lives in World War I as his Eagle Scout project. The monument is placed near other monuments and memorials near the courthouse and bears the names of each soldier from the county who perished. The local scout explained his reasons for selecting this project to the local newspaper as a way to provide "a lasting memorial to those who made the ultimate sacrifice." The monument is composed of granite and stands about five feet tall.
World War I began in the summer of 1914 as Germany invaded France and Russia fought both Germany and Austria-Hungary. England soon entered the war, but the United States did not enter the war until 1917 and did not have a sizable army in Europe until April of 1918. U.S. troops endured heavy fighting as Germany attempted a fighting retreat before seeking an armistice in November 1918.
Tilley conducted local history research and found the names of 43 men who were killed in action, died from wounds, or went missing in action. The names of each soldier are engraved in the memorial.
Sources
Hilton , Mark . Elmore County World War I Memorial, hmdb.org . Accessed February 22, 2020. https://www.hmdb.org/m.asp?m=145086.
Hudson, Georgia Ann. Alabama Centennial Blog, World War I Centennial . Accessed February 22, 2020. https://www.worldwar1centennial.org/index.php/alabama-wwi-blog.html.
Kortright, Amalia. Boy Scout given go-ahead on WWI memorial, The Wetumpka Herald. September 26th 2018. Accessed February 22, 2020. https://www.thewetumpkaherald.com/news/boy-scout-given-go-ahead-on-wwi-memorial/article_7640c24c-6672-53e2-bdd4-bf0ae54af6dd.html.
Image Sources
https://www.hmdb.org/m.asp?m=145086

https://www.thewetumpkaherald.com/news/boy-scout-given-go-ahead-on-wwi-memorial/article_7640c24c-6672-53e2-bdd4-bf0ae54af6dd.html

Additional Information