The Death of E.C. Hayes
Introduction
In December 1943, long time IU track coach E.C. "Billy" Hayes died suddenly of pneumonia. After his death, many individuals struggled to honor Hayes' large legacy of championships and contributions to the sports world and Indiana University. The months after his death illustrate the ways in which the sports world wished to commemorate Hayes' memory, particularly with a Memorial Fund in his honor.
Images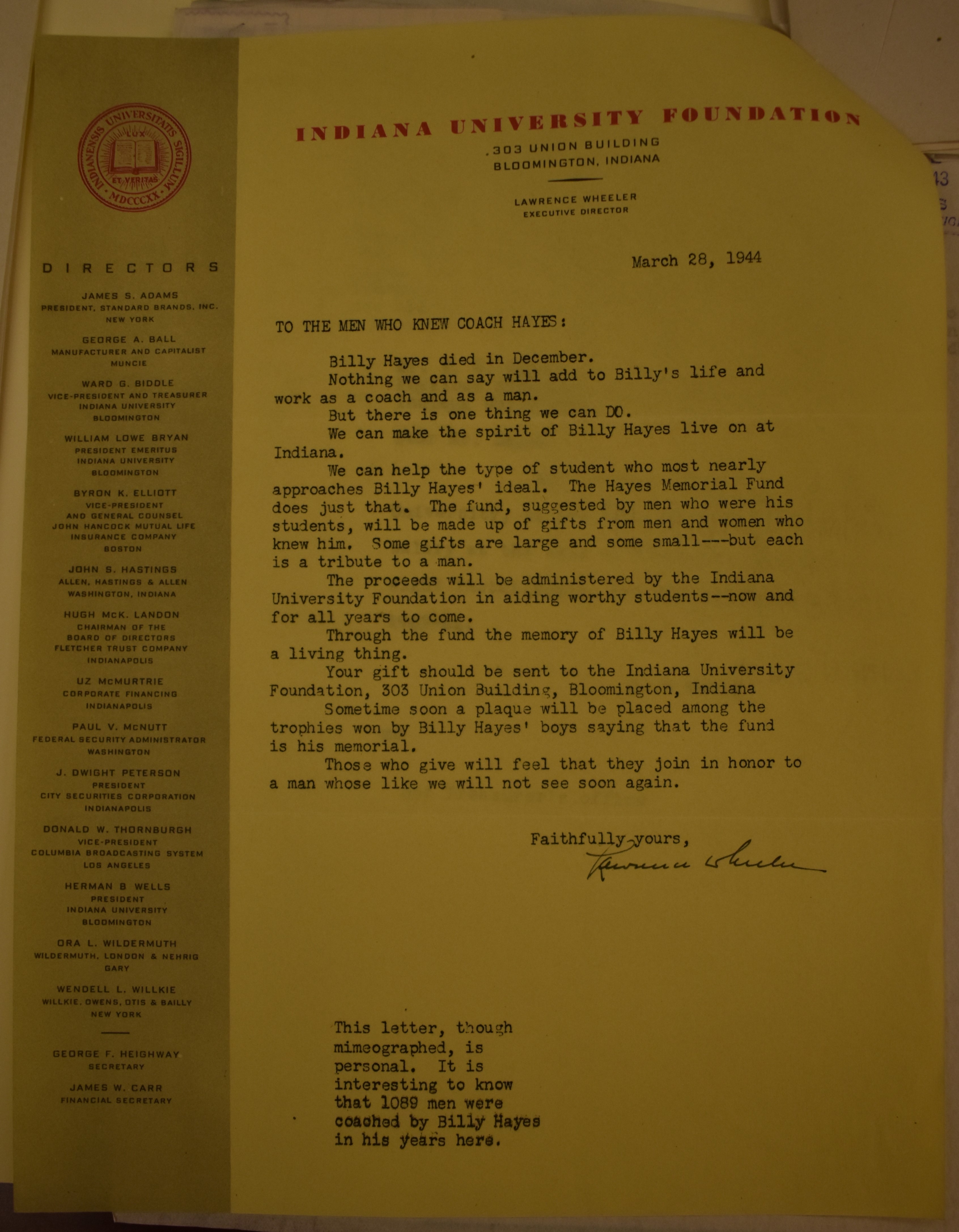 Indiana Daily Student Editorial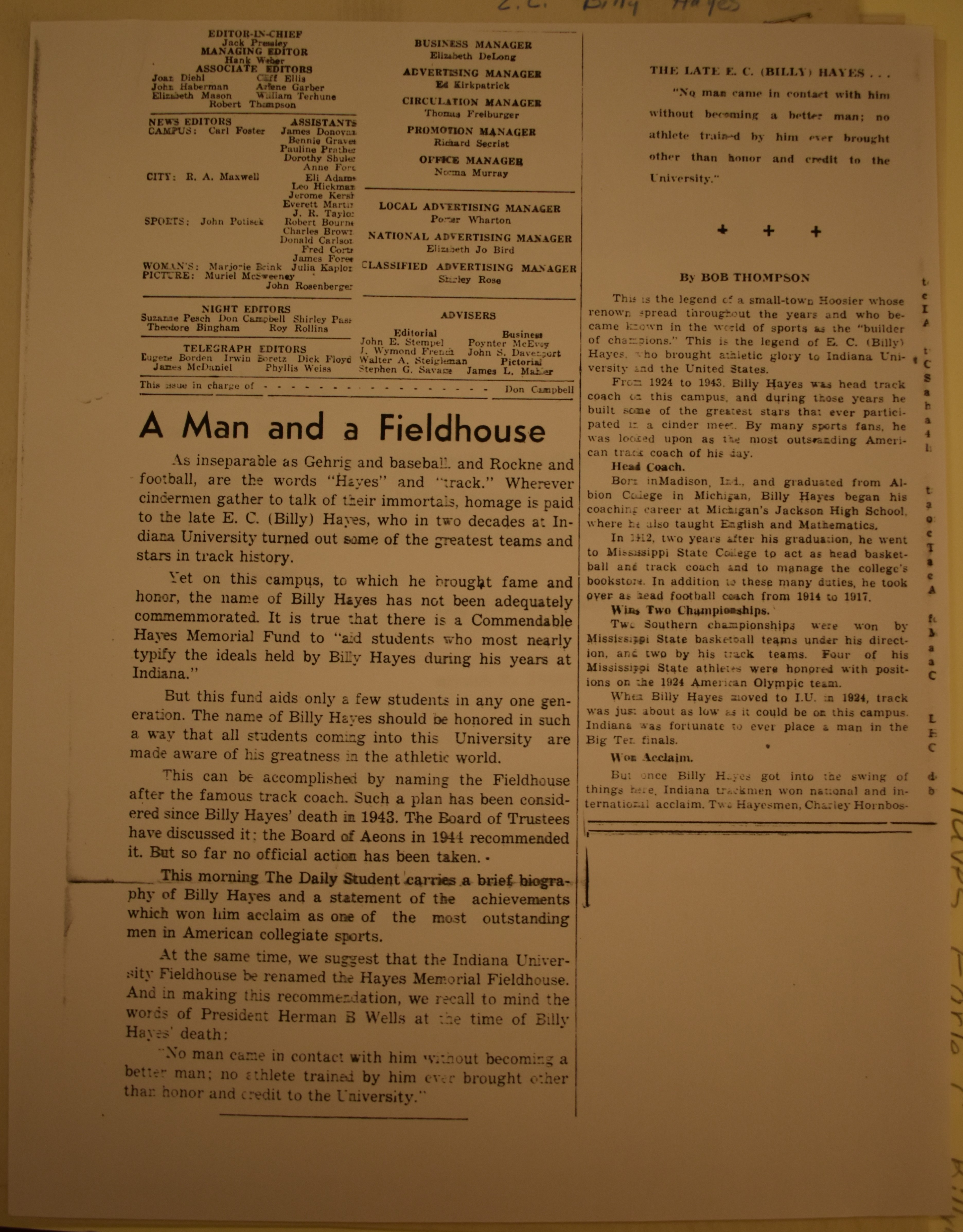 Indiana Alumni Magazine Cover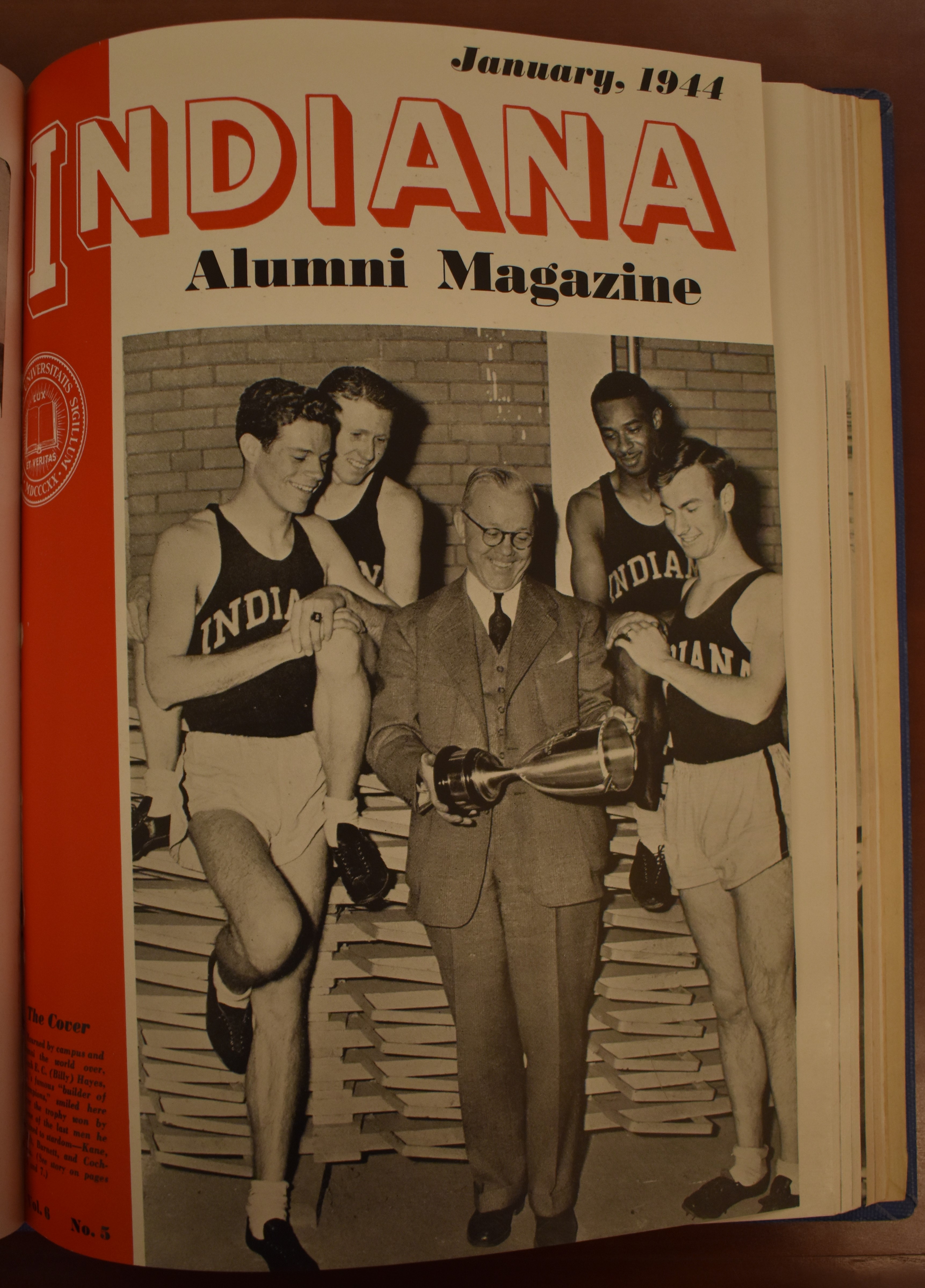 Sympathy telegram to Herman B Wells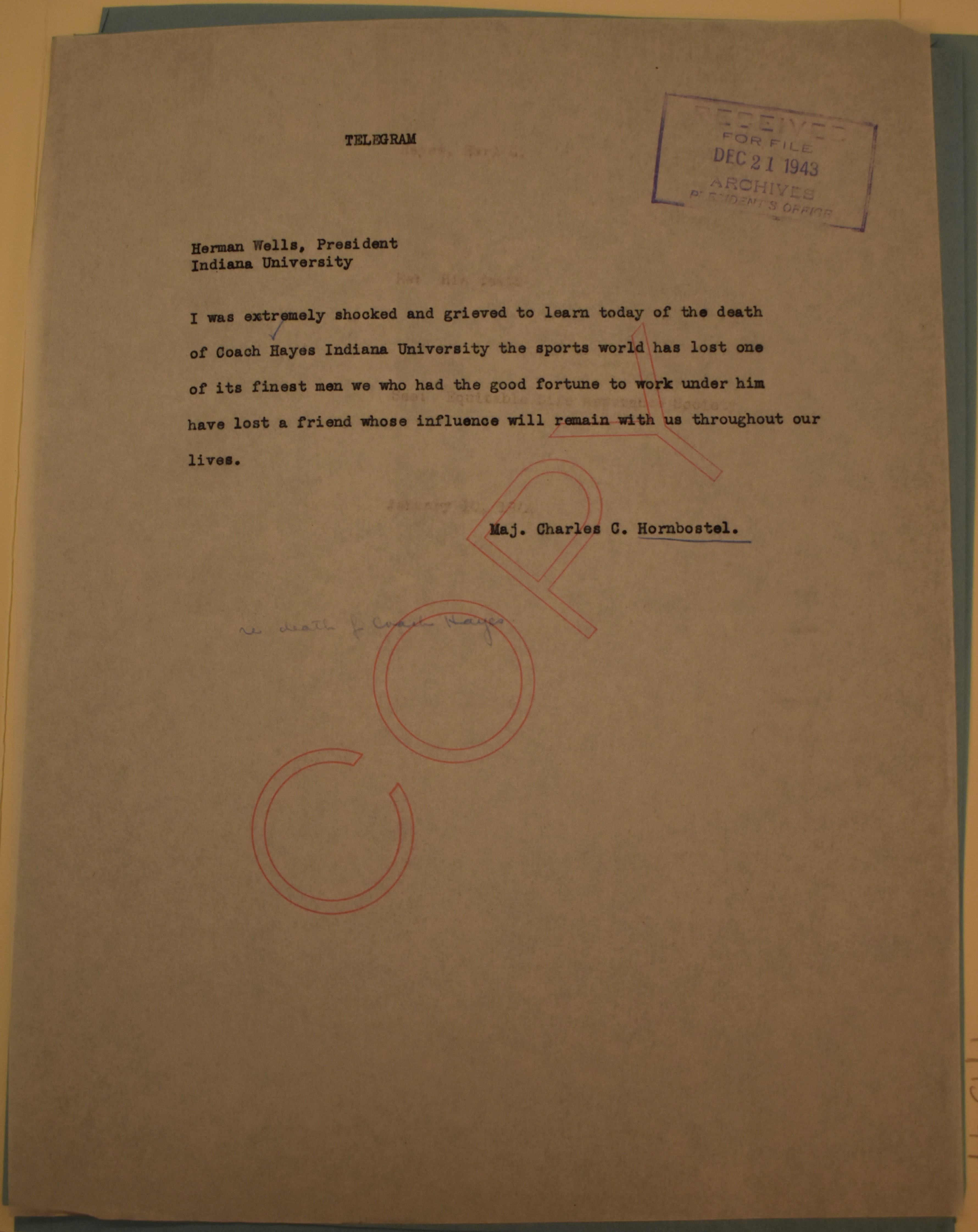 Backstory and Context
To understand the significance of "Hayes' Day," one must understand the significance of Billy Hayes' life. Earle C. Hayes, or E.C. "Billy" Hayes, was born in 1884 in Madison, Indiana. He attended Albion College until 1910 and subsequently began teaching high school athletics in Michigan from 1910-1911. He coached basketball, football, and track at Mississippi A&M College (now known at Mississippi State University) from 1911 to 1924.
In 1924, Hayes was hired as Indiana University's track coach by Athletic Director Zora G. Clevenger, who was a close friend of Hayes. At Indiana University, Hayes revolutionized the track team, leading Hoosiers to numerous Big Ten track championships, eight Cross Country championships, and numerous National Cross Country and Track titles. In his time at both Mississippi A&M College and Indiana University, Hayes coached 9 track members who competed in the Olympics.
In December 1943, Hayes developed pneumonia and was hospitalized. A January 1944 Indiana Alumni magazine article detailed that "15 members of the University football squad were prepared to offer blood for a transfusion" after hearing of Hayes' state. Hayes died December 16, 1943 in Bloomington, Indiana.
Following his death, many across the country mourned the loss of Coach Hayes. In a telegram to Herman B Wells,former track member Major Charles C. Hornbostel describes how "the sports world has lost one of its finest men." Zora G. Clevenger, long time friend of Hayes, helped to write Billy Hayes' eulogy on behalf of Indiana University faculty. Many called for some sort of commemoration for Coach Hayes. A February 1944 Chicago Sun column emphasizes Hayes' importance and the need for a medal or trophy within the Big Ten league to commemorate the legacy of Billy Hayes. A column in the Indiana Daily Student called for similar commemorative acts, recommending that the Field House be named in honor of Hayes' legacy.
After Hayes' death, the Hayes Memorial Fund was established by the University Foundation. It's purpose was to help "students who most nearly typify the ideals held by Billy Hayes," according to the 1944 Chicago Sun article. Donations to the Hayes Memorial Fund began pouring in from all over the country, including New York, California, Texas, and Mississippi. Many donations came from Hayes' home state of Indiana. The E.C. "Billy" Hayes Memorial Scholarship is still offered to this day.
Sources
Indiana Alumni Magazine, January 1944, 1944.
Indiana Alumni Magazine, March 1944, 1944.
Indiana University President's Office records, 1937-1962, Box 263, Hayes, E.C. "Billy" 1941-1944, Indiana University Archives, Bloomington, Indiana.
Indiana University President's Office records, 1937-1962, Box 263, Hayes' Memorial Fund, 1944-1947, Indiana University Archives, Bloomington, Indiana.
Zora G. Clevenger Interview, June 16, 1969, 69-020, History of Indiana University, 1968-1981, Indiana University Archives, Bloomington, Indiana.
Image Sources
This letter was sent out to one thousand individuals who were former track team members, according to Herman B Wells' records.

This IDS article, written after Hayes' death, called for an action to commemorate Hayes' death.

This cover features Billy Hayes holding a championship trophy. This January 1944 issue featured a two-page spread commemorating Hayes' legacy to the University.

This telegram illustrates the far-reaching influence of Hayes and demonstrates one of the many forms of sympathy directed to the University after his death.

Additional Information