Belichick Plaza
Introduction
Bill Belichick is the head coach of the New England Patriots. He is one of the most successful head coaches the NFL has ever seen and has been to and won more Super Bowls than any other coach in NFL history. Before his coaching career started, he studied and played football, lacrosse, and squash at Wesleyan University in Middletown, Connecticut.
Images
The entryway to Belichick Plaza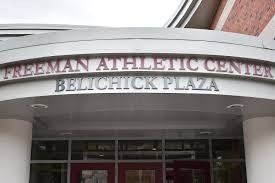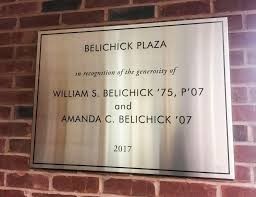 Bill Belichick cutting the ribbon at the ceremony where Belichick Plaza was introduced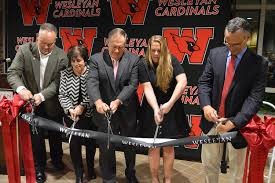 Backstory and Context
Bill Belichick attended Wesleyan University from 1971-1975. While there he earned a varsity letter in Football, Lacrosse, and Squash. After his time at Wesleyan, Belichick went on to have one of the most successful coaching careers that the NFL has ever seen. Over his span in the league, he has won 8 Super Bowls, 6 as a head coach, and been to 12 both as a head coach and defensive coordinator.
In 2007, his alma mater announced that Bill Belichick would be inducted into the Wesleyan University Hall of Fame as a member of the 2008 class. They also announced that the lobby and entryway of the Freeman Athletic Center would be named the "Belichick Plaza." The official statement from Wesleyan University said that what was known as the Warren Street Lobby would be dedicated in recognition of the leadership and generosity of Bill and Amanda Belichick.
In his 45-year coaching career, Belichick has been to 12 Super bowls and has 8 championship rings. 6 of which came as a head coach. For his unprecedented success as an NFL coach and the impact that he has had on the game of football, Belichick was honored as a Wesleyan Athletics Hall of Fame inductee, given an honorary Doctorate from the university, and given the Baldwin Medal which is the highest honor that is awarded to an alumnus for distinguished achievement.
Sources
(n.d.). Retrieved from https://athletics.wesleyan.edu/Hall_of_Fame/bios/Bill_Belichick?view=bio
Drake, O. (2017, November 6). Belichick Plaza Dedicated in Recognition of the Leadership, Generosity of Billl '75, P'07, Hon. '05 and Amanda Beliichick '07. Retrieved from https://newsletter.bogs.wesleyan.edu/2017/11/06/belichick_plaza_wesleyan/
Stats. (2020, February 6). Retrieved from http://allthingsbillbelichick.com/stats
Additional Information