First Permanent Structure for Holy Trinity Greek Orthodox Church
Introduction
This site at 213 N West Street in Indianapolis was once home to the first permanent Greek Orthodox church in the state of Indiana in 1915. It marked not only the permanence of the Greek community itself within the confines of Indianapolis, but also their desire to maintain their culture and heritage while living and integrating into their new home. The establishment of the permanent church goes hand in hand with the themes of immigration and ethnicity of Southern European immigration to Indiana.
Images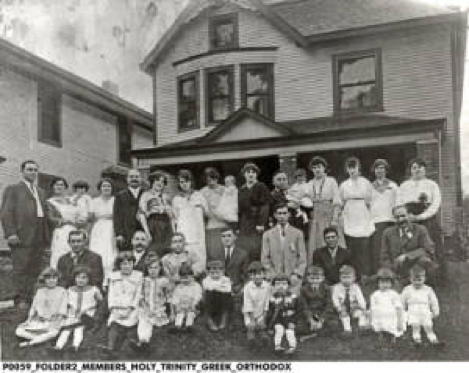 Backstory and Context
To Greek immigrants, religion was intertwined with Hellenism itself, and was a pillar of the kinotitos, or community that also consisted of elected positions established in order to help aid and guide all of the Greeks within it as a whole. Religion was so important to the establishment of the Greek kinotitos, that prior to the establishment of this permanent church, church services would be held in makeshift parishes consisting of rented rooms in apartment and office buildings that would have quickly furnished with anything available. The establishment of the permanent church not only shows that the Greek community was there to stay, but also shows the progress of it, having started working unskilled jobs primarily at the train yard to having pooled enough of their money and resources together to purchase a full building for their worshiping purposes.
The church does not stand today, however even when it did it would have been nothing special to us. The building itself was just a normal two story residential house (Holy Trinity Greek Orthodox Cathedral: A History). Church service was held on the first floor while the priest was allowed to live on the second floor. As plain as this set up is to us today, the establishment of a permanent building in order to house the Greek community's services was a major milestone for the community as a collective.
Sources
"Holy Trinity Greek Orthodox Cathedral: A History." Holy Trinity Greek Orthodox Cathedral, www.holytrinityindy.org/about_us/history.
Cafouros, Carl Christian. "The Community of Indianapolis: A Microcosm of the Greek Immigrant Experience." University of Illinois, University of Illinois, 1981.
Image Sources
Digital image 2004 Indiana Historical Society. All Rights Reserved.