Maple Avenue, Beech Creek
Introduction
This street leads to the childhood home of Alison Bechdel, an American cartoonist, and author. Much of the plot of her graphic memoir, Fun Home: A Family Tragicomic, focuses on the relationship that the author had with her father, a third generation mortician, a high school literature teacher, and a closet homosexual. Throughout the comic, Alison Bechdel exposes the reader to the same moments of joy, pain, and confusion that made up her adolescent experience in Beech Creek, Pennsylvania. With exception to her college years, most of the story takes place in the family's 1880 Gothic revival house. Her parents purchased the 4,000 square foot, 7 bedroom home in 1962 in a run-down state and her father spent the remainder of his life obsessively restoring the structure in his free time.
Images
Outside image of the home where the Bechdel family lived.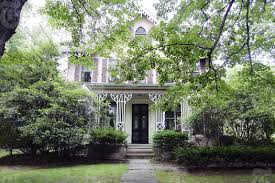 Backstory and Context
Although the memoir brings up various important themes such as art as a replacement for life, gender identity and sexual orientation, and depression, the author also ties in a few subtle connections to Pennsylvania industry. Alison mentions briefly that her family's home was constructed at the tail-end of the area's logging boom and the home itself served not only as their personal residence but also as the community's funeral home. By examining the narrative of her childhood home, the reader is inadvertently learning about Pennsylvania's logging and funerary industries. By closely examining these industries, you will not only gain a broader understanding of Beech Creek and the origins of Alison's experiences, but will also get a chance to look at the lives and experiences of many people over time. This tour will begin with Alison Bechdel's personal Pennsylvania story because it serves as the connector between the two themes. From there we will cover the broad logging and funerary industries and their impact on the state. 
Sources
Bechdel, Alison. Fun Home: A Family Tragicomic. Houghton Mifflin Company: New York,
 2006.
Image Sources
https://www.nytsyn.com/images/photos/745133.html

Additional Information