Crawfordsville YMCA
Introduction
The YMCA in Crawfordsville IN, which are now appartments, is believed to be the birth place of basketball in the state of Indiana. Basketball has been a part of the identity of Indiana and the Crawfordsville and YMCA's across the state allowed for the growth of the sport throughout the state.
Images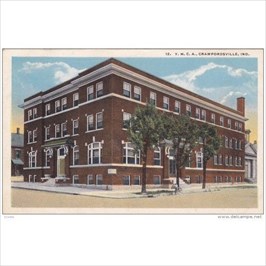 Backstory and Context
The YMCA in Crawfordsville Indiana is the place where the game of basketball was believed to be first introduduced, it is no longer a YMCA it has been converted into appartments. It is believed that basketball was introduced in Indiana by Rev. Nicholas C. McCay in the YMCA in Crawfordsville Indiana in 1893. However, some people believe that basketball was first introduced in the Columbus YMCA. The first basketball games were played against different county's YMCA's and the first being Crawfordsville vs Lafayette. The game was really spread in Indiana through local YMCA's "By the winter of 1894-95, basketball had gained a greater foothold in the state through the YMCA's organization of a state basketball league including teams from Indianapolis, Columbus, Terre Haute, Lafayette, and Crawfordsville" (Lighty). The game began to spread onto college campuses as well, the first college to be documented playing the game would be Indiana University in 1894. Basketball continued growing on college campuses, debuting at Notre Dame in 1894 and DePauw in 1896. Purdue and Wabash even played an intercollegiate game in February 1897. The sport remained the strongest and most popular in YMCA's and they played a big role in the spread of basketball in Indiana. By the 1930's "the game became an epidemic because it was so easily accessible" (Keefer) and people flocked to gyms on cold winter nights to watch their teams play.
Sources
James Naismith Didn't Sleep Here: A Re-examination of Indiana Basketball's Origins Author(s): S. Chandler Lighty Source: Indiana Magazine of History , Vol. 110, No. 4 (December 2014), pp. 307-323 Published by: Indiana University Press Stable URL: https://www.jstor.org/stable/10.5378/indimagahist.110.4.0307
Keefer, Zak. "History of Our Hysteria: How Indiana Fell in Love with Basketball." Indianapolis Star, INDY, 16 Mar. 2018, www.indystar.com/story/sports/basketball/2014/03/14/how-indiana-fell-in-love-with-basketball/6415971/.
Image Sources
https://www.waymarking.com/waymarks/WMRAB9_YMCA_building_Crawfordsville_IN