Richard G. Lugar Plaza, Indianapolis
Introduction
This area on the City-County Building land was renamed in November 2017 for the former mayor of Indianapolis, Richard Lugar. One of his most lasting contributions to the city was his role as the "father" of Uni-Gov. After taking office in 1968, he lobbied the state legislature to allow the merging of city and Marion county governments to eliminate duplicity and improve economic prospects for Indianapolis. However, one of the functions specifically left out were public schools, leading to the current 11 public school systems in Indianapolis. Many saw this exclusion as a method of preventing school integration in an era of school busing by keeping majority-white schools out of IPS, which at the time was already facing a lawsuit over discrimination against Black students.
Images
Marion County School Districts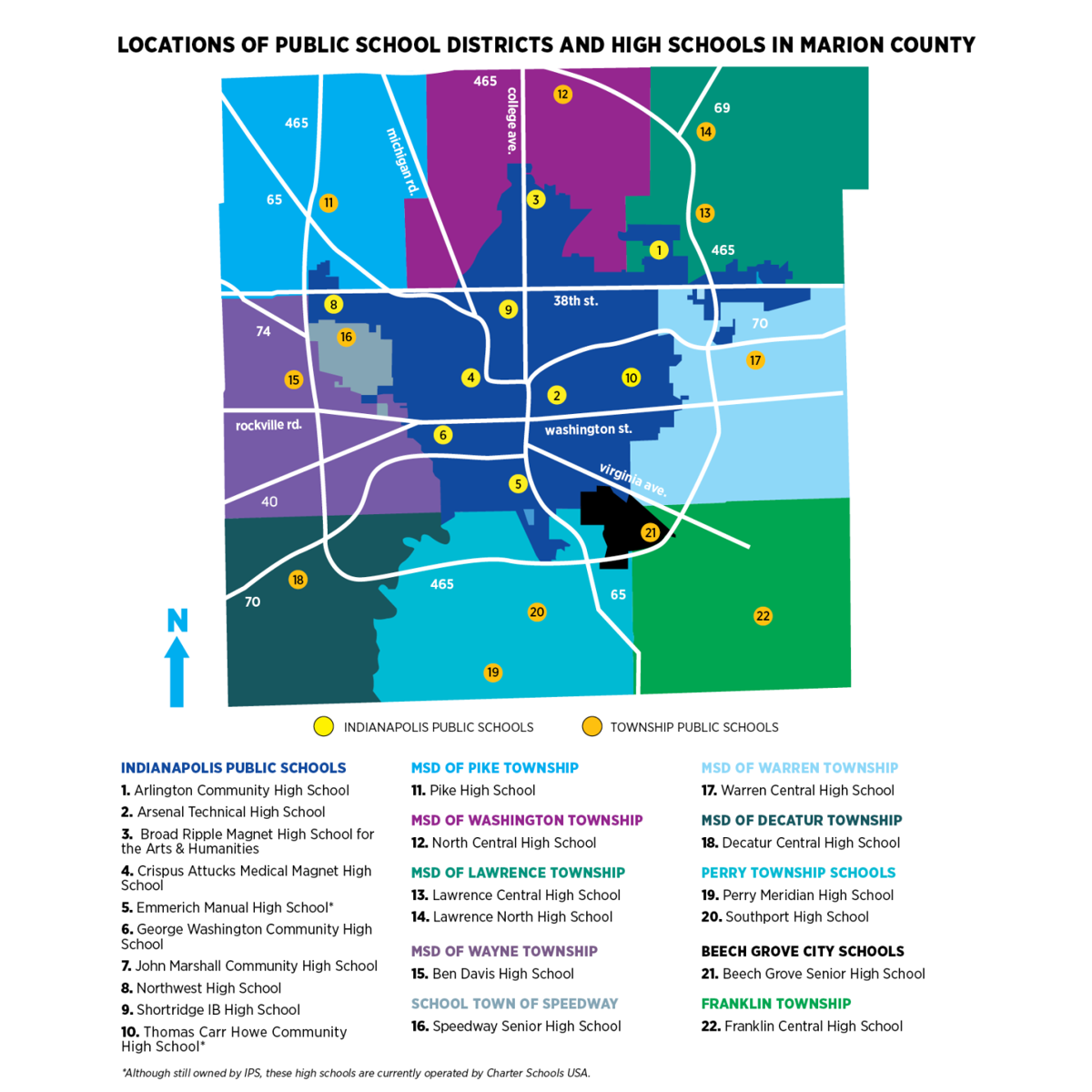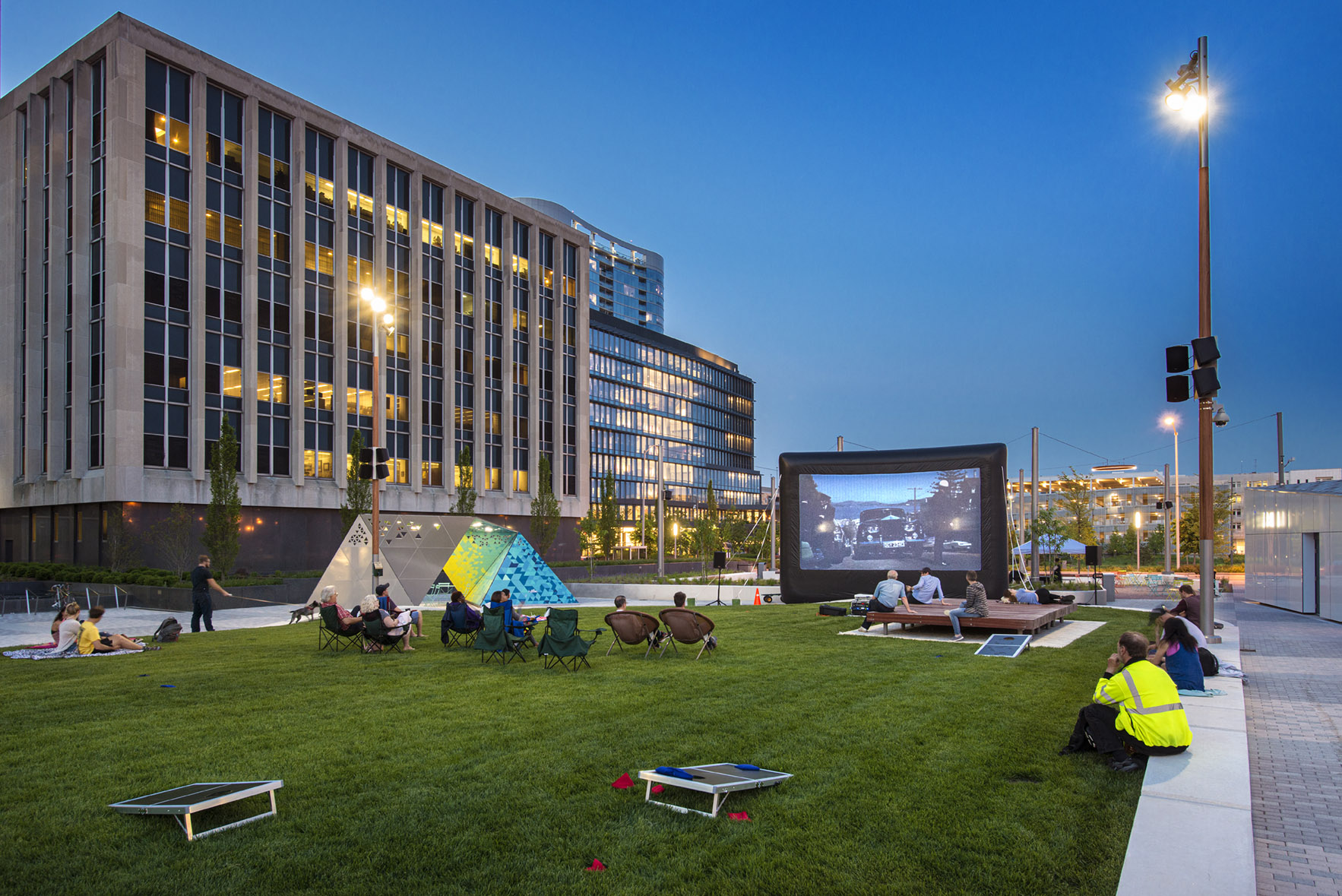 Backstory and Context
Prior to Uni-Gov (or Unigov), Marion County included around 60 governments and although the county population was growing, that of Indianapolis was shrinking. Proponents of a merger wanted a larger city--that would vote Republican--with simplified city services and a larger tax base. Some supporters like Indianapolis mayor Richard Lugar recognized that including school mergers would be unpopular with the townships being annexed who didn't want their schools to be unsegregated through busing. Despite efforts by IPS officials who feared more higher-income families would flee the inner city and take their school-supporting taxes with them, school district boundaries were not changed. As a result, when Unigov was approved by the Indiana General Assembly in 1969, "the township school districts were about 2.6 percent Black while in IPS, Black students comprised more than one-third of enrollment."
Letters to the editors of several Indianapolis newspapers indicate some city residents were aware of the many political implications of Unigov, including leaving schools out of the proposal. One response to another citizen's letter in The Jewish Post by someone in favor of a true county-wide school system offers a cynical evaluation of the mayor, noting a unified school system would "do more to solve problems of our schools and society than all the empty rhetoric of Mayor Lugar concerning racial justice in housing, employment, and other areas." The same letter points out a recent federal court ruling that would include county school unification as part of Unigov according to federal desegregation statutes would be a blow to Lugar's "solely political creation," that allows 85,000 Republican voters to be brought into the city electorate while offering, in the author's opinion, no concrete evidence the merger will improve services in areas such as education that are government responsibilities. Furthermore, he highlights that Unigov as originally proposed before the court ruling did not allow Marion County citizens any chance to vote on the merger. In response to the coverage and editorials by staff of the Indianapolis Recorder, an African-American newspaper, a concerned attorney wrote an editorial calling the Unigov bill "dangerous and maliciously motivated as to race and political enslavement of minorities" and criticizes the stance the paper and promoters of the bill have taken in appealing to white audiences "to prevent Indianapolis from becoming another Gary."
Today a plaza celebrates Mayor Richard Lugar and his Unigov achievement. Both then and later, Lugar believed that despite its imperfections, especially in regards to schools, the merger was worth it. Others would say otherwise, but nonetheless, the plaza and the nearby City-County Buildings serve as physical reminders of the lasting effects of politics on community institutions and racial outcomes.
Sources
Bogar, Bernerd. 1971. "Bogar Says Letter on Uni-Gov School Issue Distorted." The Jewish Post, October 29, 1971.
https://newspaperarchive.com/indianapolis-indiana-jewish-post-oct-29-1971-p-15
Cavazos, Shaina. 2016. "Racial Bias and the Crumbling of a City." The Atlantic, August 17, 2019.
https://www.theatlantic.com/education/archive/2016/08/indianapolis-school-districts/496145/
Richardson, Henry J., Jr. 1969. "Unigov bill dangerous motivated attorney says." The Indianapolis Recorder, March 1, 1969. https://access-newspaperarchive-com.proxyiub.uits.iu.edu/us/indiana/indianapolis/indianapolis-recorder/1969/03-01/page-9
Rickett, Christopher. 2019. "Richard Lugar and Uni-Gov: 5 things about the government merger that redrew Indianapolis." The Indianapolis Star, April 29, 2019. https://www.indystar.com/story/news/politics/2019/04/29/richard-lugar-unigov-5-things-about-government-merger-that-redrew-indianapolis/3611406002/
Stearns, Amber. 2017. "Some IPS schools will close — but which ones?" NUVO, June 1, 2017. https://www.nuvo.net/news/some-ips-schools-will-close-but-which-ones/article_a7e9425e-46cb-11e7-b70e-3768ceb09bd0.html
Image Sources
https://www.nuvo.net/news/some-ips-schools-will-close-but-which-ones/article_a7e9425e-46cb-11e7-b70e-3768ceb09bd0.html

https://www.google.com/url?sa=i&url=https%3A%2F%2Fwww.lugarplaza.org%2F&psig=AOvVaw2aUQq2POIuZ8VgUHTI6xga&ust=1587236145378000&source=images&cd=vfe&ved=0CAMQjB1qFwoTCMjxvsqR8OgCFQAAAAAdAAAAABAD

Additional Information