Monroe County Courthouse (Gay Rights 1975)
Introduction
In the heart of Bloomington, Indiana, at the courthouse is where the Gay Rights Ordinance was adopted for the city of Bloomington. This ordinance prohibited any discrimination regarding to sexuality in the workplace, housing accommodations, and the public in general. This ordinance went on to apply to all of the city of Bloomington, including Indiana University's campus. The ordinance was put into effect in 1975, trumping the 2,500 Bloomington residents signing a petition to eliminate homosexual activities in Bloomington.
Images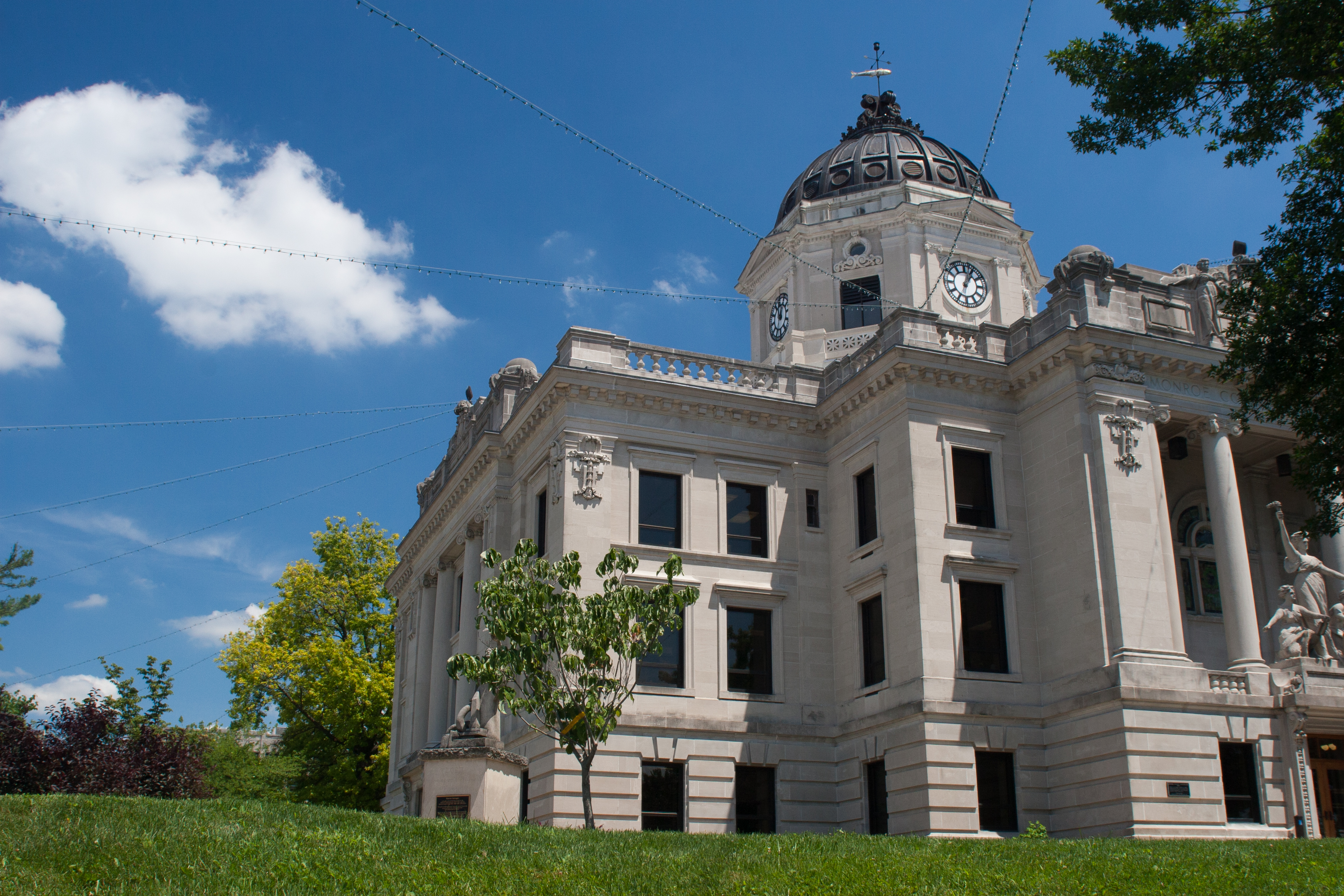 Backstory and Context
Gay rights has been a controversial topic in America for a very long time. For Indiana, there was a long time before same- sex marriage was even legal. It took decades for this law to be passed, even with so many Hoosiers fighting to marry their partners in their respective homosexual relationships. Homosexual couples were not allowed to be legally married until the same sex marriage law was passed in Indiana in October of 2014. Hoosiers, however, had been facing challenges surrounding being gay until ordinances, like the one in Bloomington, were passed.
The ordinance that Bloomington officials passed, protect gay individuals and their rights. This means that they will be protected against harassment and that the Bloomington Human Rights Commission has the "the power to decide cases of discrimination against homosexuals" (IDS 2018). With the ordinance also protecting the Indiana University Campus, homosexual faculty and staff were also protected under it. When first put into effect for the campus, many faculty thought about quitting their teaching jobs because of harassment and discrimination. The ordinance makes sure to protect and stand up for those faculty who are struggling with harassment for being gay.
The City of Bloomington is unique in the way that it has handled gay rights, in comparison to other cities and towns in the state of Indiana. In 1997, only Bloomington and Carmel had established health care policies for their city's domestic partners, gay or not (IDS 2012). It was not until 2013 that the city of Indianapolis also adopted the same policy, that went into effect in January of that year. Bloomington has constantly showed their inclusion of all kinds of people since 1975. They took on topics surrounding homosexual couples and brought light to them for equal opportunity for all.
Sources
Eubanks, Lee. LGBTQ+ History, Indiana University Bicentennial. January 1st 2020. Accessed April 15th 2020. https://200.iu.edu/history/timelines/lgbtq.html.
LGBTQ Travel, Visit Bloomington. Accessed April 17th 2020. https://www.visitbloomington.com/things-to-do/lgbtq-travel/.
Fazekas, Lauren, and Madelyn Powers. "From Gay Ordinance to Mock Cemeteries: A Brief History of Bloomington PRIDE." Indiana Daily Student, 22 Aug. 2018, www.idsnews.com/article/2018/08/entpridehistory082118.
Mettler, Katie. "Indy Passes Benefits for Domestic Partners." Indiana Daily Student, 15 Aug. 2012, web.archive.org/web/20131212111318/bl-ids-website.ads.iu.edu/news/story.aspx?id=87933.