Ball Cemetery
Introduction
Ball Cemetery is a cemetery in Springfield, Nebraska that was first used during the 19th century by pioneers. The cemetery is privately owned by the Ball family to this day. While the owners are nice people and are willing to work with individuals who would like to see the cemetery it is not open to the public. William Liddiard or better known as Rattlesnake Pete was laid to rest in the Ball Cemetery. He is a bit of a local famous historical figure due to his affiliation with Buffalo Bill. Along with Ball Cemetery's rich history and fame it attracts attention for being considered to be one of the most haunted places in the state of Nebraska.
Images
Letter from Buffalo Bill to Rattlesnake Pete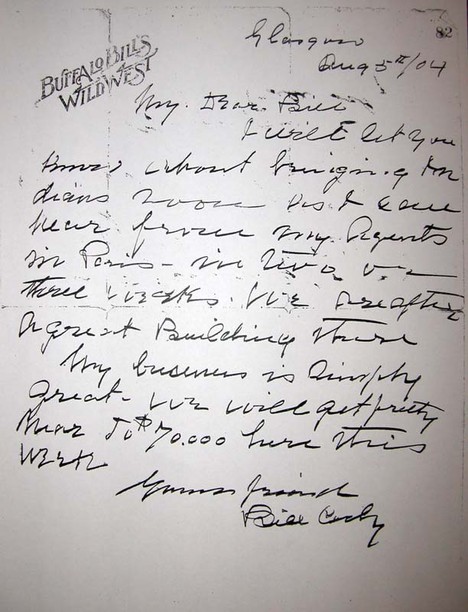 Grave marker at Ball Cemetery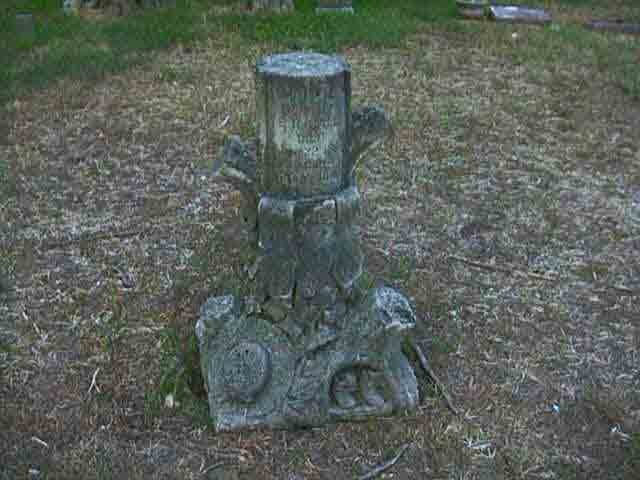 Grave marker at Ball Cemetery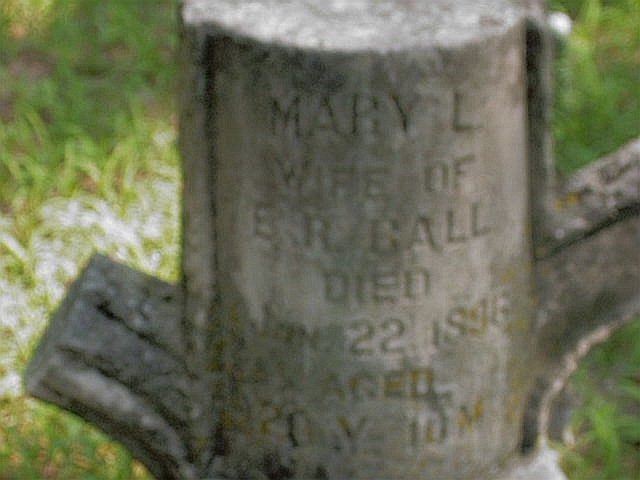 Grave markers knocked over due to vandalism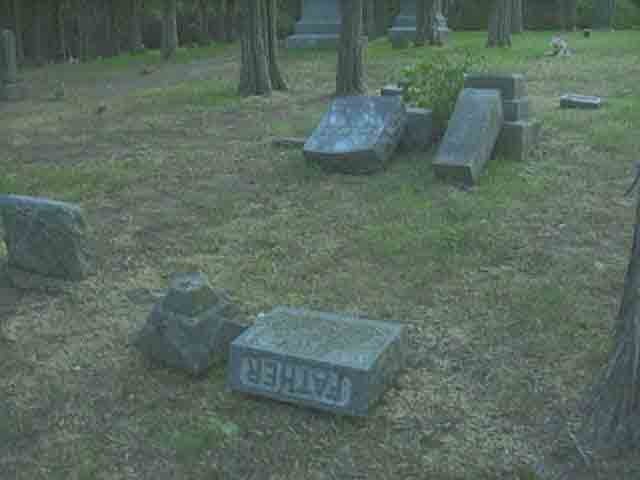 Gate to enter Ball Cemetery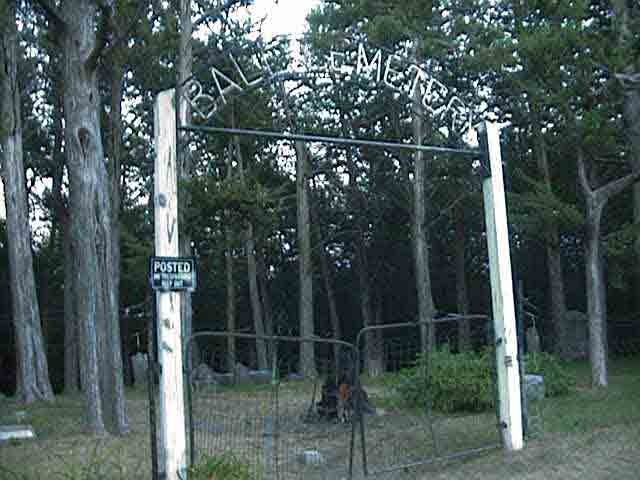 Article written in the Omaha Daily Bee about William Liddiard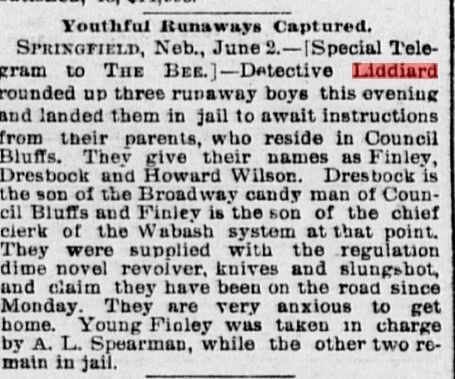 Backstory and Context
Ball Cemetery's is a privately owned cemetery that is still in use by the Ball family. It started as just a little family cemetery in a pioneer town. The oldest headstone dates back to 1869. Over the last century it has grown from just a couple graves to become the burial site of generations of the Ball family. It followed the oldest cemetery in Nebraska by only 13 years.
If the age were not enough to pique interest there is a local celebrity of sorts who made his mark on history buried at Ball Cemetery: William Liddiard later known as Rattlesnake Pete. William Liddiard left Springfield, NE to join Buffalo Bill and lead a life of adventure. Before going off to begin his adventures Liddiard was elected Sarpy County Sheriff. He was well known in the area and was even written about in the Omaha Bee recounting his capture of runaways. A letter of correspondence between Liddiard and Buffalo Bill himself is kept in William F. Cody archives.
"My dear Bill,
I will let you know about bringing Indians soon as I can hear from my agents in Paris—in two or three weeks. We are after a great Building there.
My business is simply great. We will get pretty near to $70.000 here this week.
Your friend
Bill Cody"
William Liddiard continues to inspire interest in today's residents of Springfield, NE. A Springfield newsletter from 2012 advertises a presentation on William Liddiard hosted at the local Sump Memorial Library.
Beyond the actual people themselves that are buried at Ball Cemetery the grave markers are intriguing. They are some of the earliest art and written history associated with pioneer era Nebraska. Grave markers in general have just as much to say about the society of the time as they do about the family and the loved ones they buried. For example depicted in the photos is a tree stump grave marker. This particular grave marker was common in the Victorian era. The tree stump grave marker represents more than just an aesthetic it represents a pivotal point in time for people in the United States. It speaks to the transition of people from a primarily agricultural lifestyle to a one of industrialization. The transition of the ideals of the Victorian era to a more modern lifestyle. For historians the preservation of headstones in vital for research reasons.
Vandalism to cemeteries is more than just disrespectful to the dead it also interferes with potential historical findings. Ball cemetery in particular has had a long history of vandalism.
Ball cemetery is known to be haunted which makes it a very popular place for people to break into. Several different websites name it as one of the most haunted places in Nebraska. It is such a far reaching myth that Ball Cemetery is haunted that even blogs that do not focus on the supernatural have written about Ball Cemetery. For example, the Dailymeal, a national blog that focuses on food, drink, and travelling, wrote about the most haunted place for each state and listed Ball Cemetery as number one for the state of Nebraska. This reputation has encouraged people to break in to experience the ghosts of Ball Cemetery for themselves. Many people have spoken about their experiences at Ball Cemetery, while they were illegally trespassing, online. They discuss partying and weird feelings they experienced. Written stories are accompanied by pictures of orbs and supposed figures ominously lurking behind smiling teens. While this may seem like just harmless fun over the years some serious damage has been done to grave markers. The family who owns it does their best to protect their property but it is still an ongoing problem. Years of trespassing and vandalism has become a tradition for the local youth.
In high school I accompanied a friend the Ball Cemetery so she could take pictures for the school paper the owners spoke of having to clean beer bottles off of their loved ones graves. While people think they are just visiting an old cemetery this is the location of where a family has been laying their loved ones to rest for over a century as recently as the 1990's. Ball Cemetery is rich in local history as well as personal history for the Ball family. The cemetery should be preserved and protected for this reason as well as its historical value.
Sources
Iske, Gary. Ball Cemetery. Omaha: Sarpy County Genealogical Society, 1995. 
"Youthful Runaways Captured," Omaha Daily Bee, June 2nd, 1889.
William F. Cody to William H. Liddiard, 5 October 1904, The William F. Cody Archive, Buffalo Bill Center of the West.
Manzer, Connie, "Rattlesnake Pete Presentation", Springfield Wednesday Newsletter (blog), July 18th 2012, http://www.springfieldnebraska.com/nl/index.php/whats-new/458-springfield-wednesday-newsletter-july-18-2012.
The Daily Meal Staff, "The Most Haunted Places in Every State Gallery", The Daily Meal (blog), August 17th, 2018, https://www.thedailymeal.com/travel/most-haunted-place-every-state-slideshow.
Heather Hammet, "Grave Matters", Landscape Architecture Magazine 91, no. 10 (2001):60-63, https://www-jstor-org.leo.lib.unomaha.edu/stable/44671070?Search=yes&resultItemClick=true&searchText=grave&searchText=markers&searchText=history&searchUri=%2Faction%2FdoAdvancedSearch%3Fq0%3Dgrave%2Bmarkers%26amp%3Bf0%3Dall%26amp%3Bc1%3DAND%26amp%3Bq1%3Dhistory%26amp%3Bf1%3Dall%26amp%3Bc2%3DAND%26amp%3Bq2%3D%26amp%3Bf2%3Dall%26amp%3Bc3%3DAND%26amp%3Bq3%3D%26amp%3Bf3%3Dall%26amp%3Bc4%3DAND%26amp%3Bq4%3D%26amp%3Bf4%3Dall%26amp%3Bc5%3DAND%26amp%3Bq5%3D%26amp%3Bf5%3Dall%26amp%3Bc6%3DAND%26amp%3Bq6%3D%26amp%3Bf6%3Dall%26amp%3Bacc%3Don%26amp%3Bla%3D%26amp%3Bsd%3D%26amp%3Bed%3D%26amp%3Bpt%3D%26amp%3Bisbn%3D%26amp%3Bgroup%3Dnone&ab_segments=0%2Fbasic_SYC-5152%2Ftest&refreqid=search%3Abd5060c889bf49126549efae7d3edc1e&seq=1#metadata_info_tab_contents
Langworthy, Traci I. 2015. "Standing Guard: The Chapman Rustic Monument and the 'Pioneering Spirit.'" Material Culture 47 (2): 1–22. http://search.ebscohost.com.leo.lib.unomaha.edu/login.aspx?direct=true&db=ahl&AN=110725677&site=ehost-live&scope=site.
Image Sources
The William F. Cody Archives

Dawes, Marta, Headstone, 2002, photograph.

Dawes, Marta, Mary L Ball, 2002, photograph.

Dawes, Marta, Tilted Stones, 2002, photograph.

Dawes, Marta, Front Gate, 2002, photograph.

Omaha Daily Bee