Arthur Jordan Memorial Hall
Introduction
Arthur Jordan Memorial Hall was the first building remains the center of the Fairview Campus of Butler University in Indianapolis. The building is named in honor of entrepreneur and philanthropist Arthur Jordan. Jordan Hall was constructed in 1927 and opened for classes the following year. In 1984, Jordan Hall was placed on the National Register of Historic Places.
Images
Arthur Jordan Memorial Hall
Arthur Jordan Memorial Hall in snow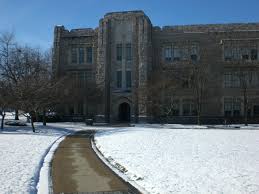 Another view of Jordan Hall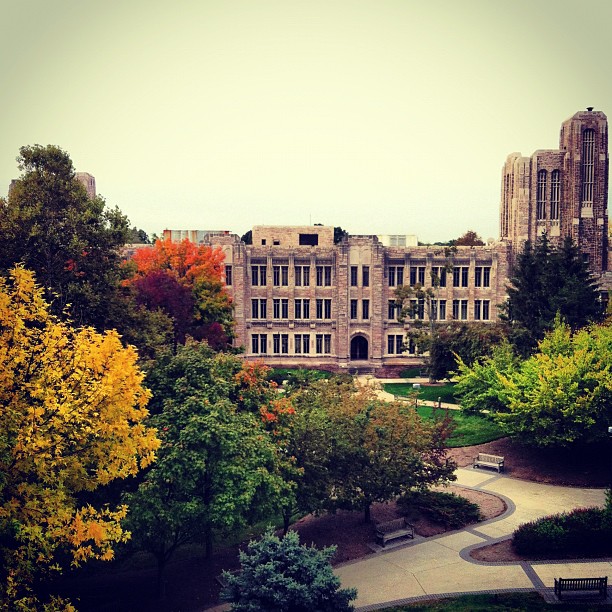 Jordan Hall during construction (W.H. Bass Photo Company Collection, Indiana Historical Society)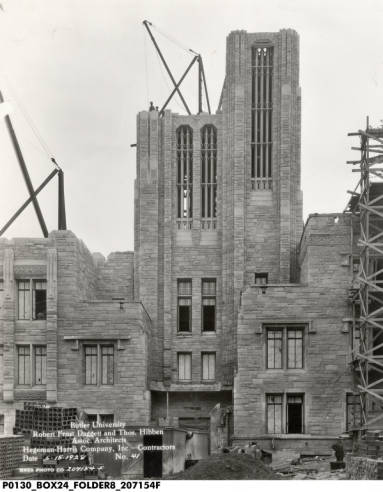 Backstory and Context
Arthur Jordan, who was born in Madison, Indiana, was a highly successful entrepreneur in the late 19th and early 20th Centuries. He had engaged successfully in a wide range of business enterprises, including bookselling, dairy sales, lock manufacturing and, finally, insurance. He founded the Meridian Life Insurance Company in 1899. Though Jordan himself never went to college, he became interested in Butler University because of some of his business associates who had gone there. Over his lifetime, he donated more than $1,000,000 to the university.

In the mid-1920s, Butler University moved from its previous location in Irvington to a new 246-acre campus in the Indianapolis suburb of Fairview. The Arthur Jordan Memorial Hall, named after the philanthropist, and most often known today simply as Jordan Hall, became, and remains today, the main building of the campus, housing many classrooms and administrative offices.

The structure was designed by Indiana architects Robert Frost Daggett and Thomas Hibben (a graduate of Butler) in the style called Collegiate Gothic, which would influence the design of many college and university buildings over the next three decades. Construction began in 1926 and was completed in 1927. It is executed in gray Carolina granite. Classes began to be held there in 1928, the same year that Jordan established the Arthur Jordan Foundation. He also founded the Jordan Conservatory of Music, which would become Butler University's Jordan College of the Arts.


Sources
http://legacy.butler.edu/media/2606542/16_named_spaces.pdf http://bit.ly/1DaaIHA http://bit.ly/1HiYnDJ https://www.flickr.com/photos/hinklefieldhouse/6072963641 http://legacy.butler.edu/media/3241121/2about_butler.pdf http://images.indianahistory.org/cdm/ref/collection/P0130/id/1809
Additional Information