Hippee Building (Surety Hotel)
Introduction
The Hippee Building emerged in 1913 at a time when Des Moines experienced as modest building boom in the city's downtown region, including a few skyscraper construction projects. The Hippee Building derives its name from George B. Hippee, a prominent banker and railroad entrepreneur. His father also enjoys fame as one of the city's pioneers and first successful business people in Des Moines.
Images
Hippee Building (Modern: Surety Hotel). Photo taken in March, 2020.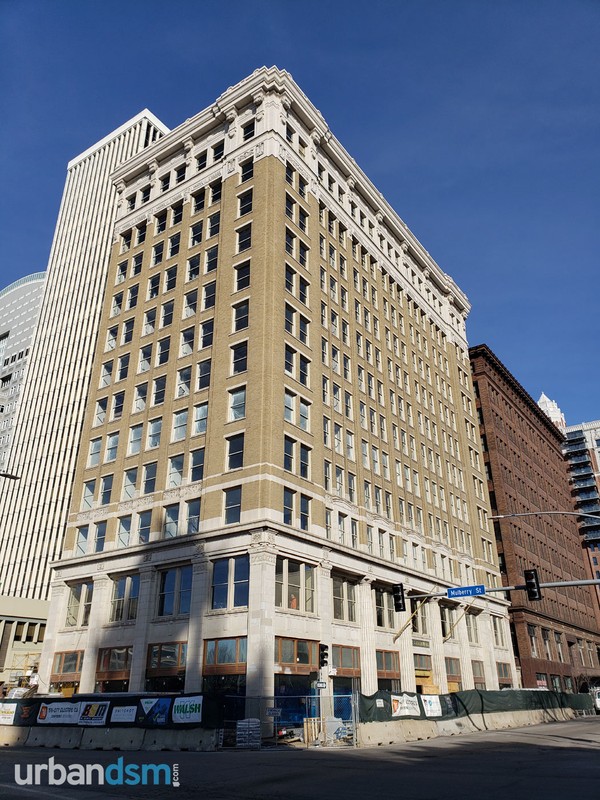 Backstory and Context
The Hippee Building was completed in 1913 by George B. Hippee, who developed the first interurban railway in the city, which connected Des Moines to other central Iowa communities. His father, George M. Hippee, was also an integral figure in Des Moines' business history. The twelve-story, 172-foot structure was Iowa's tallest skyscraper at the time of its completion in 1913. 
George B. Hippee's father, George M. Hippee, was one of Des Moines' first merchants and earliest pioneers. The elder Hippee worked as an Ohio drug merchant before moving to Des Moines in December 1855. He went on to build the city's first three-story brick commercial building, George B. was born in 1860 and spent his childhood hanging out with his father's business associates in the parlors and counting rooms. Two notable influences included lauded Des Moines businessman, Frederick M. Hubbell, and his law partner Jefferson Polk, whose daughter George B. married in 1887. Polk focused on running Des Moines' city streetcar franchise, expanding it to include interurban railroads to Ames and other nearby towns beginning in 1874. In contrast, George M concentrated on banking. George B. worked for Polk (then his father-in-law), where he replaced horse-power with electricity; the work helped him become Des Moines Railway Company President in 1898. 
A few years later, in 1906, an alderman accused George B. Hippee and an associate of bribery, claiming they offered hundreds of dollars in exchange for a vote that would benefit the Des Moines Railway Company. The Grand Jury failed to indict; prosecutors dropped the case two years later. After the elder Hippee died in 1911, George B. Hippee left the railroad business to focus on one of his father's banks. In 1912, George B. Hippee announced plans to build the twelve-story Hippee Building; 
George B. Hippee served as president of the Iowa Loan & Trust Co., which owned and occupied what became known as the Hippee Building from 1914 to 1926; the bank proved to be the building's signature tenant. The Hippee Building (also known as the Southern Surety Building, the Savings and Loan Building, and the Midland Building in later years) emerged during a small period of a skyscraper-building-boom for Des Moines. The Hippee opened in 1913 along with the six-story Flynn Building (1906), eleven-story Fleming Building (1907), and the ten-story Hubbell Building (1913). The Hippee Building functioned as an office building until Chicago's Aparium Hotel Group of Chicago acquired the building in 2017 and converted it to a 138-room hotel.
Sources
Aschbrenner, Joel. "Historic downtown D.M. building sold." Des Moines Register (Des Moines) August 7th 2015. Development sec. https://www.desmoinesregister.com/story/money/business/development/2015/08/07/midland-building-revive-omar-bradley/31293581/. 
Elbert, Dave. "The Elbert Files: The Hippee Building." Business Record. businessrecord.com. April 24, 2020 https://businessrecord.com/Content/Design/Top-Story-1/Article/The-Elbert-Files-The-Hippee-Building/46/242/90026. 
KCCI: "Des Moines, Iowa, Burlington Trailways, Depot, Station, Midland Building: 6th & Mulberry." Flickr.com: Photolibrarian. October 9, 2017. https://www.flickr.com/photos/photolibrarian/43557434181.
Image Sources
https://urbandsm.com/downtown/midland-building

Additional Information