Polk County Administration Building
Introduction
The Polk County Administration Building was one of several buildings erected by the federal government in Des Moines in the early 1900s. It was originally home to the U.S. Post Office which vacated it in 1971. An excellent example of Romanesque architecture, it features Corinthian columns and pilasters, pedimented doorways, arched windows, and decorative stonework. It also represents the authority of the federal government in Des Moines. The building was added to the National Register of Historic Places in 1974. It is also a contributing property of the Civic Center Historic District, which is listed on the National Register as well. The building also houses the Polk County Heritage Gallery, which displays art and historical exhibits.
Images
Built in 1910, the former United States Post Office is now the Polk County Administration Building. It also houses the Polk County Heritage Gallery, which displays art and historical exhibits.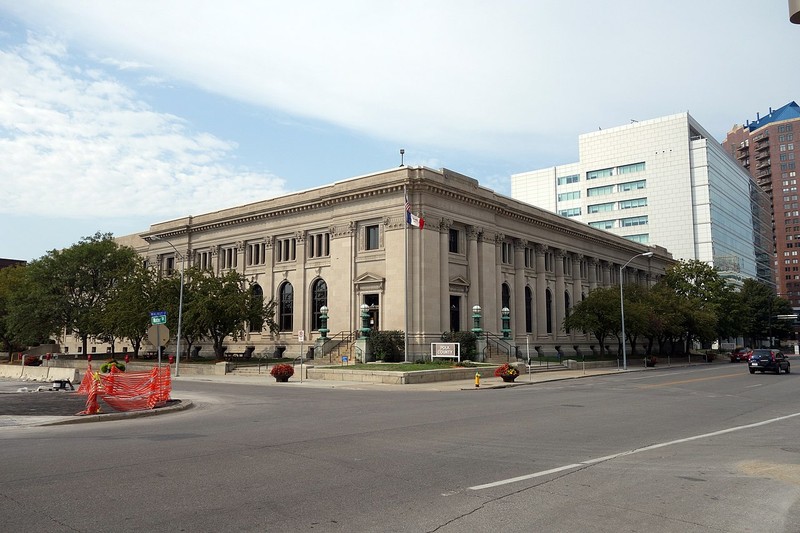 Backstory and Context
In 1870, the federal government built a large, four-story courthouse at Fifth and Court Avenues that also housed the post office. Between 1902 and 1906, Congress appropriated funds for a new post office building. It was designed by staff of the United States Treasury Department, which was headed by Supervising Architect James Knox Taylor. The post office was the second building constructed of the Civic Center district. It was also the first building in Des Moines of the City Beautiful Movement, which was a national trend in the 1890s and early 1900s that promoted the idea of beautifying cities for aesthetic reasons but to also foster civic pride, improve health and safety, and promote economic growth.
Construction of the building began in 1909 and was completed the next year. More space was needed by the mid-1920s but the large addition designed by a local firm in the 1930s was never built due to lack of funding. However, a small addition was built in 1934. Another small addition was built sometime in the coming years as well but it was demolished in the 1970s. After the post office moved to a new facility in 1971, the building remained unused until the late 1970s when the county acquired it. It now houses county administrative offices.
Sources
"The City Beautiful Movement." University of Virginia. Retrieved from the Web Archive on February 1, 2022. https://web.archive.org/web/20110514005408/http://xroads.virginia.edu/~CAP/CITYBEAUTIFUL/city.html.
Wagner, William J. "U.S. Post Office." National Park Service - National Register of Historic Places Nomination Form. November 19, 1974. https://npgallery.nps.gov/GetAsset/aa9fe63c-4676-4452-be17-6ef5ed52dc65.
Image Sources
C.A. Tucker, via Wikimedia Commons: https://commons.wikimedia.org/wiki/File:US_Post_Office_Bldg_Des_Moines_IA.jpg

Additional Information