Western Canada High School
Introduction
Author-Uploaded Audio
This is Western Canada High School. Originally called Western Canada College when it was founded in 1903, it started out as a British style private school for Boys. It sits on a 20-acre schoolyard that was donated by the Canadian Pacific Railway. The school went looking for investors to raise funds with 5000 shares being sold for $10 each. Many of those original investors read like a "who's who" of Alberta - Senator Patrick Burns, Alberta Premier A.C. Rutherford, and even R.B. Bennett who later would become Prime Minister of Canada. With their influence, Western Canada College became an institution of great respect that continues to the present day with a list of alumni that includes Rhodes scholars, leaders, professional athletes, and entertainers. Some of the notable students who went to Western are television actor Conrad Bain, singer-songwriter Barney Bentall, Hall of Fame football player and former Lieutenant Governor of Alberta Norman Kwong, and Juno award-nominated singer-songwriter Kinnie Starr.
Images
"Front and side view of the college with Academic building on the right. Located on 17th Avenue SW between 5A Street and College Lane. Built in 1906 – 1907." pc-575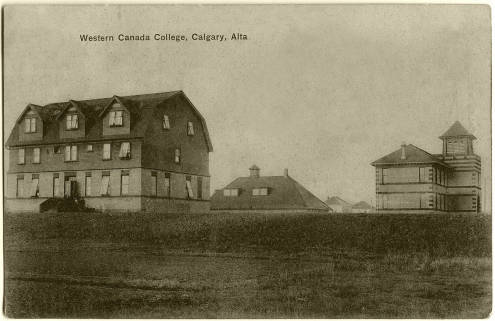 Backstory and Context
Author-Uploaded Audio
Hi I'm Bob van Wegen with the Calgary Heritage Initiative. The original buildings of Western Canada College were built between 1904 and 1919 but they have all been replaced by the buildings you see here. The matching East and West wings were built in 1928 and 1929 in the Collegiate Gothic style. They flanked the original college building which was itself demolished in 1958 and replaced by a new building in a similar style connecting the two earlier wings. The historic building has recently undergone an extension rehabilitation.
Sources
Image Sources
Post Cards from the Past Collection, Calgary Public Library

Additional Information