Anderson County Jail
Introduction
The former Anderson County Jail is historically significant for its Art Deco architecture, which is uncommon in the city. Designed by architect Theo S. Maffit, it was built in 1931 and operated until the mid-1980s and then from 1992 to 1996. The three-story building features entrances with Art Deco detailing surrounding the doorways and, at the main entrance, a portico with brick piers extending up to the roof. In recent years the jail has been used as an event space called the Texas Jail House that offers haunted and historic tours and a Grinch themed Christmas event.
Images
Anderson County Jail was built in 1931 and is a fine example of Art Deco architecture.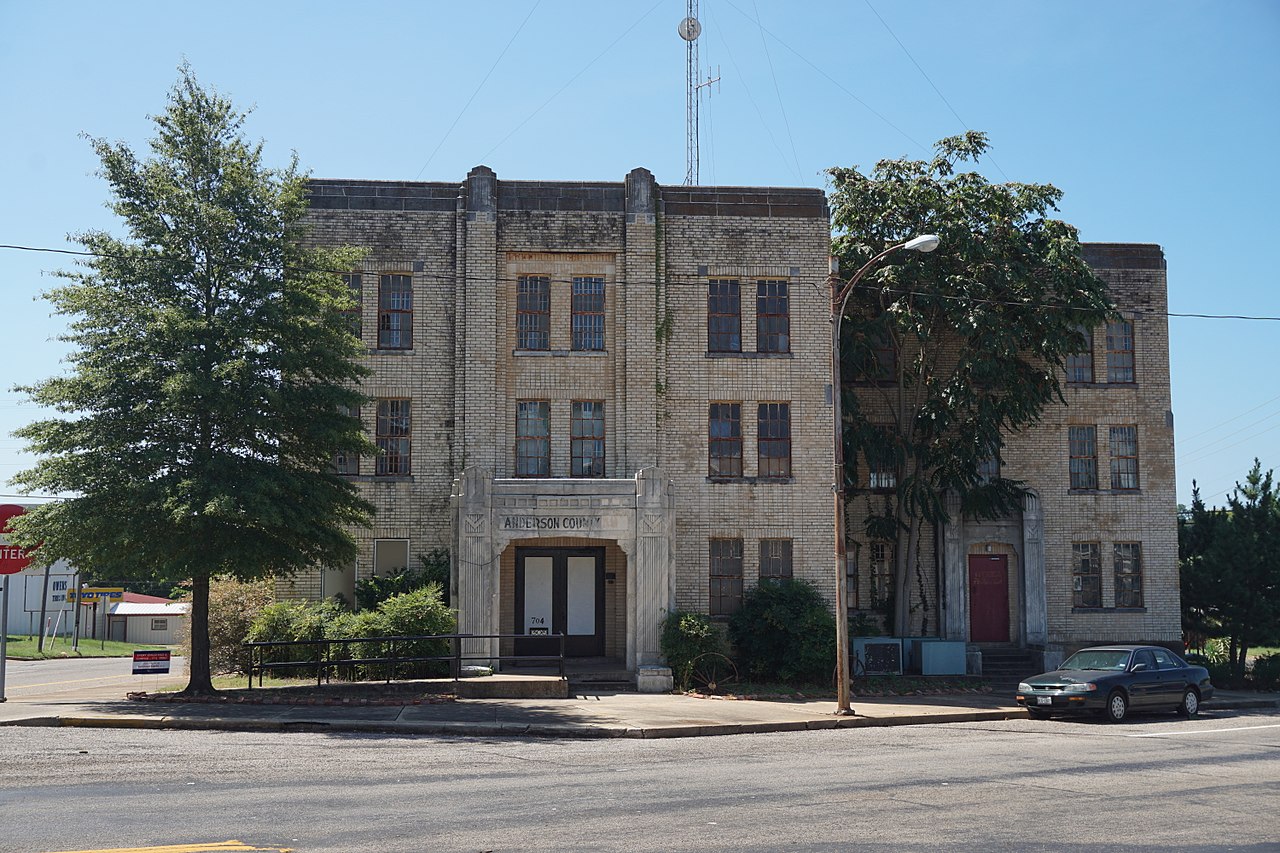 Backstory and Context
The jail replaced the previous one erected in 1880, which operated for fifty years before being designated unsafe. The county hired Maffit, who by then had designed several buildings in the city. He earned a degree in architecture in 1916 and then joined the Navy the next year, serving as a draftsman. He then opened a practice in Palestine in a building owned by his father, who was a local contractor. The jail operated continuously until the 1980s when a new one was built. The old jail became a juvenile detention facility from 1992-1996. It was added to the National Register of Historic Places in 1998 for its Art Deco architecture. It is unclear whether the Texas Jail House is currently operating as of 2020.
Sources
"About Us." Texas Jail House. Accessed October 28, 2020. https://www.texasjailhouse.com/pages/about-us.
Moore, David & Goebel, Matt. "Anderson County Jail." National Park Service - National Register of Historic Places Nomination Form. June 11, 1998. https://catalog.archives.gov/OpaAPI/media/40967860/content/electronic-records/rg-079/NPS_TX/98000692.pdf.
Image Sources
Michael Barera, via Wikimedia Commons: https://commons.wikimedia.org/wiki/File:Palestine_August_2017_37_(Anderson_County_Jail).jpg

Additional Information