Hyer's Hotel
Introduction
Hyer's Hotel, on the corner of Jenifer and Patterson Street, was constructed as a hotel in 1854 for David R. Hyer, a local carpenter and hotelkeeper who helped build the first capitol building in Madison in 1837. Henry C. Jacquish bought the hotel in 1855. The rear portion of the hotel and stables were wood frame and were destroyed by fire in 1874. The Hyer's Hotel building became a private residence after the fire. A brick wing was added to the rear, keeping with the Italianate style of the surviving hotel building. Hyer's Hotel continues to be a private residence containing two apartments in the rear wing. Hyer's Hotel was listed in the National Register in 1983 and became a Madison Landmark in 1975; it is one of the oldest surviving hotel buildings in Madison.
Images
2009 photo of front of Hyer's Hotel, by James Steakley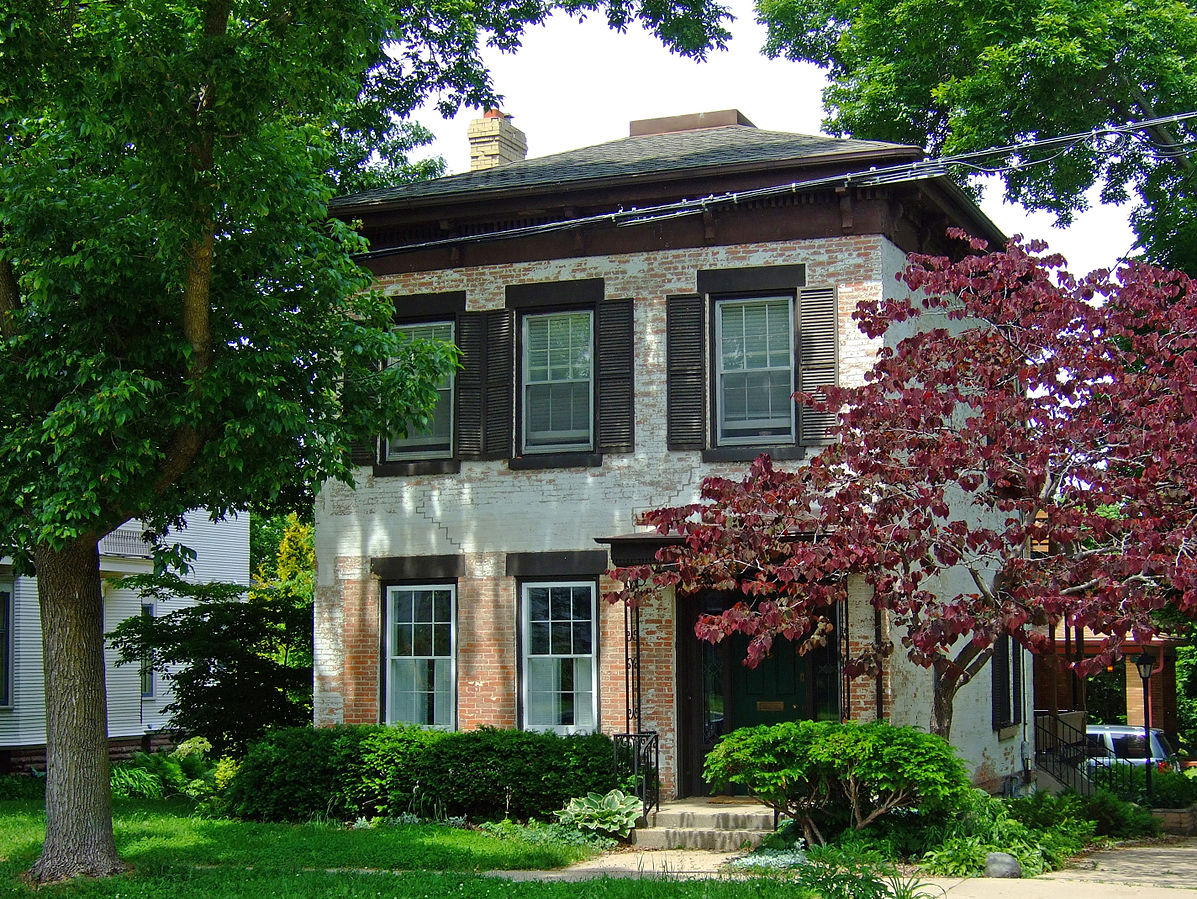 1855 advertisement for Hyer's Hotel in Madison City Directory (Seymour 1855:146)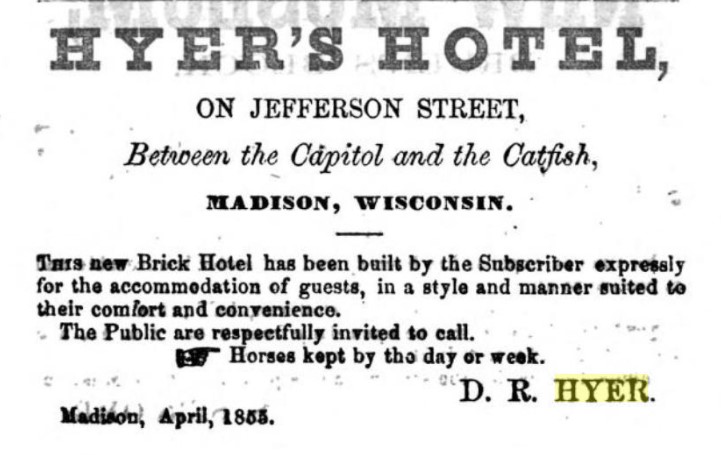 1982 photo of Hyer's Hotel, by Katherine H. Rankin, for NRHP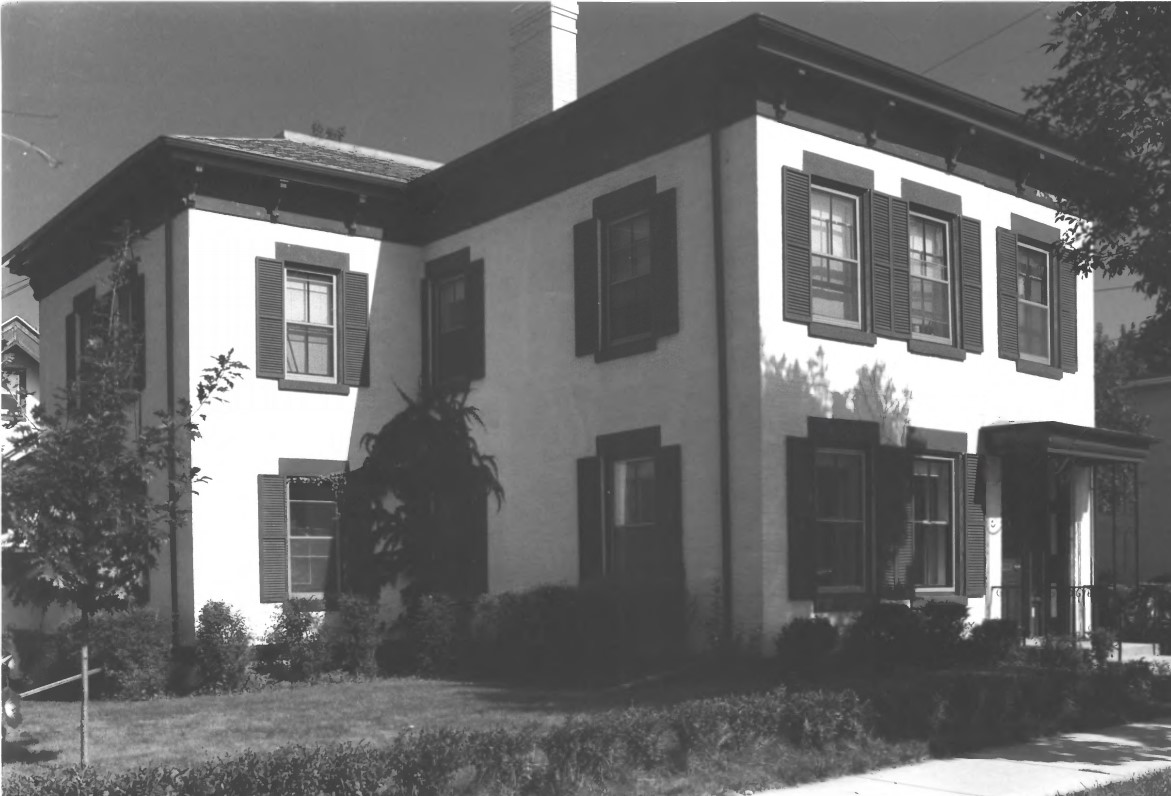 Main stairwell in Hyer's Hotel in 1977 photo by Joseph Jackson, NRHP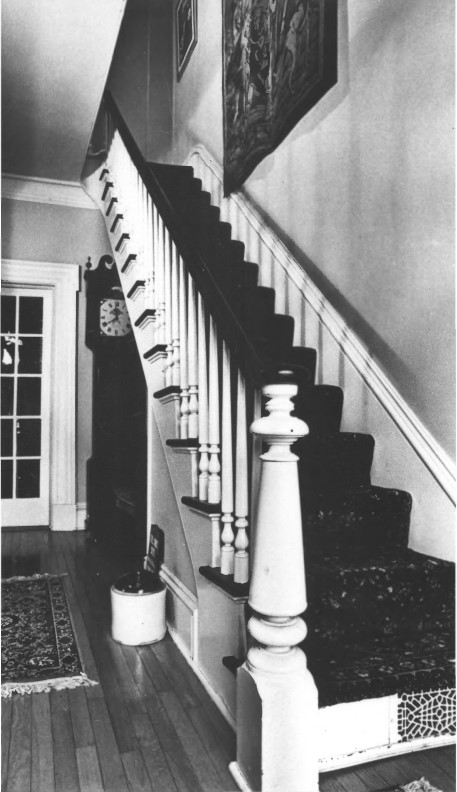 Hyer's Hotel as a dwelling on 1898 Sanborn map; red=brick; yellow=wood (p. 4)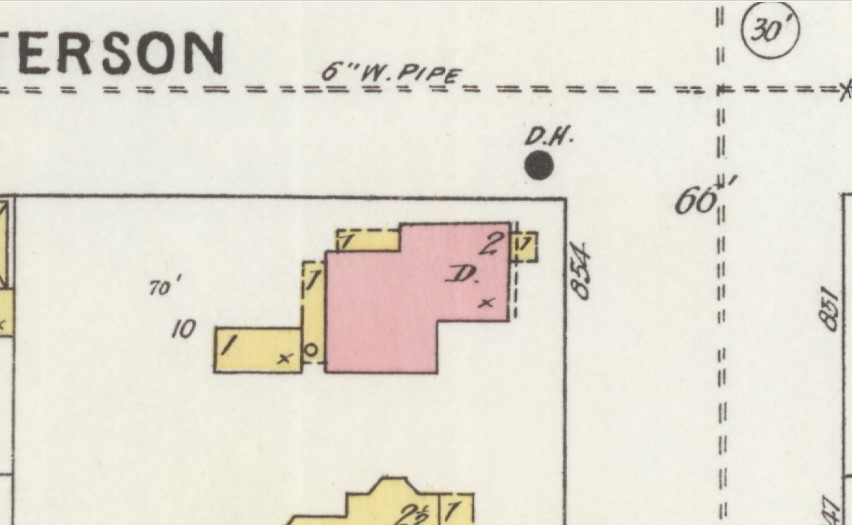 Backstory and Context
David R. Hyer was born in Vermont in 1812 and arrived in the site chosen for Madison in 1837 to work as one of 37 men to build the first capitol building. He was one of the workmen who stayed in the newly-built log cabin of Eben Peck, the first White settler in Madison. Hyer later operated a boarding house near the Capitol. David R. Hyer's wife, Anna, died in 1843. Hyer relocated to Deerfield, Wisconsin, where he remarried and operated a tavern. Hyer and his second wife had two sons before she died in 1851. In 1854, Hyer was Deerfield's postmaster and ran the tavern with Eliza, his third wife and cousin.
The Hyer's Hotel building on Jenifer (formerly Jefferson) Street was built in 1854 and probably designed by David R. Hyer and his brother, Hiram, a carpenter and joiner. Constructed of a soft, locally-made brick, the clay is said to have come from the future location of B.B. Clark Park nearby, on the shore of Lake Monona. The cellar walls are sandstone lined with brick. The building's brick walls are three layers thick: the outer two layers are joined with mortar, and there is an airspace of 1.25 inches between the middle layer and the inner layer of brick. The plaster inside the building was applied directly to the bricks. The six chimneys were contained in the outside walls, two remain. The exterior features a combination of Greek revival and xx elements in an informal, vernacular style. The windows have simple sandstone sills and lintels. A cornice supported by brackets tops the second story, beneath flat-topped hip roofs on the main block and wing. Hyer and/or his brother reportedly crafted the interior woodwork himself.
The hotel neighborhood was populated mainly by German immigrants beginning in the mid-nineteenth century. Hyer's Hotel was advertised in 1855 in the first city directory of Madison: the "new brick hotel" had been built "for the accommodation of guests, in a style and manner suited to their comfort and convenience." Hyer also offered to board horses by the day or the week. David R. and Eliza Hyer sold Hyer's Hotel to Henry Jacquish in 1855 for $9,000. Hyer went on to run a hotel called Hyer's House in a neighborhood of Springfield, Wisconsin called Hyer's Corners, where he also owned a large farm.
Henry Chapman Jaquish was born in Pennsylvania in 1820 and worked as a team driver in St. Louis and as a lead miner in Mineral Point, Wisconsin, before moving to Dane County. Jaquish built himself a house in the county and lived there for seven years before purchasing Hyer's Hotel in 1855. Jaquish had married Sally May Barnes in December 1844; the couple eventually had ten children. Jaquish renamed the establishment Hyer-Jaquish Hotel and ran the business for the next twenty years. Jacquish advertised modest room and board rates of fifty cents per day of three dollars weekly. During the Civil War, the hotel boarded soldiers and families coming and going to the nearby Soldiers' Orphan Home at Spaight and Brearly streets.
A major fire in1874 destroyed a wood frame extension to the rear of the hotel along Patterson Street containing a boarding house and stables. The fire spread to a wood frame corner grocery store on Paterson and Williamson and burned it to the ground; the grocery store was rebuilt as Biederstaedt Grocery (a standing brick building; also a Clio entry). The fire may have been the end of the hotel era for Hyer's; Jaquish leased the property out as a residence; the building has been used as a private residence ever since.
The building was the home of a local banker and philanthropist, Arthur Schulkamp, from 1910 to 1975. Schulkamp grew up across the street from Hyer's Hotel and always admired the building. His father alerted him when the house went up for sale, and Arthur purchased it.
Sources
Fladen, Gerald Duane. Rankin, Katherine H. NRHP Nomination of Hyer's Hotel. National Register. Washington, DC. National Park Service, 1981.
Keyes, Elisha Williams. History of Dane Vounty. Volume 2. Chicago, IL. Western Historical Company, 1880.
Seymour, William N.. Wm. N. Seymour's Madison City Directory and Business Advertiser. Edition First Annual. Madison, WI. Atwood & Rublee, 1855.
Image Sources
https://commons.wikimedia.org/wiki/File:Hyer%27s_Hotel.jpg

Seymour 1855 on Google Books

https://npgallery.nps.gov/GetAsset/33f3c99e-7a60-4e39-819f-ba6a97c63752/

https://npgallery.nps.gov/GetAsset/33f3c99e-7a60-4e39-819f-ba6a97c63752/

https://www.loc.gov/item/sanborn09603_003/

Additional Information