Albany Municipal Auditorium
Introduction
The Albany Municipal Auditorium has been a vital civic and entertainment venue for the city since it was built in 1916. It has also been the home of the Albany Symphony Orchestra since 1990. Designed by architect A. Ten Eyck Brown, the auditorium is a striking building featuring a main entrance with a overhanging marquee, drip-moulded brick bands encircling the building, bands of marble, and a decorative shield at the top center with the letters "M" and "A" superimposed on each other. The auditorium was added to the National Register of Historic Places in 1974.
Images
The Albany Municipal Auditorium was built in 1916 and has been an important civic and entertainment facility for the community.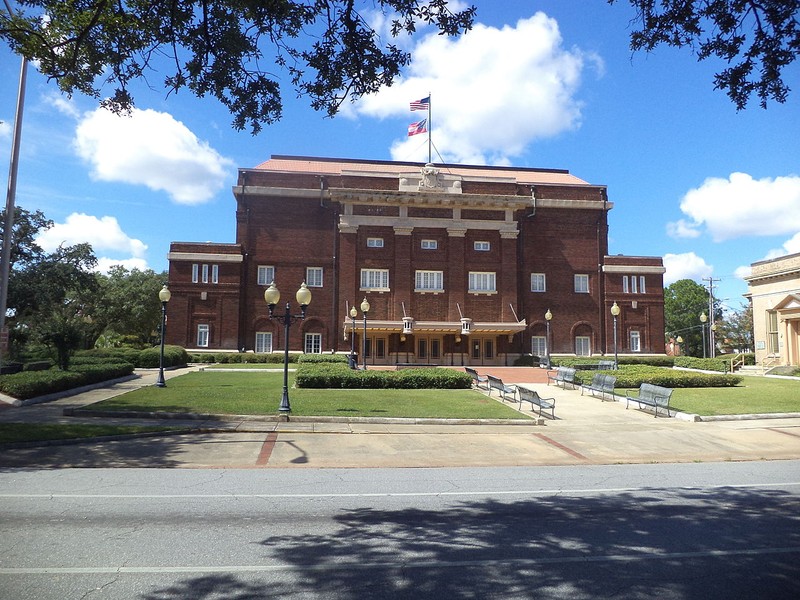 Backstory and Context
The auditorium replaced a wooden building where an organization called the Chautauqua Society was located. Established by Dr. N.A. Duncan around 1888, its goal was to provide informal methods of education to adults who had received little formal education. The Chautauqua Society in Albany was one of many similarly named organizations around the country that were part of what was known as the Chautauqua Movement. The first Chautauqua organization was established in 1876 in New York and it still exists today as the Chautauqua Institution, which offers summer education programs in a variety of subjects to adults and children.
In Albany, the Chautauqua Society conducted its activities and programs in the old auditorium. By the early 1900s, it was becoming clear that a new facility was needed. The old building was torn down in 1915 and the present auditorium was built the following year, opening on October 4th. Although World War I effectively ended the Chautauqua Movement, educational programs continued at the auditorium. However, the facility started to be used for theatrical performances, concerts, civic events, religious functions, and other events.
Over time, interest in the auditorium declined and it was abandoned in the early 1970s. It was under threat of demolition but a local organization prevented this from happening and led the effort to have the auditorium become listed on the National Register of Historic Places. Restoration work, however, didn't begin until 1987. The building finally reopened in October 1990.
Sources
"A century of history at the Albany Municipal Auditorium." WALB News. October 15, 2016. https://www.walb.com/story/33396658/a-century-of-history-at-the-albany-municipal-auditorium.
"History." Albany Symphony Orchestra. Accessed December 4, 2020. https://albanysymphony.org/about-aso/history.
Macgregor, Elizabeth Z. "Municipal Auditorium." National Park Service - National Register of Historic Places Nomination Form. June 25, 1974. https://npgallery.nps.gov/GetAsset/bf59f907-8d3e-4ed4-8cb4-ad43d02b4276.
Parks, Jennifer. "Decades after facing demolition, Albany Municipal Auditorium celebrates centennial." Albany Herald. October 8, 2016. https://www.albanyherald.com/news/local/decades-after-facing-demolition-albany-municipal-auditorium-celebrates-centennial/article_728825b2-4fac-52e5-af0c-426b6bbf06cb.html.
Image Sources
Michael Rivera, via Wikimedia Commons: https://commons.wikimedia.org/wiki/File:Albany_Municipal_Auditorium_(East_face).JPG

Additional Information