Seville Square
Introduction
Initially the eastern of two parade grounds outside the former British fort at Pensacola, this block became a hub of Pensacola's social activity following the construction of adjacent Christ Church in 1832. A gruesome lynching in 1875 was a forerunner of the racial animosity and violence that would haunt Pensacola in the decades following Reconstruction. An increasingly suburban population abandoned Seville Square by the mid-twentieth century, but it became the centerpiece of the historic preservation movement in the 1960s. With its stately gazebo and canopy of majestic live oaks, today Seville Square is the site of many community activities, including Pensacola's largest annual cultural event, the Great Gulfcoast Arts Festival.
Images
Seville Square sits under gorgeous oak trees.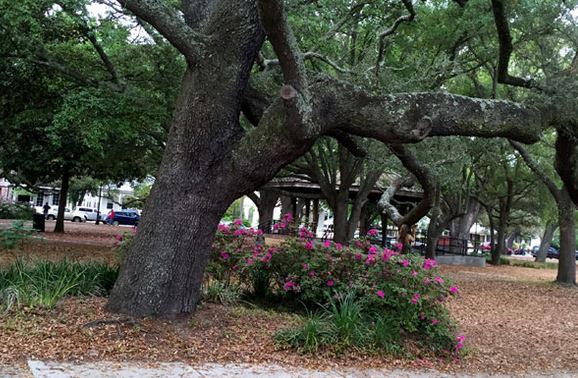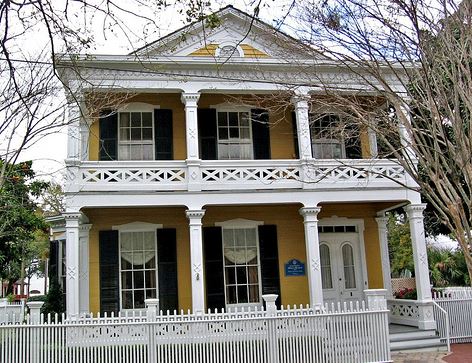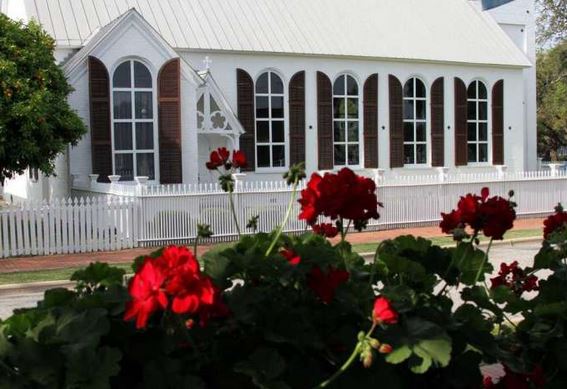 During the square's restoration in the 1960s, a crowd gathers to take part.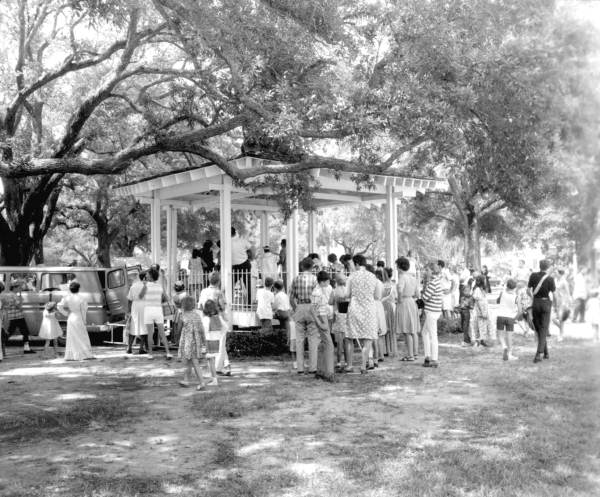 1778 Joseph Purcell map showing British garrison, with Plaza Ferdinand and Seville Square marked in red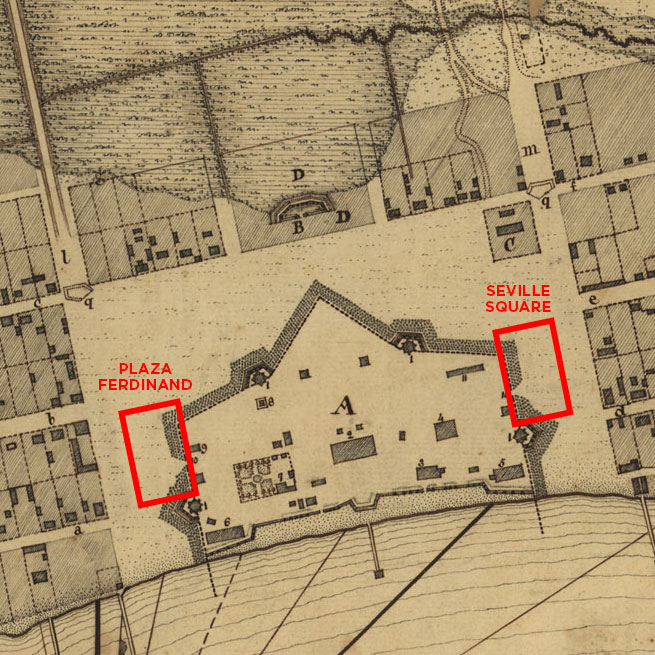 Gay Nineties styles at "An Evening in Old Seville," 1969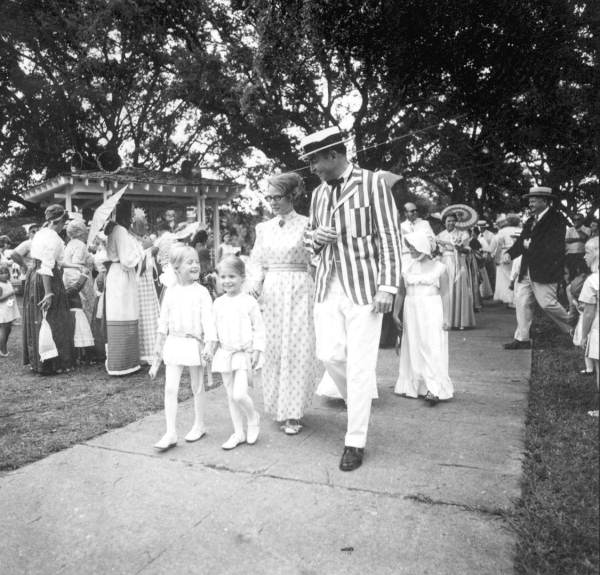 Great Gulfcoast Arts Festival, date unknown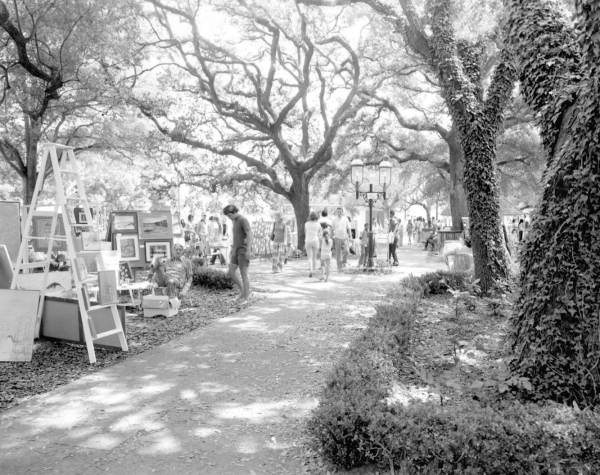 Map by John Brosnaham (early 1800s) showing "Plaza de Sevilla"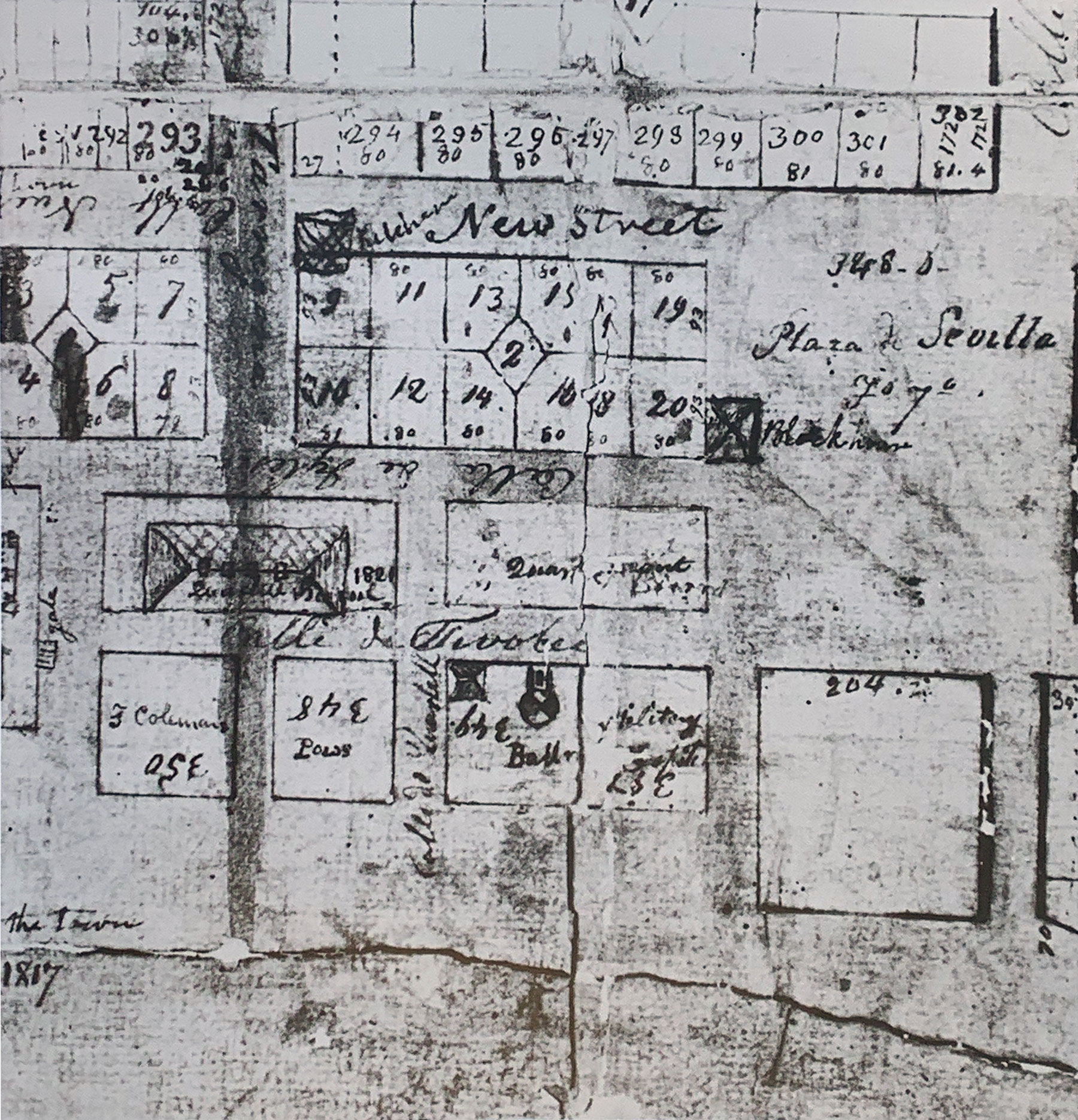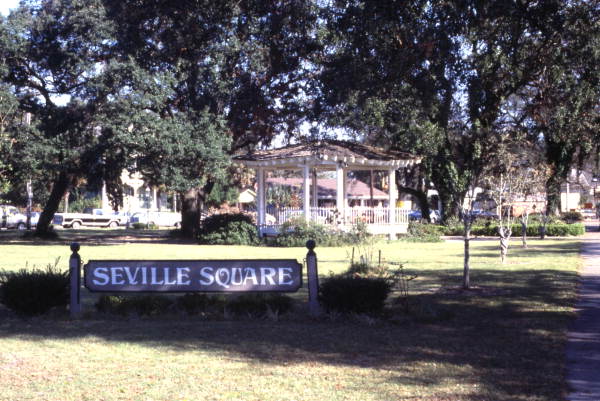 Music performance at "Evenings in Olde Seville Square," 2008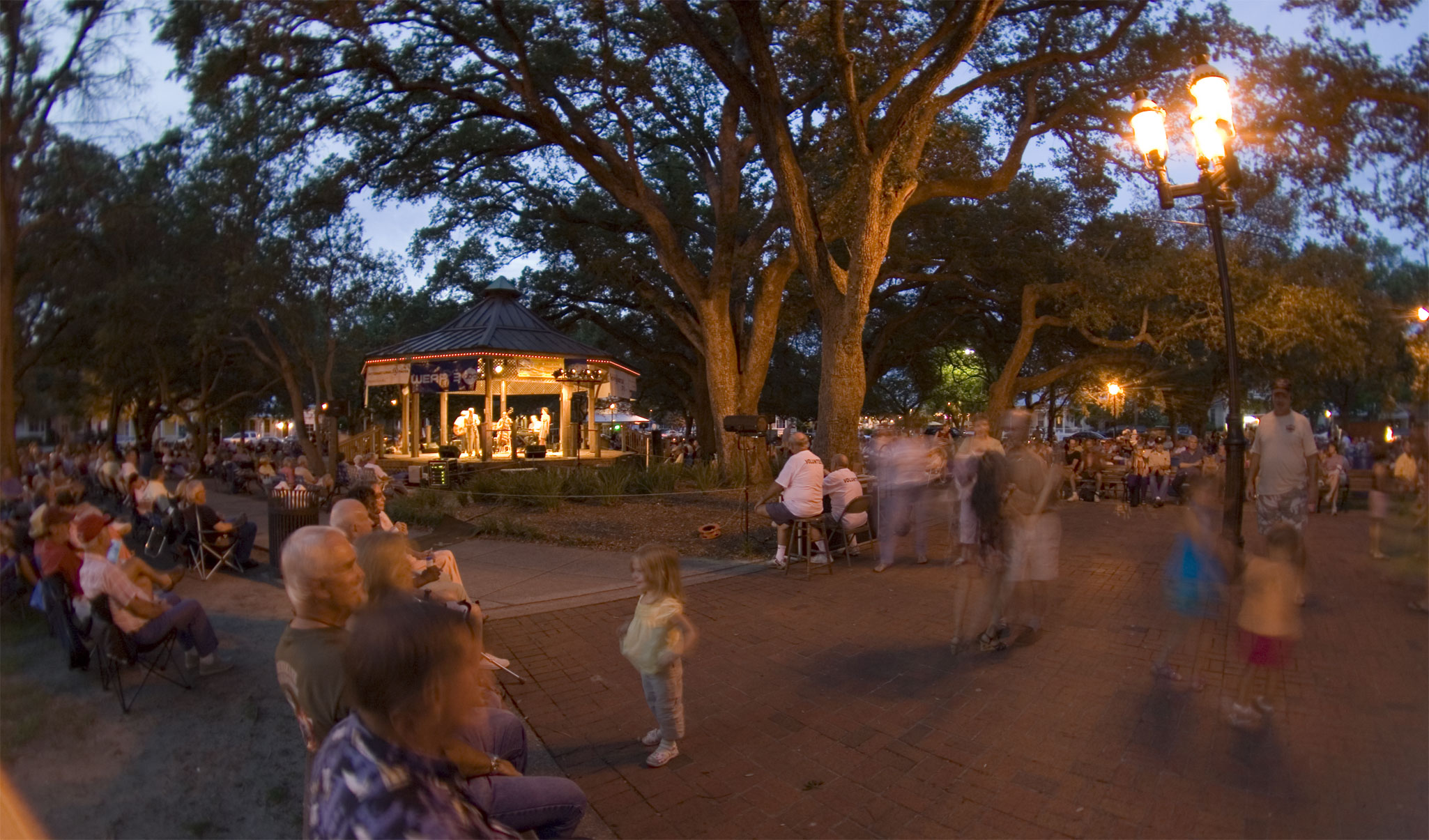 Backstory and Context
The land that would become Seville Square was part of a large open common surrounding the British garrison, as laid out by Elias Durnford and depicted in the 1778 Joseph Purcell map. In 1814, during the second Spanish period, "[t]he fine common was cut up into lots, and distributed to different persons; a slice to one, and a corner to another. … Out of this massacre of order and decency, two small squares were saved, one on the east and one on the west ends of the old common."1 The eastern square was known as Plaza de Sevilla, or Seville Square after Florida became an American territory in 1821. As Henry Marie Brackenridge described it, "This square is very extensive, and covered with a close sod that renders it an agreeable promenade in the evening."2
In 1875, the last year before Reconstruction ended in Florida, four Black men were accused of the rape of a white woman, Melissa Taylor. Two of the suspects, Jeff Brown and Morris Morse, were held in the Alcaniz Street jail after a preliminary trial where they asked for time to procure witnesses to prove they were not in the area at the time. A third suspect, Jourdan Williams, escaped capture, and a fourth, Berry Dorson, was allegedly fatally wounded by the other three after informing on them. As a Republican newspaper noted, "The evidence of the lady was not positive… The deputy sheriff had a subpœna for two weeks to bring witnesses for the men, but he neglected to do so, which shows gross neglect on the part of that official." Just after midnight on August 21, a mob of 100 people forcibly removed Brown and Morse from the jail and hanged them from separate trees on the eastern side of nearby Seville Square. Their bodies were then "riddled with bullets."4 City police officers pursued members of the lynch mob but made no arrests.
In subsequent decades, and especially around the turn of the century, Seville Square was used for band concerts, political rallies, and lantern festivals. By the 1930s, however, most large gatherings had moved to newer venues, relegating Seville Square as a playground for neighborhood children. After embarking on a renovation of the Dorr House in 1965, the Pensacola Heritage Foundation next set its sights on Seville Square. The city funded construction of a new gazebo, and on August 25, 1966, the Heritage Foundation held "An Evening in Old Seville," a Gay Nineties-themed event with period costumes and entertainment. The popular event was repeated annually until 1972. After some attempted revivals, the Heritage Foundation relaunched the concept in 1988 as a summertime concert series called "Evenings in Olde Seville Square," which shut down for good in 2016.
The most enduring and popular event in Seville Square is the Great Gulfcoast Arts Festival, which began as "Festival Fever Days" in 1973 in the parking lot of Municipal Auditorium at the foot of Palafox Street, but expanded to Seville Square in 1975. Now a three-day, juried art show, it typically draws more than 100,000 attendees and has only been cancelled twice: in 2004 after Hurricane Ivan and in 2020 due to the COVID-19 pandemic.
Sources
Williams, John Lee. A View of West Florida: A Facsimile Reproduction of the 1827 Edition with an Introduction and Index by Herbert J. Doherty, Jr.. Gainesville, FL. University Presses of Florida, 1976.
Brackenridge, Henry Marie. A Topographical Description of Pensacola and Vicinity in 1821. Edited, with Notes and Introduction by Brian R. Rucker. Bagdad, FL. Patagonia Press, 1991.
"The Pensacola Lynching Case: Probable Innocence of the Murdered Men." New Orleans Republican (New Orleans) September 1st 1875.
"Lynching." The Buffalo Commercial (Buffalo) August 25th 1875.
Additional Information