Gathering at the Pensacola Opera House
Introduction
From the very beginning to its final days, the Pensacola Opera House was a meeting place for the Pensacola community and its neighbors. International performers and famous speakers alike captured the attention of many in the historic Pensacola Opera House. Some speakers and performers included Booker T. Washington, John Phillip Sousa, and Anna Howard Shaw. Between 1883-1916 the concert hall stood as a point of contact within the region and with the world beyond Pensacola.
Images
Pensacola Opera House. Cir. 1880. The beautiful Pensacola Opera House. Opened on January 4, 1883, it was the place to be if you were looking for the best local, national, and even international performances and speakers that came to Pensacola at the turn of the 19th century.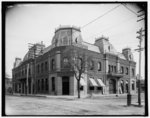 Dr. Reverend Anna Howard Shaw, President of the National American Women's Suffrage Association 1904-1915. Crc. 1914 Famous and infamous, the women's suffrage movement had many supporters with both women and men, this diversity was also present in the opposition. Facing many challenges Anna Shaw achieved both professional, and academic renown nationally and globally. Born February 14, 1847 in Newcastle-upon-Tyne, England the immigrant, reverend, physician, and activist worked hard for years to further the temperance movement and women's suffrage till her passing at the age of 72, July 2, 1919 Moylan, Pennsylvania, United States.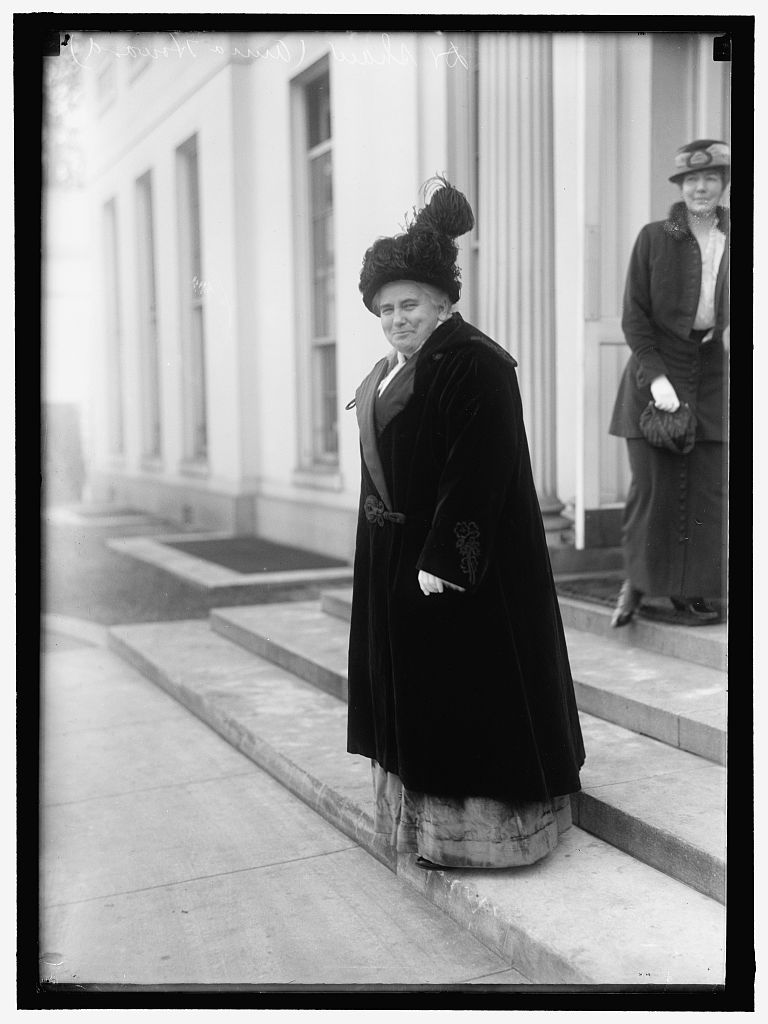 Dr. Booker T. Washington, 1912. The African American population and many white supporters looked to Dr. Washington as a leader and advocate for African Americans. Within the African American community, there was still division over methods for overcoming racism and oppression. Other leaders like W.E.B. DuBois opposed Washington's philosophies of practical education and entrepreneurship. Booker T. Washington, one of the last African American leaders to have been born a slave, would continue to lead, speak, and advocate for African Americans until his passing in Tuskegee, Alabama, November 14, 1915, at the age of 59.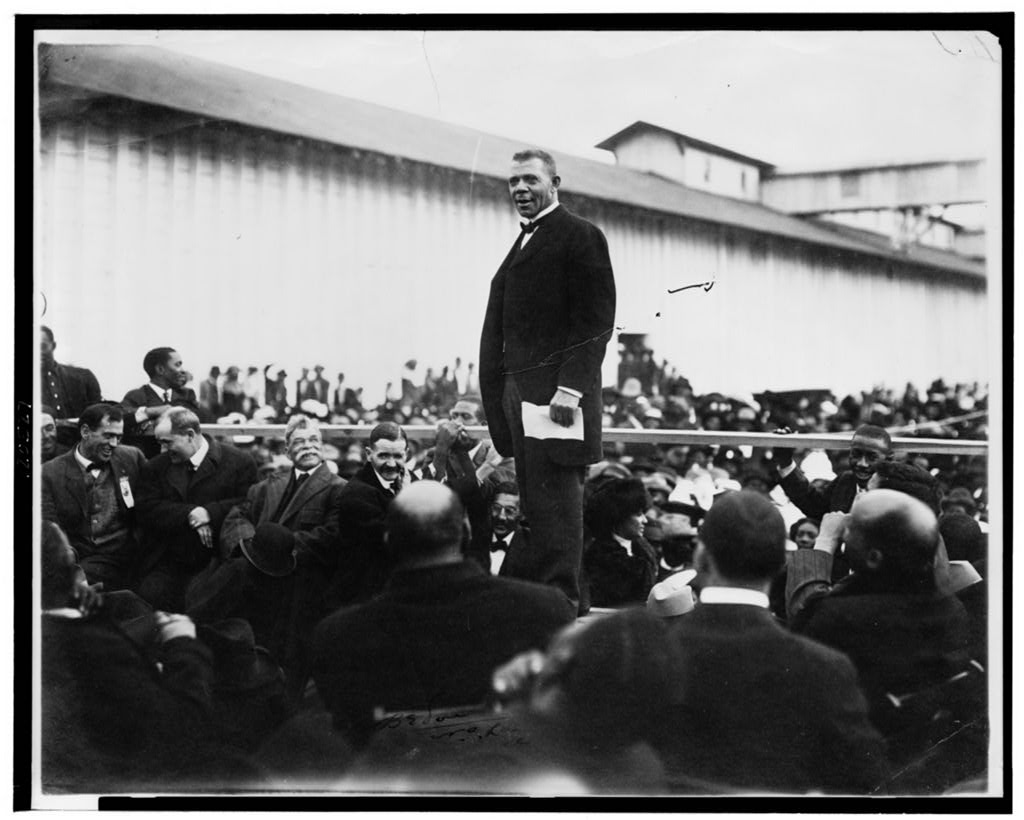 A Cordial Invitation, Published in the Pensacola News Journal March 19, 1915. Women's suffrage was a growing movement in Florida by 1915 and many suffragists, imitating the success of the western states, emphasized states enfranchising women rather than seeking a constitutional amendment. The Pensacola News Journal advertised Dr. Anna Shaw's lecture every day in the week leading up to the public event. Despite the growing popularity of women's suffrage, many women and men opposed the movement and feminist philosophy, thinking the success of these ideas would strip women of the few hard-won protections granted to women during the Progressive Era. Public education was a common goal for many equal suffrage groups to counter anti-suffrage efforts.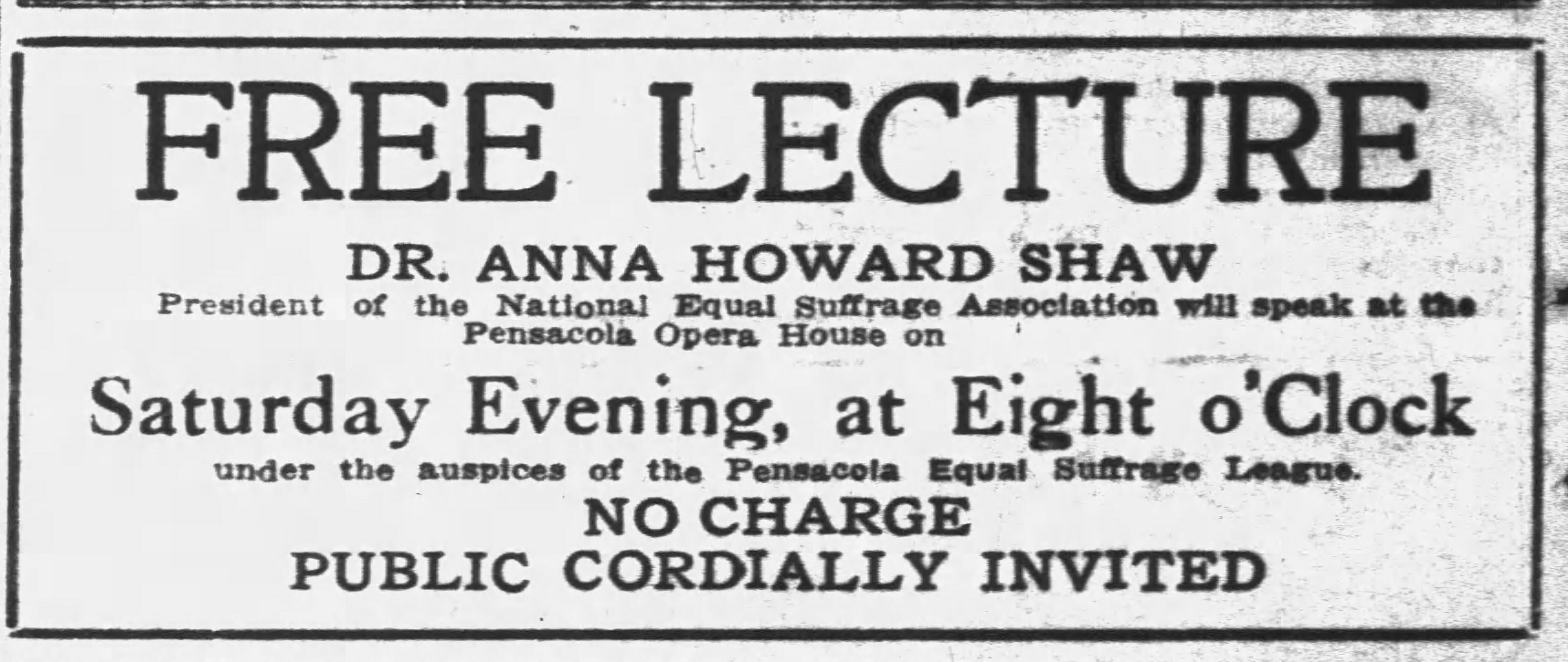 Backstory and Context
The Pensacola Opera House, built by the local banking and lumber tycoon Daniel F. Sullivan, opened January 1st, 1883. The opera house's construction and its opening performance reflect the booming economy of North Florida as the lumber market grew, and Pensacola enjoyed its so-called "golden age." The grand opening night hosted a traveling performance of Johan Strauss' The Merry Wars, a German opera. Despite the generous 1,200-person seating, which would later extend to 1,500, poor weather resulted in a small audience that offered generous applause. Even from its first show, Pensacola's community viewed the Opera House as a place for gathering, sharing experiences, and connecting with the world beyond the city limits and even the surrounding countryside.
Masses would come to see many performers at the Pensacola Opera House. Over the years, Pensacolians could see performances by actresses like Sarah Bernhardt, Musicians such as John Phillip Sousa, and dancers like Madame Anna Pavlova at the local hot spot. The beautiful Second-Empire style concert hall would host more than the performing arts for the community; multiple speakers would also draw massive crowds. The famous African American educator, author, and lecturer Dr. Booker T. Washington spoke to a mixed audience of an estimated 2,000 people on March 1st, 1912. Another notable speaker reflective of the early twentieth century United States movements was the nationally and internationally renowned Dr. Anna Howard Shaw.
A prominent women's suffrage and feminist speaker, Dr. Shaw served as the National Woman Suffrage Association president from 1904 till 1915. March 20th, 1915, Anna Shaw came to speak in the Pensacola Opera House during a short convention hosted by the Pensacola Equal Suffrage League. Suffrage work had been moving fast in Pensacola. The lecture was repeatedly advertised in the local papers and almost always reminded readers that the public was "cordially invited," with no admission charge. The final invitation was made by Mrs. McDavid the day of the convention,
"The Pensacola Equal Suffrage League extends a most cordial invitation to every man and woman in Pensacola to be present this evening to hear Dr. Shaw. It makes no difference whether one believes in suffrage or not. No progressive Pensacolian should miss the opportunity to hear this noted woman who is considered the peer of public speakers."1
The evening of Dr. Anna Shaw's lecture, March 20th, 1915, saw the Pensacola Opera House packed with various community members. Local papers reported that standing attendees filled even the aisles and back floor of the hall. Dr. Shaw spoke for two hours with multiple breaks for applause during her speech. Afterward, the common consensus was that she captured her audience's attention not only through creative prose or formal tone but through sheer logic in her arguments.
"The republican government wherein the government is elected by the people. So long as only a part of the people elect, that country is not a republic. The trouble with us is that we have nurtured higher ideals than we have been able to live up to." – Dr. Anna Howard Shaw, Pensacola Opera House, Saturday, March 20th, 1915. 2
1915 would be the final year for the Pensacola Opera House to maintain its previous status as such a popular space in the Pensacola community. The Opera House was competing with industrialized entertainment and faced drastic damaged the next year. During the early 20th century in north Florida, phonograph players and records became more affordable and popular, especially in towns like Pensacola. With entertainment available in the living room, what reason would many people have to go through the trouble and expense of a night at the theatre? Additionally, in 1916 a massive amount of hurricane damage along with the downturn in local industries would have Pensacola and her Opera House facing the conclusion of its "golden age." Finally, the Pensacola Opera House's demolition would occur in 1917 though some bricks and the painted iron balcony railing would be reclaimed and repurposed in the Saenger Theatre in 1925.
Sources
1.Celia Myrover Robinson. "Dr. Shaw to Speak at Opera House." Pensacola News Journal, March 20, 1915.
2."Many Heard an Eloquent Talk on Suffrage by Dr. Anna Shaw." Pensacola News Journal, March 21, 1915.
Appleyard, John. "How the Pensacola Opera House Started and Why It Closed about 30 Years Later." Pensacola News Journal, September 29th, 2019. https://www.pnj.com/story/news/2019/09/29/pensacola-opera-house-history-building-housed-citys-fine-arts-30-years/3776407002/. 
Buchanan, Drew. "In Pensacola, Opera House was Center of Society in Gilded Age." The Pulse Pensacola, November 26, 2015. https://thepulsepensacola.com/2015/11/grand-opera-house-was-center-of-pensacola-society/.
Johnson, Ronald. North Florida Folk Music: History & Tradition. Charleston, SC: The History Press, 2014. 
Johnson, Sandra, Virginia Parks, and Pensacola Historical Society. Pensacola in Vintage Postcards. Postcard History Series. Charleston, SC: Arcadia Publishing, 2004. 
"Immense Crowd Hears Dr. Booker T. Washington Speak." The Pensacola Journal. March 2nd, 1912. 
Pensacola News Journal, March 14th - 21st, 1915. 
"Pensacola Opera House." Pensacola Commercial. January 5th, 1883.
"Suffrage Work in the States: A Compilation of Recent Events in the Movement for Women's Enfranchisement Throughout the Union." Woman's Journal and Suffrage News 46, no. 14 (April 3rd, 1915): 107–9. https://iiif.lib.harvard.edu/manifests/view/drs:53700401$115i.
Taylor, A. Elizabeth. "The Woman Suffrage Movement in Florida." The Florida Historical Quarterly 36, no. 1 (July 1957): 42–60. https://www.jstor.org/stable/30138972. 
Image Sources
Thomas Charles Cottrell. Pensacola Opera House. 0AD. Photograph. Floridamemory.com. Florida Memory. https://www.floridamemory.com/items/show/40420.

Harris & Ewing, photographer. SHAW, DR. ANNA HOWARD. PRESIDENT, N.A.W.S.A. District of Columbia United States Washington D.C. Washington D.C, 1914. Photograph. https://www.loc.gov/item/2016866121/.

Booker T. Washington standing on a stage in Mound Bayou, Mississippi. Mississippi Mound Bayou, 1912. Photograph. https://www.loc.gov/item/98500615/.

"Free Lecture." Pensacola News Journal, March 19, 1915.

Additional Information