Palafox, the heart of Downtown Pensacola
Introduction
Throughout Pensacola's long history, Palafox has undergone different changes and is the main Thorofare of culture in the area. The street has played various significant roles and hosted historical figures. Today Palafox remains a hub of the city and host art events, parades, and farmer's markets. Events held here and the evaluation of Palafox give us some idea about the people of Pensacola. In 2016 Palafox earned its place on the list of the National Register of Historic Places. This honor is no surprise given the area's past and rich history.
Images
Palafox mall concept 1977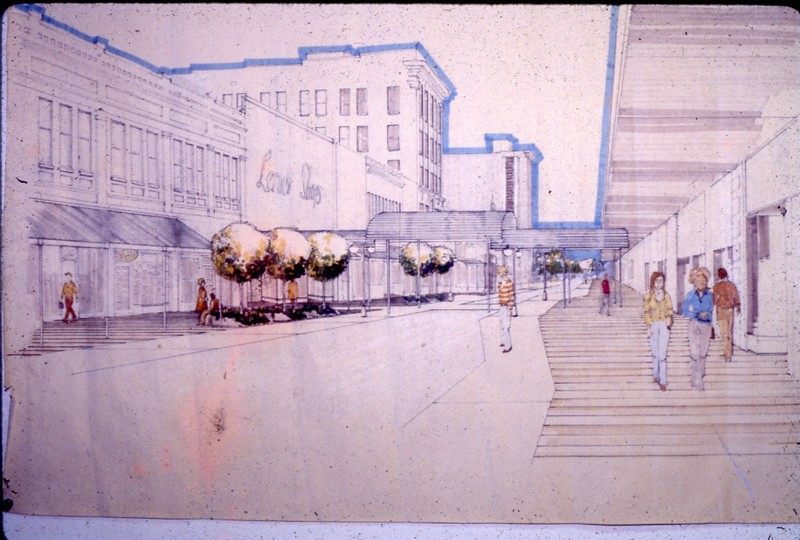 Pensacola Culture Center to take part in Gallery Night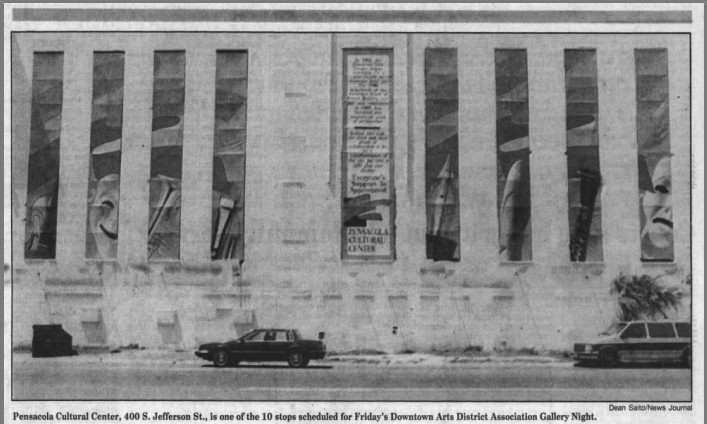 Colonel William H. Chase house on Palafox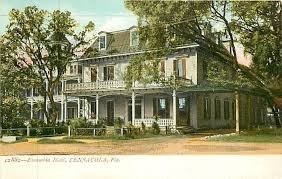 Backstory and Context
Under Spanish control in the 1800s, Palafox became the center area of business as Pensacola's population grew. "Porte de la Bahia de Pensacola" a from 1816 and a map titled "Pensacola" from 1819 show Palafox as the main artery of town. This second period of Spanish control ended in 1818 when Jackson forced Governor José Masot to surrender West Florida.
    Once back in American control, Palafox continued being used as the primary pathway in and out of Pensacola, which was at the time a rather small town. In those days Pensacola was mostly farmland or undeveloped. Colonel William H. Chase built a country home there, that later became the Escambia Hotel, spanning the entire western block on the North end of Palafox and Wright. The east side was occupied by U.S. Senator Stephen Russell Mallory in the "Mallory Homestead." During the Civil War, once the area was under Union control General Lewis Golding Arnold took up residence in the Chase house. The same building would become a place of business in more modern times. Palafox remains the center hub of business district in Pensacola. So much so that in the late 1970s a mall was proposed to make a more welcoming public space.
    The main street had remained a busy hub and with the progress and spread of commercialism the idea of Palafox mall came to be. The mall ran into financial and construction problems, but Palafox Place was completed by 1980. This followed the expansion of suburbs outside of the downtown area and shopping malls popping up. Palafox was quickly becoming more populated and famous for its rich history.
     The transformation from farmland and utility road to public hub was complete by the 1980s and local celebrations became more common. Local art took to the streets for the first time in 1992 for the Downtown Arts District Association (DADA) Gallery Night. It is still held, once a year, to current times and is when various artists and museums put their work on display for the public among vendors and food trucks. 
Sources
UWF Department of History, "Palafox Historic District listed on the National Register of Historic Places Thanks to Efforts of UWF Alumna," UWF Newsroom (UWF, Pensacola FL), June 10th, 2016.
Troy Moon, "A Night Out for Art Lovers," Pensacola News Journal (Pensacola, FL), May 7th, 1992.
Carlton Proctor, "Board Urged to Move on Stalled Palafox Mall," Pensacola News Journal (Pensacola, FL), Jan 23rd, 1977.
Mike McLeod, "City Lays Out the Welcome Mat for Palafox Place Opening," Pensacola News Journal (Pensacola, FL), Mar 21st, 1980. 
Image Sources
Pensacola News Journal

Dean Sato, Pensacola News Journal, 1992

Additional Information