Gamble Hall
Introduction
Gamble Hall was constructed on the west side of campus, seated between Burtness Theatre and The Oxford House. The hall opened in 1968 after just one year of construction and was built to house the University of North Dakota's College of Business and Public Administration ("CoBPA"). Thus, the following departments could be found there: Accountancy, Economics and Finance, Marketing, Political Science and Public Administration, and the department of Entrepreneurship and Management. Gamble Hall's construction and technological advancements helped UND set eight consecutive enrollment records.
Images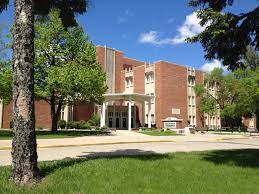 Mock-up photo for the new Nistler College of Business & Public Administration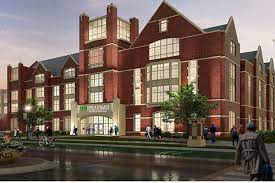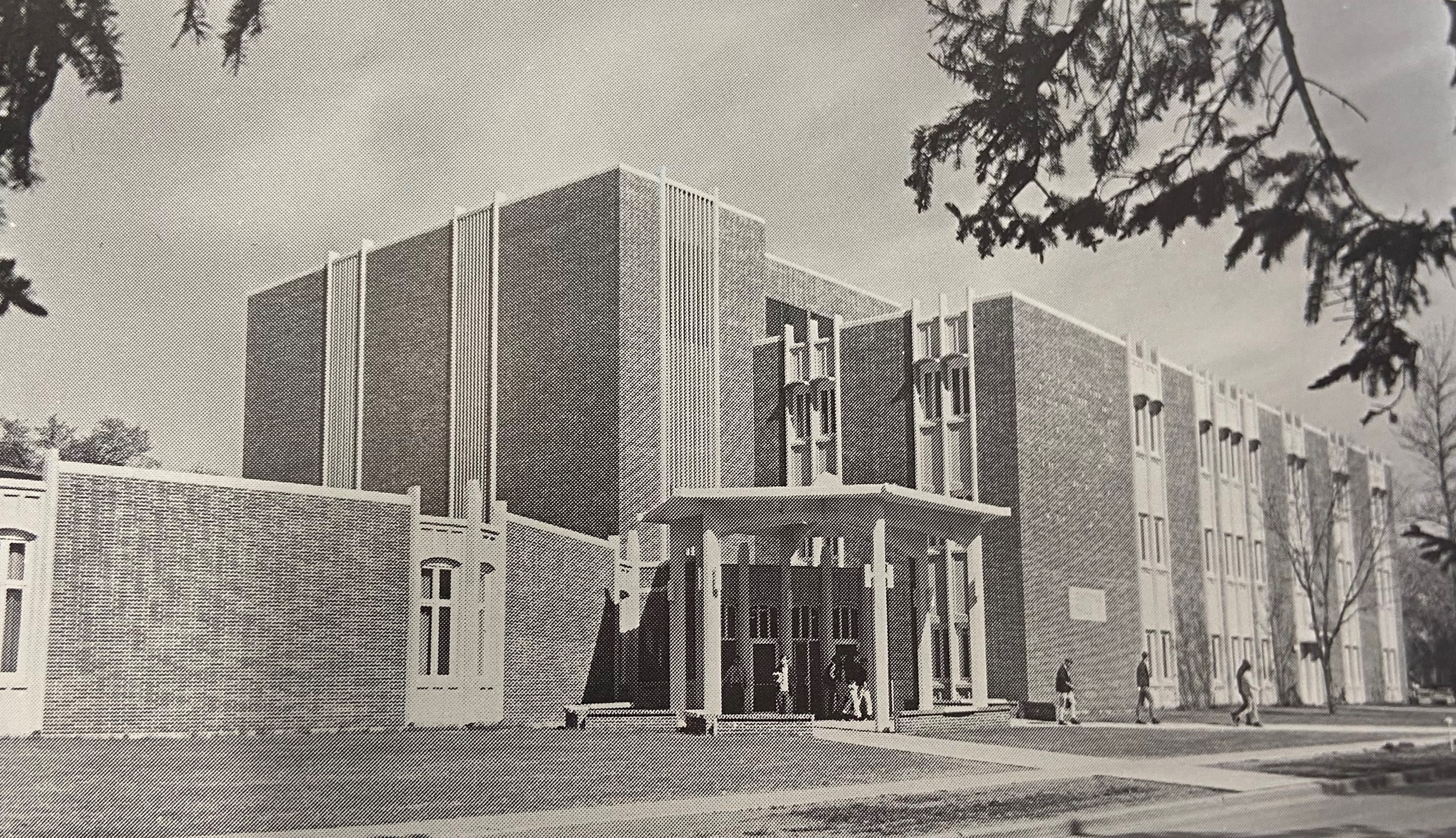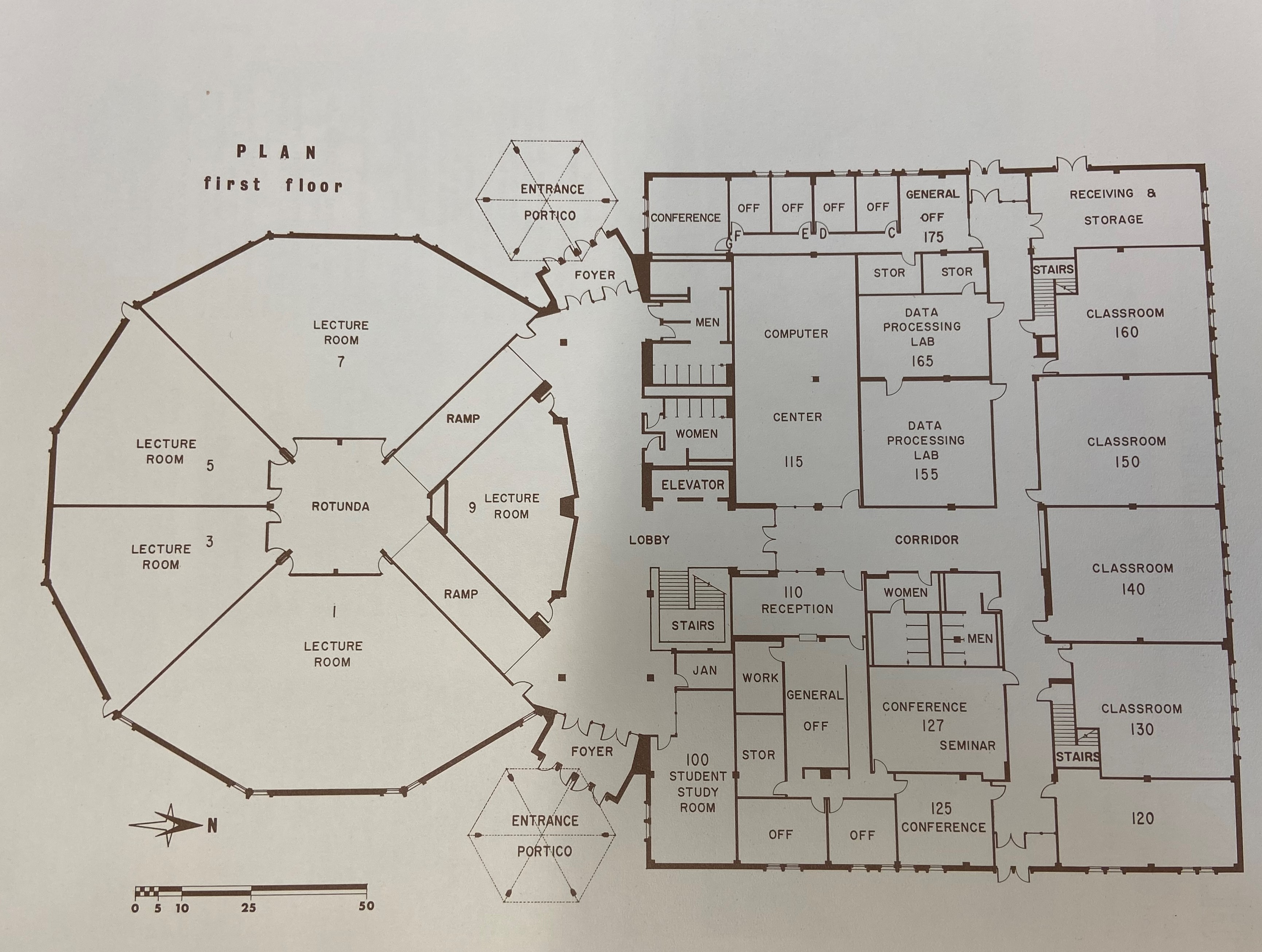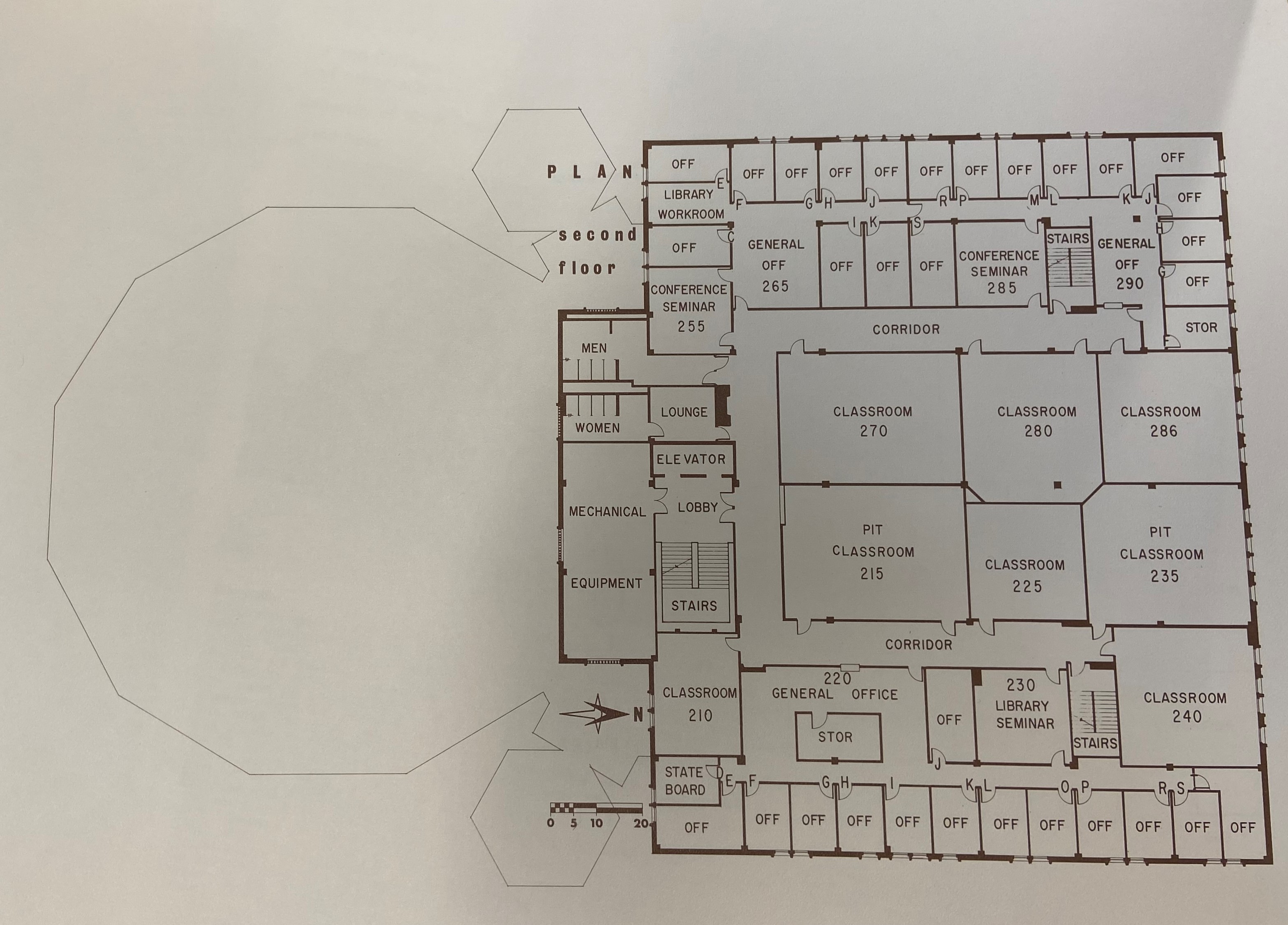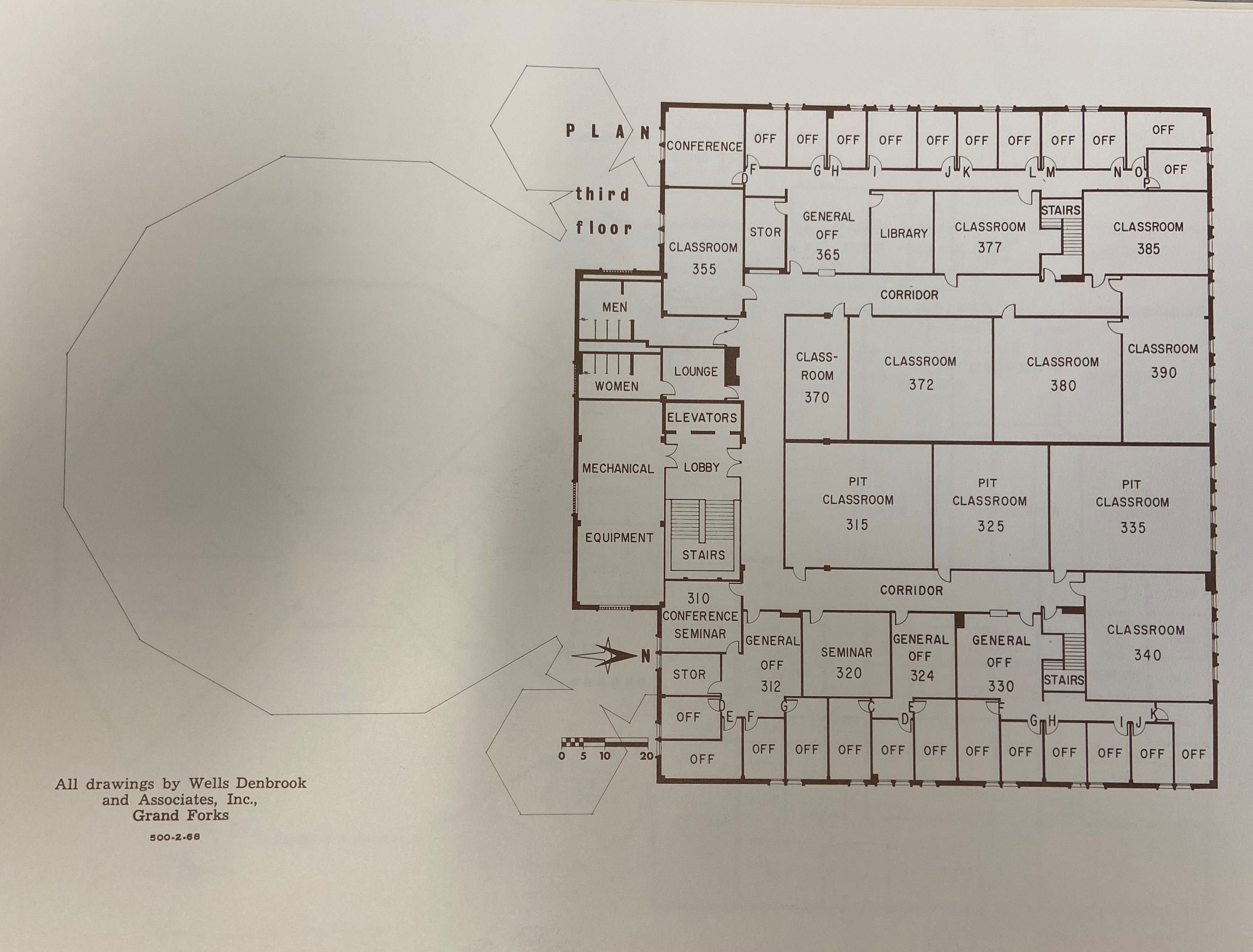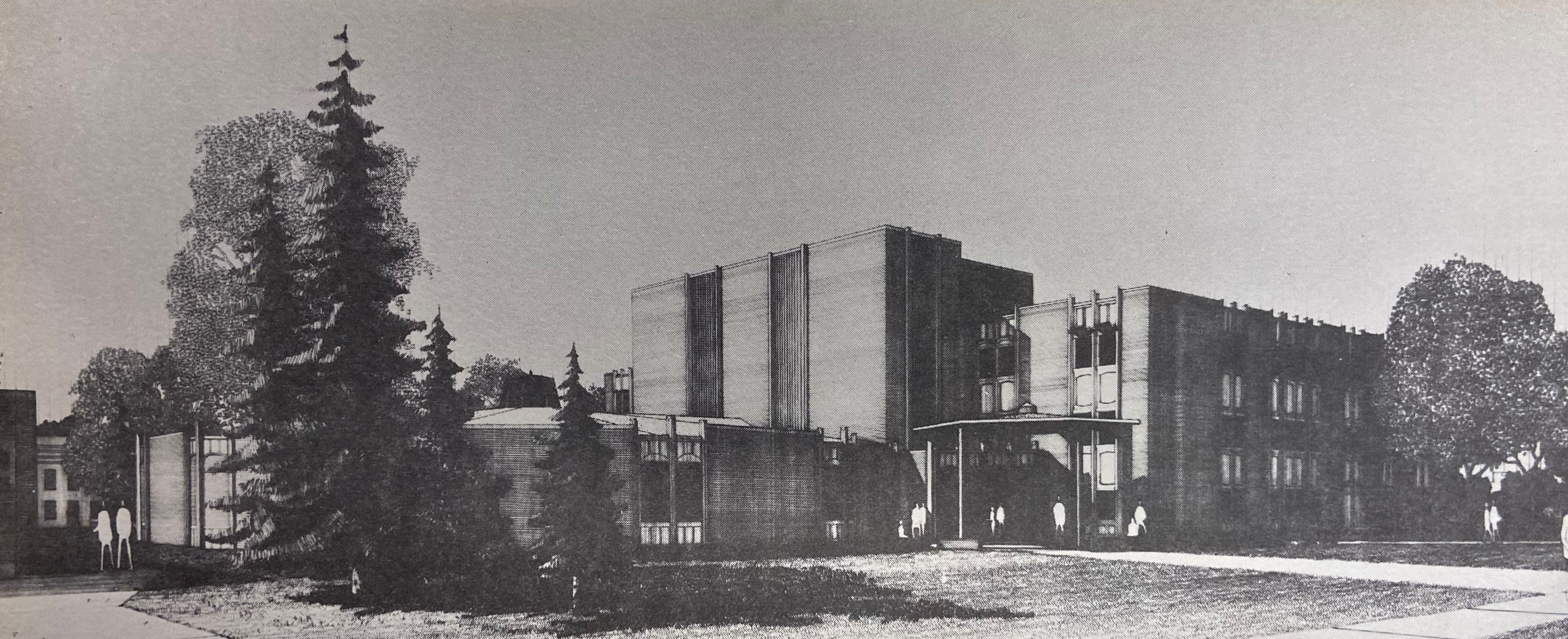 Gamble Hall In Construction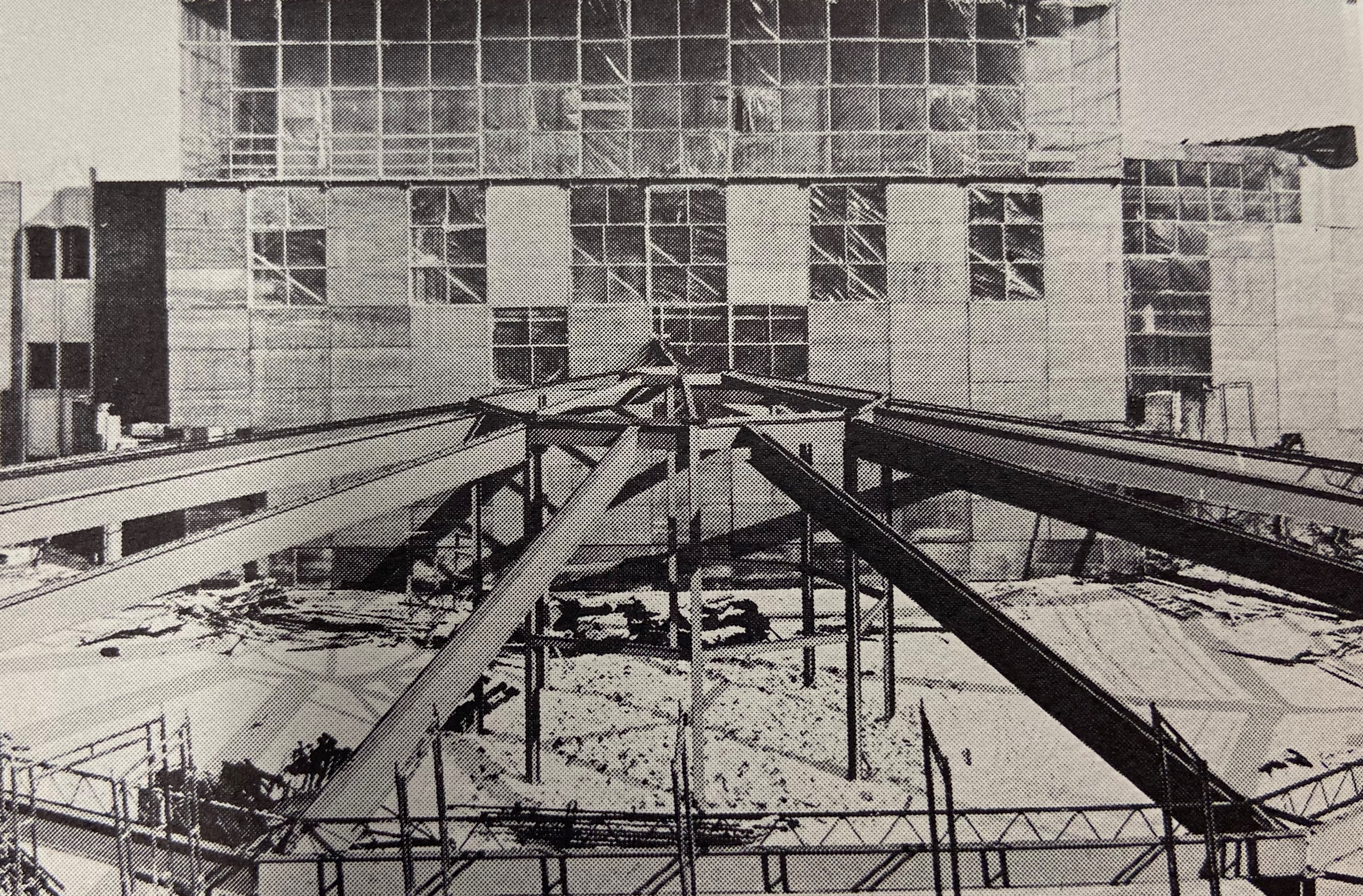 Hollerith Card Code on Gamble Hall's Exterior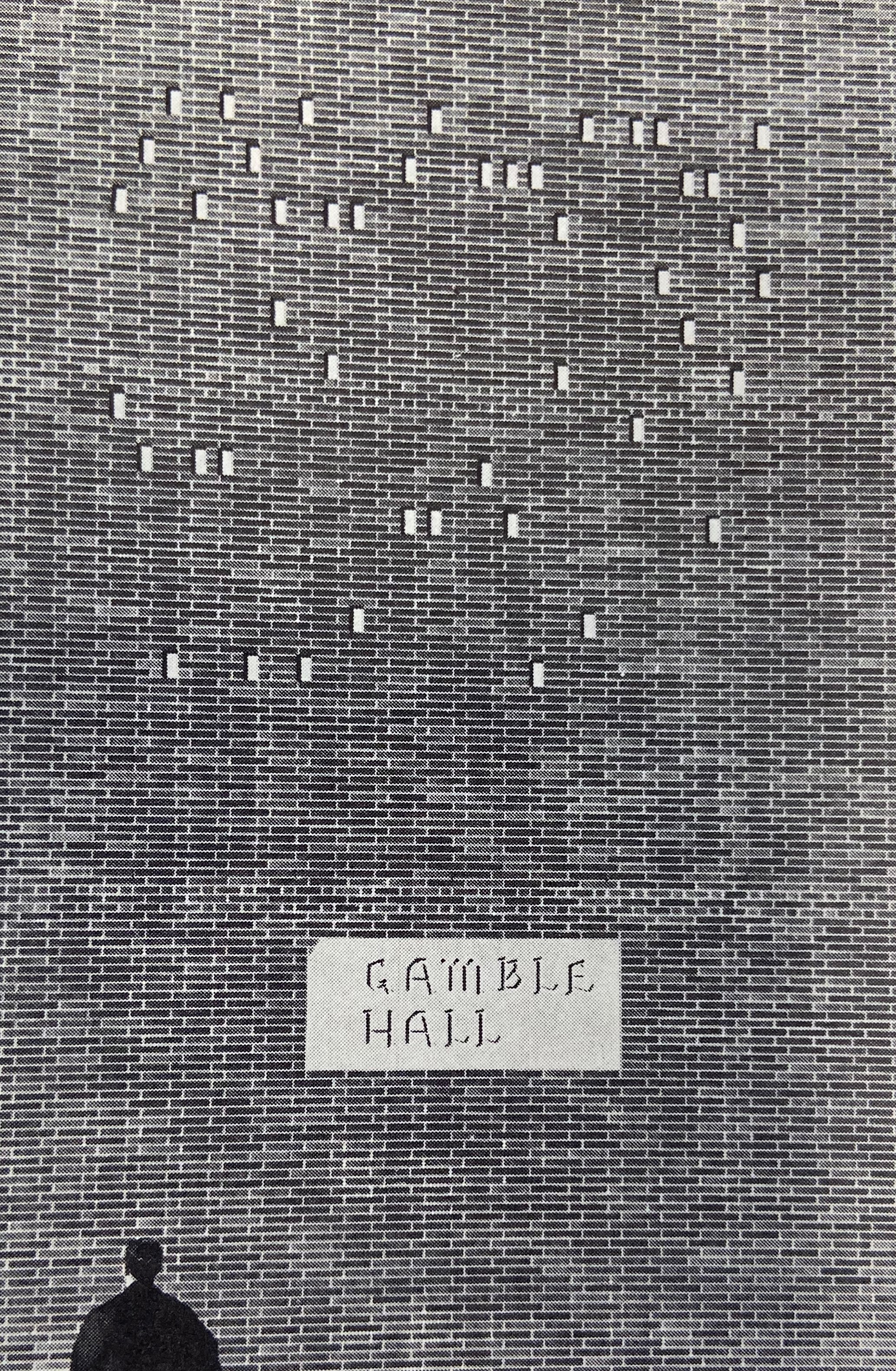 Former Student Study Area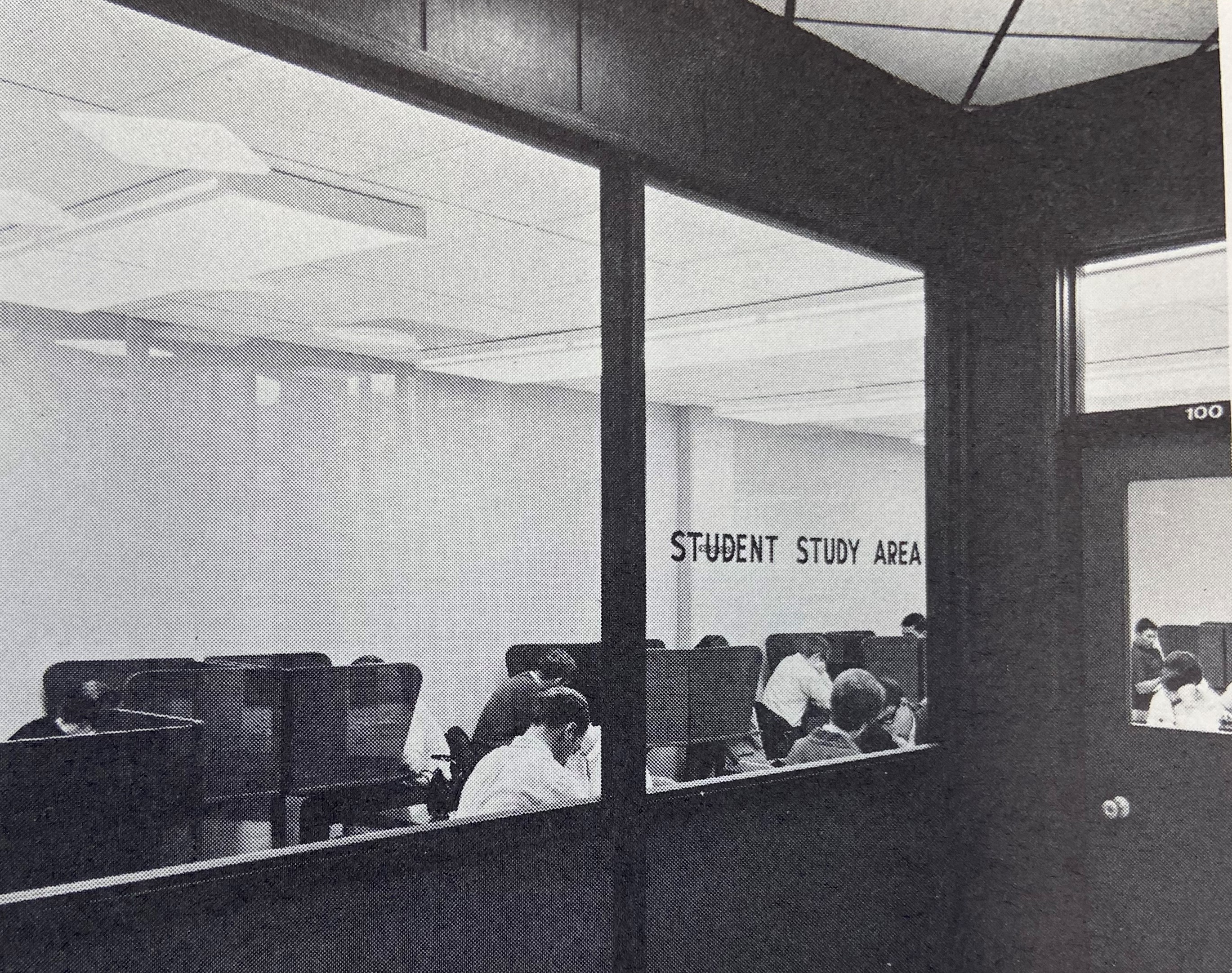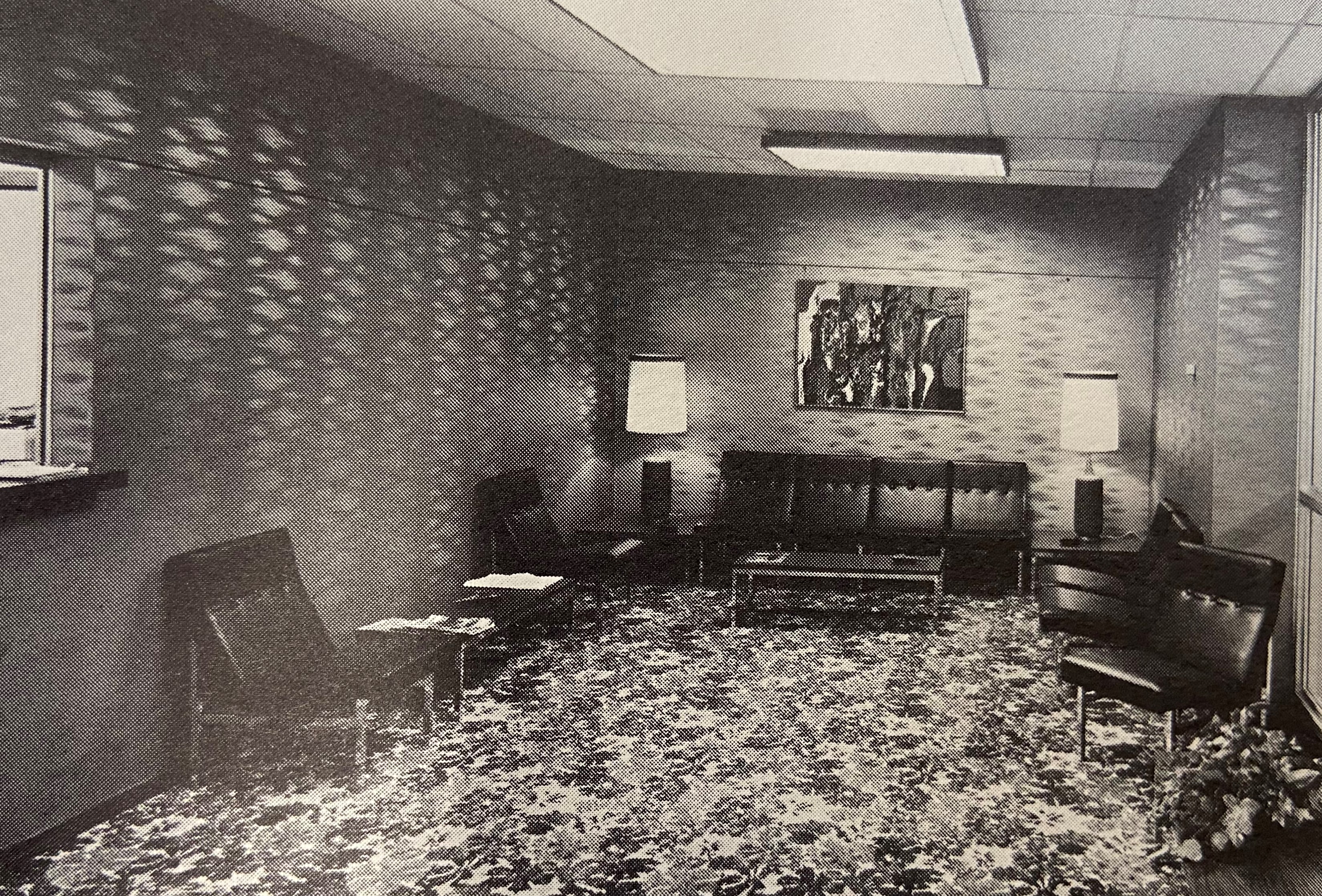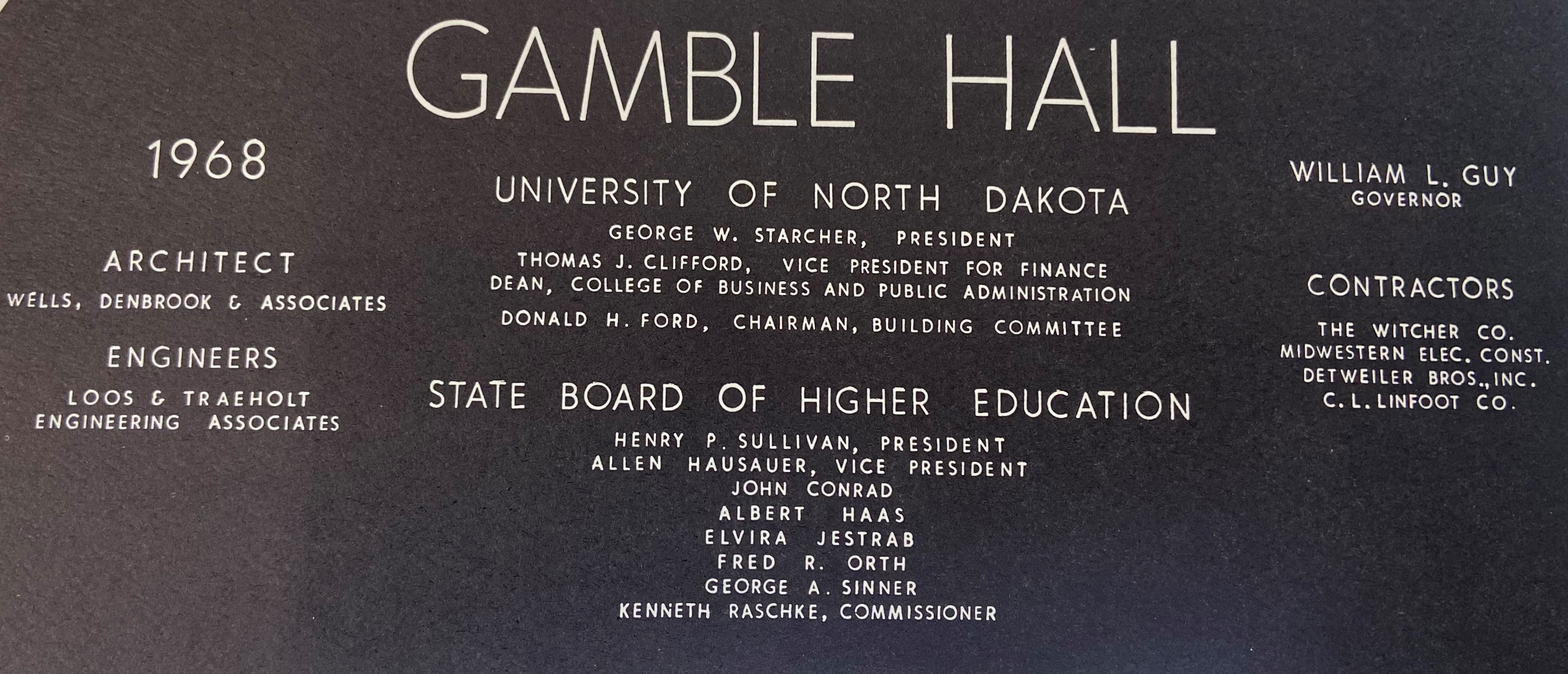 Backstory and Context
The 88,000 square-foot Gamble Hall replaced Macnie Hall - a former girl's dormitory established in 1908. The new hall was named after North Dakota native Bertin C. Gamble who received an honorary doctor of law degree from UND three years prior to the building's construction. His organization - The B.C. Gamble and P.W. Skogmo Foundations - donated $200,000 toward furnishings and classroom equipment of Gamble Hall. The overall cost of Gamble Hall was $1.8 million with $1 million obtained from state funds, $500,000 in grant money provided by the U.S. Office of Education, and an extra supplemental federal grant of $100,000 after the Gamble-Skogmo Foundation's donation of $200,000. Calculating inflation, this $1.8 million construction cost translates to $13.7 million in 2021.
Gamble Hall's general construction contract was granted to the Witcher Company of Minneapolis and began in 1967. Wells Denbrook and Associates of Grand Forks took the lead on architectural design of the hall. Because of the initial efforts of the construction and architectural crews, Gamble Hall was built with many unique characteristics on both its exterior and interior. Outside, on the wall adjacent to the main door, a distinct pattern of missing bricks was etched into the side of the building. The design illustrated a Hollerith card code inscription spelling "University of North Dakota". The pattern was created to serve as a permanent reminder of the data punching stations and tabulating machines once commonly used by CoBPA students. Another special feature of Gamble Hall built into its exterior was the lack of doors on the north side of the building. The hall was constructed this way to limit the wind flowing through the interior. Inside, the hall was designed to seat 2,000 students in 30 amphitheater style classrooms with 60 separate faculty offices. Some of the initial classroom attributes were permanent built-in screens, dimming light controls, audio-visual remote control equipment for auditorium classrooms, and at least six electrical outlets per room. Not long after construction, Gamble Hall adopted data processing centers with keypunches, tabulators, and video tape recorders. Time progressed and the technology available to students and faculty only grew. In 2016, a new "SCALE-UP" (Student-Centered Active Learning Environment for Undergraduate Programs) classroom was designed to allow students to collaborate on group work. With their home computers, students could watch lectures on their own time and then use the SCALE-UP space to work with peers on homework or projects. As of May 2021, Gamble Hall classrooms were equipped with monitors, microphones, Adobe Connect software for web conferencing, and projectors to connect to online students attending class via their home computers. Going forward, instead of the addition of more technology, the University of North Dakota decided to take on a new project to improve the CoBPA and its departments.
Gamble Hall's structural replacement is the Nistler College of Business and Public Administration ("NCoBPA"). The building is named after former UND student Werner Nistler and his wife Colleen Nistler who together had the lead gift toward the building's initial fundraising campaign. Construction on the 108,000 square-foot building began in late 2020 and a certificate of occupancy was dated for release on April 26, 2022. The $70 million project was designed by architects to fit 28 classrooms and labs, as well as 10 group study rooms. In addition, the building blueprints feature a "Hub Space" designed to serve as a large space for daily student gatherings as well as general UND formal and informal events. Food and drink options were implemented in the design of the NCoBPA to allow students and faculty to stay within the area for long periods of time. Like Gamble Hall, the vision of the newer building was to offer students advising, internship opportunities, career fairs, resume development, and spaces to conduct mock and real interviews. Though Gamble Hall has a replacement, its legacy on the UND campus will live on through the many students and faculty who have walked through its corridors.
Sources
Cusack, Kaylee. Ahead of its time, UND Today Blogs. October 20th 2016. Accessed April 20th 2021. http://blogs.und.edu/und-today/2016/10/ahead-of-its-time/.
NCOBPA Capital Building Project, University of North Dakota. Accessed April 20th 2021. https://business.und.edu/nistler-building-campaign/index.html.
Buildings & Landmarks, UA 32, Box 1, University of North Dakota Archives, Chester Fritz Library, Grand Forks, North Dakota.
Image Sources
Photographer Jimmy Johnson on Wikimedia.org

University of North Dakota Website

UND Archives

UND Archives

UND Archives

UND Archives

UND Archives

UND Archives

UND Archives

UND Archives

UND Archives

UND Archives

Additional Information