Georgetown County Courthouse
Introduction
The Georgetown County Courthouse has served as the seat of the county government since it was built in 1824. Designed by famous architect Robert Mills, it is a fine example of Classical Revival architecture. Mills, who called the courthouse "a great ornament to the town," designed many well-known buildings and structures around the country including the Washington Monument in Washington, D.C. The courthouse is a contributing property of the Georgetown Historic District, which is listed on the National Register of Historic Places.
Images
Georgetown County Courthouse was built in 1824 and is the second courthouse for the county. It was designed by renowned architect Robert Mills, who designed many famous buildings and structures including the Washington Monument.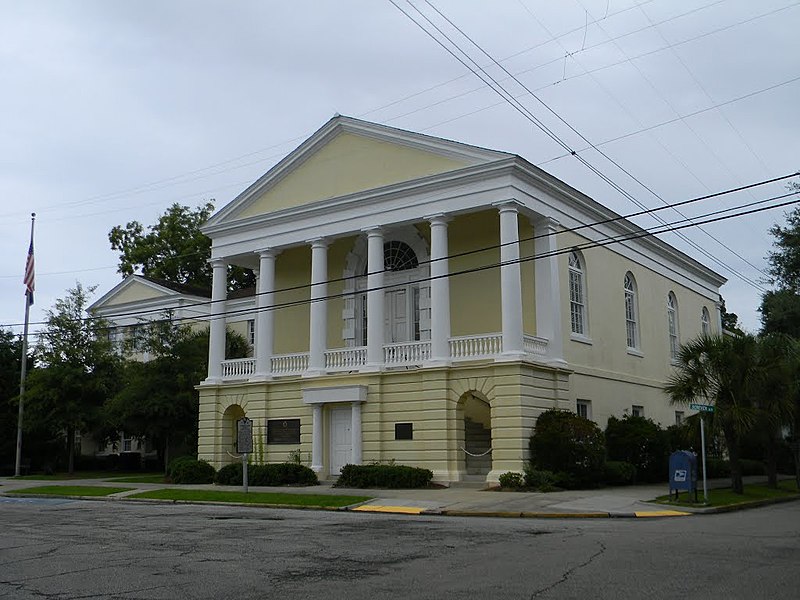 Backstory and Context
Founded in 1729, Georgetown is the third oldest city in South Carolina. Its prosperity came first from indigo exports and then, towards the end of the 1700s, rice exports. These crops were cultivated by African slaves who worked in the fields (they also cleared the thousands of acres to make room for the fields and dug canals). Information about when the first courthouse was built is not readily available, but it was replaced by the current one in 1824. This was necessary because the first courthouse had been damaged by two hurricanes. The new one cost $12,000 to build and its construction was overseen by the South Carolina Board of Commissioners for Public Buildings. Contractor Russell Warren built it. According to a Mills historian, it is Mills' most sophisticated courthouse in the state. In addition, it was designed to be fireproof; the walls of the first floor are thick and the courtroom is located on the second floor.
Sources
"Georgetown County Courthouse." The Historical Marker Database. Accessed May 28, 2021. https://www.hmdb.org/m.asp?m=7634.
"Georgetown County Courthouse." SC Picture Project. Accessed May 28, 2021. https://www.scpictureproject.org/georgetown-county/georgetown-county-courthouse.html.
"History." Georgetown County, SC. Accessed May 28, 2021. http://www.georgetowncountysc.org/311/History.
Ruhf, Nancy R. "City of Georgetown Historic District." National Park Service - National Register of Historic Places Nomination Form. October 14, 1971. https://npgallery.nps.gov/GetAsset/1f07a2cc-6d0c-4b24-a886-08804498cedb.
Image Sources
Wikimedia Commons: https://commons.wikimedia.org/wiki/File:Georgetown_County_Courthouse_-_Georgetown,_SC.jpg

Additional Information