Judge Hayden's Private Office
Introduction
Welcome to the Oneida County Freedom Trail walking tour. This tour was developed by the Oneida County History Center in partnership with the Oneida County Freedom Trail Commission.
In eighteen thirty six, ninety eight North Genesee Street was home to the private law office of County Judge Chester Hayden, who held two enslaved men in his office awaiting their recapture to Virginia. Hayden was a known foe to local abolitionist and his office is now officially recognized as a Network to Freedom Underground Railroad Site by the National Park Service. The complex of brick buildings is also on the National Registry of Historic Buildings, and stands as the oldest row of contiguous buildings in the city of Utica.
Fifteen years ago the Hayden Building was in desperate need of repair with a leaking roof, no electricity, unstable foundation, broken windows, no water or sewage. Eventually a local developer purchased it from the City of Utica and completely restored with much of the original brickwork which is beautifully preserved. Today, the plumbing and electricity remain installed, the basement and foundation are stable, there are two loft apartments, a roof top patio, and commercial space on the first floor.
Images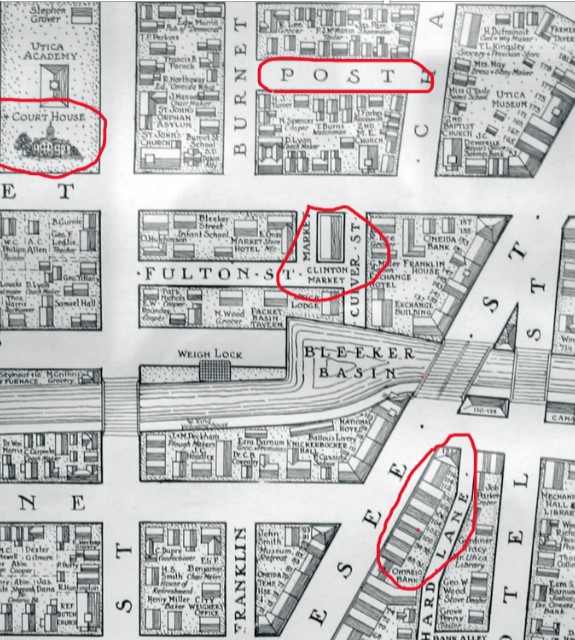 Site of Judge Hayden's Law Office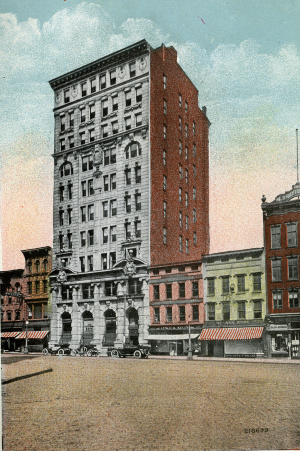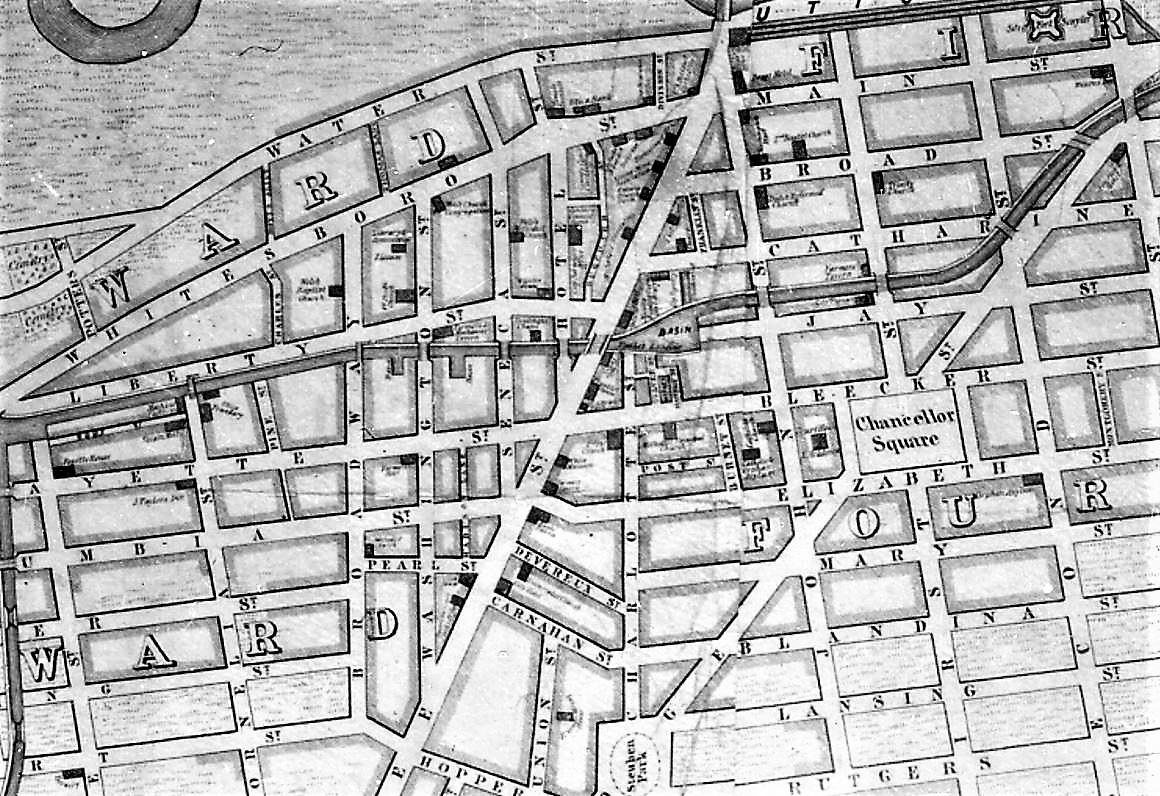 Backstory and Context
Harry Bird and George left Woodstock, Shenandoah County, Virginia and headed north on the Underground Railroad through Philadelphia and New York City until reaching Utica in September of eighteen thirty six. A Jailor in Shenandoah County, Christian Miller, received information that the two were living in Utica, and County constables arrest the two men. Harry and George then spent the night in Utica's Watch House located in the Clinton Market, on the north side of Bleecker Street between Charlotte and Burnet Streets, and only steps away from Post Street. The next morning Constable Ira Chase and Christian Miller arrived at Judge Chester Hayden's office with an arranged stage to Bridgewater waiting for the slave catchers and Harry and George. The moment Judge Hayden signed papers for Harry and George to be put into the custody of Christian Miller, the plan was to leave Utica and head south. Hayden, who intended on turning the fugitives over to the Virginia slave-catchers, was stalled by Spencer Kellogg's intervention.
That morning, Kellogg was warned by someone that "two gentlemen from the South, in search of runaway slaves…had seized or were about to be seizing upon their prey." He went to the front of his dry goods store nearby on Genesee Street, just a few feet away from Hayden's office and noticed Lewis Lawrence hurrying down the street. Kellogg and Lawrence discussed the warning that Kellogg had been given, and as they talked, Constable Chase drove by in a sleigh with two African Americans. The Constable stopped in front of Hayden's office. Kellogg and Lawrence watched as the two men were taken upstairs. The Constable said that the two men were arrested "for stealing potatoes." Kellogg and Lawrence proceeded up to the judge's office and saw that the two Black men in custody were being held as runaway slaves.
Kellogg demanded a trial to prove that these were free men of color, although they had no right to legal counsel per state and federal law. Abolitionist lawyer, Alvan Stewart, whose office was just a few doors away, soon joined in the dispute and offered to defend both Harry and George. Judge Hayden left Harry and George with the slave catchers in a back room until he could return from the County Courthouse. However, before Hayden returned to his office that evening a crowd of African Americans from nearby Post Street, found out about the arrests. A crowd developed, described as mostly Black just before six-thirty p.m., and as darkness settled in, they forced the doors of the room open, beat the two "man stealers," and whisked the two men away. From there, Harry and George continued their freedom route north to Mexico, New York, then to nearby Oswego, and finally Canada.
Sources
Oneida County Freedom Trail Commission. "98 Genesee St.: The Utica Rescue at Judge Hayden's Law Office," unpublished work. Oneida County Freedom Trail: The History of the Underground Railroad in Oneida County. Accessed July 28th 2021. http://www.oneidacountyfreedomtrail.com/about-us.html.
Image Sources
Oneida County Freedom Trail Commission map Courtesy of Oneida County History Center

Oneida County History Center

Courtesy of Oneida County History Center

Additional Information